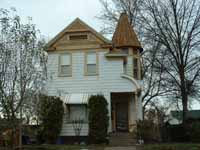 Legal Description
The East half of Lots 7 and 8 in Block 7 of Park Addition to the City of Walla Walla as per plat thereof recorded in Volume A of Plats at Page 47, and more particularly described as follows:
Beginning at a point in the Northerly line of Lincoln Street in the City of Walla Walla, Washington, which point is 150 feet Easterly, measured along said Northerly line of Lincoln Street from the point of its intersection with the Easterly line of Park Street in said City; thence North 60º 10' East, along said Northerly line of Lincoln Street, a distance of 50 feet to the Southeasterly corner of Lot 8 in said Block 7 of said Park Addition; thence North 29º 50' West along the Easterly line of Lots 8 and 7 in said Block 7, a distance of 100 feet to the Northeasterly corner of said Lot 7; thence South 60º 10' west, along the Northerly line of said Lot 7, a distance of 50 feet, thence 29º 50' East 100 feet to the Point of Beginning.
Title History
The land that comprises the City of Walla Walla was acquired from the Cayuse and Walla Walla Indian tribes by the U.S. Government in a treaty signed on June 9, 1855 in Walla Walla and ratified on March 8, 1859 by President James Buchanan. Walla Walla was originally laid out by surveyor H.H. Case in 1859, even before its formal incorporation as a city in 1862, as a one-quarter mile square oriented N-S, E-W with its eastern side centered on the point where Main Street crossed Mill Creek (roughly at the point where it does now). To this original area, additional parcels were annexed from time to time. A.B. Roberts had come to Walla Walla in 1859 from Portland and claimed a large section of land south of Main St. which included the parcel upon which 421 Lincoln was built. Roberts' numerous real estate purchases resulted in financial problems for him in 1881 and ended his real estate involvement. Besides developing real estate, Roberts raised fruit trees, having brought grafted trees with him from Portland.
The first available recorded transaction for the land on which 421 Lincoln was built occurred on June 26, 1869 when A.B. Roberts and Martha Roberts sold a parcel of land for $1000 to Minnie Hartman and M. Hartman measuring "400 feet west from the Northeast corner of Roberts Land claim; thence south 1000 feet; thence west 400 feet; thence 400 feet east." Minnie Hartman continued to acquire land in this area and on January 20, 1871 she sold a 13 acre parcel, which included Lots 7 and 8 in Block 7 to Sewell Truax and Sarah Truax for $2700. In the 1881 City Directory Sewell Truax was listed as a civil engineer, residing at 404 E. Birch. On April 5, 1878 Truax sold Lots 7 and 8 in Block 7 to H.P. Isaacs and Lucy Isaacs, who developed large sections of the area north of Alder St. This purchase, located in the Roberts additions, seemed unusual for Isaacs. On April 17, 1882 the Isaacs negotiated a lease with Christian Maier for $12 rent each year. This lease is the first time that the current legal description is used. The price of $12 may have been permission for him to use the land for gardening, a practice that was common at this time.  The presence of a small creek on the property would have probably provided the necessary water for a garden.  On April 25, 1892 the Isaacs sold this lot to Edward H. Nixon and Kate Stewart Nixon for $400 in gold coin.  Nixon is listed in City Directories as residing at 420 Lincoln, across the street from 421 Lincoln. In the 1892-94 City Directories he is listed as the General Agent for Inter-State Building, Loan and Trust in the Paine Building. On May 28, 1894 the Nixons sold the lot to William Osterman for $500. On October 6, 1897 William Osterman, an unmarried man, sold the lot to Henry Osterman, his brother, for an illegible amount. The 1893-94 City Directory lists August, Frank, Henry and William Osterman as carpenters residing on "Lincoln on southwest corner of Grove," which is today's 508 Lincoln, a house that is one of Walla Walla's historic homes showpieces. It was built in 1892 according to Penny Andres' book Walla Walla Her Historic Homes, vol. 1. The Osterman brothers had emigrated from Germany to Walla Walla in 1889. The only brother to remain in Walla Walla and live at 508 Lincoln, was Henry who became a very important local architect designing such places as Green Park and Sharpstein schools, the court house, city hall, the Liberty Theater (now a part of Macy's Department Store), Carnegie Art Center (originally the city library) as well as his own home at 508 Lincoln and 25 other homes in Walla Walla.  Penny Andres wrote that Henry Osterman was building his house and learning carpentry while building other houses. The architectural detail indicates that 421 Lincoln turns out to have been one of those houses.  City Directories indicate that it has been an apartment house for much of its existence, including the Osterman era.
In September of 1919 Henry and Geneva Osterman sold the house for $4000 to Walter H. Root and Clare E. Root, who are likely to have been brothers. Various members of the Root family occupied the house as early as 1912, renting it and eventually purchasing it in 1919.  Several members of the Root family are listed in the 1914-1915 City Directory: Clare was a driver for Nichols-Snyder Paper Co., Herbert was a violinist and is listed with Hope,Walter was a horticulturalist and William E., an installer for Pacific Telephone and Telegraph. A variety of Root names continues until the 1937 City Directory. On June 7, 1934 a Quit Claim Deed was filed by Walter and Beatrice Root and Clare and Alice Root to W.E. Root and Sadie Root, who seemed to encounter financing problems in 1938. On April 29, 1938 the house was acquired by Edwin Stoller and Amy Stoller, from Home Owners Loan Corporation.  The Stollers are listed as residing at 421 Lincoln in the 1939 City Directory but then Seattle in 1941. They owned the Walla Walla Shoe Hospital. They continued to own the house and use it as a rental. On February 12, 1949 the house was deeded to John Stoller, listed as a widower, for an unstated amount. In the 1954-55 City Directory Stoller was President of Panatorium Cleaners and resided at 310 E. Rose.  The 1950-51 City Directory lists T.J.,  a mechanic, and Juanita Minard as residing at 421 Lincoln. John Stoller along with Carlyle and Edwinna McKnight and the Minards (perhaps Juanita Minard and Edwinna McKnight were Stoller's daughters) sold the house to Mattie Collard on January 1, 1952 for an unstated amount. A clue to the price was the mortgage Mattie Collard negotiated with John Stoller for $3956.22.
On October 16, 1957 in the settling of Mattie Collard's estate, the house was sold to Warren C. Ross and Lorraine E. Ross for an unstated amount. The Rosses are listed as residing in the house in the1953 -1956 City Directories. Warren Ross was listed as an engineer for KTEL broadcasting and owning a 1949 Willys (cars were listed in early 1950's city directories).  On October 11, 1957 the Rosses sold to Henry C. Ohland and Grace Ohland for an undisclosed price. A $4000 mortgage was negotiated for this sale. The Ohlands are listed as residing at 1023 Hobson, never at 421 Lincoln. On November 22, 1965, the Ohlands sold the house for an undisclosed amount to Lewis L. Duncan and Elsie I. Duncan, who resided at 737 Roosevelt. On April 9, 1982 the Duncans sold to Thomas I. Dull and Patricia A. Dull, living at 373 S. Third, for $11,000. Different renters are listed nearly every year in two apartments. Few stayed more than one year and vacancies were frequent according to the City Directories. On September 22, 1983 the Dulls sold to Sandra Farrens for $22,000. She is listed as one of the two occupants of the house in 1984 and 1985 but in 1987 a foreclosure was filed against the property due to a $40,441 debt.  On February 11, 1988 Allen Wang and Dawn Wang purchased the house for $24,000. On March 27, 1991 the Wangs sold to Kenneth Lenhart and Rita Johnson-Lenhart for $28,000. Ken Lenhart is listed as working at the Walla Walla Farmers Co-op and then as the owner of Blue Mountain Repair Shop and More.  The Lenharts are the only residents listed from 1992-2005 when they sold to F&G Stewarts, Inc. for an undisclosed amount. On October 11, 2006 F& G Stewarts, Inc.sold the property to Rhonda Applebee and Tim Applebee for an undisclosed amount. Rhonda Applebee filed a Quit Claim Deed in favor of her husband on October 12, 2006.
Tim Applebee is remodeling this handsome house, updating it while maintaining its original Queen Anne features such as the woodwork (bull's eye corner blocks), a unique fireplace on the first floor, an unusual tower with several windows. The tower and the chimney design (dumb-bell-design according to Penny Andres' book) are typical of Osterman's architecture for his own house as well as  others that he must have designed in Walla Walla such as 516 S. Division St., and 345 E. Birch. Knowing these architectural details were typical of his work should lead to an interesting identification of Osterman's other houses.
Construction of the House
The Walla Walla County Assessor's Office gives 1886 as the construction date. Research shows that date to be incorrect. Building permits were not required until 1907 so other clues are necessary to establish the construction date.  The records for the house show that several people owned the land and sold it for sums that were appropriate for land but not a house. The most reliable clue for determining the age of this house is its architecture and its proximity to the architect's home. The house appears to have been built by Henry Osterman, with the assistance of his three brothers who did not come to Walla Walla from Germany until 1889. They began work here as carpenters with Henry expanding that work by becoming an architect, responsible for many important civic buildings as well as 25 houses in Walla Walla.  Henry and his brothers built 508 Lincoln in 1892, evidently while learning their trade and beginning to build other houses.
421 Lincoln does not appear on the 1894 Walla Walla Firemap but  is shown on the 1905 Firemap. In 1894 William Osterman, one of the brothers, had purchased the lot for $500 which he then sold to his brother Henry in 1897. Unfortunately, that sum is illegible in the house records, but "circa 1897" does seem to be an approximate construction date. It is not known when Henry Osterman's brothers left Walla Walla, but it seems appropriate to include them in the history of this house. A plaque might read "421 Lincoln, built circa 1897 by Henry Osterman, Walla Walla architect, and his brothers August, Frank and William."
References:
Andres, Penny Walla Walla/Her Historic Homes, volumes I and III
Bennett, Robert A. Walla Walla: Portrait of a Western Town 1804-1899
Penrose Library Northwest Archives files, Whitman College
Pioneer Title Company documents for 421 Lincoln
Sanborn Fire Maps 1894 – 1938
Walla Walla City Directories beginning in 1880-2000
Walla Walla County Courthouse Assessor's office records
Walla Walla County Courthouse Vault grantor/grantee records
Walla Walla Public Library Northwest History room and city directories
A visit to the house during its remodeling
Katherine Weingart Walla Walla 2020 Historical Research P.O. Box 1222 Walla Walla WA 99362 December, 2006
http://ww2020.net/wp-content/uploads/421_Lincoln.jpg
150
200
Katherine Weingart
http://ww2020.net/wp-content/uploads/2011/12/ww2020_logo.png
Katherine Weingart
2006-12-01 16:23:29
2017-02-05 12:28:01
History of 421 Lincoln Street, Walla Walla, WA