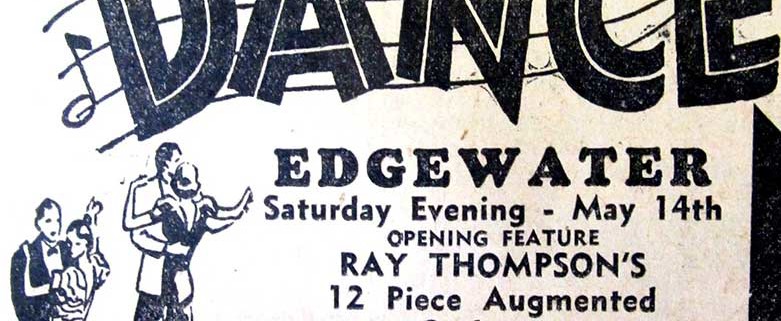 SECOND ANNUAL WALLA WALLA 2020 BIG BAND DANCE AT HERITAGE PARK MAY 13, 2016
The Walla Walla 2020 citizens group will present its Second Annual Big Band Dance at Heritage Park (116 E Main St.) from 7-9 pm on Friday, May 13, honoring the Edgewater Park open-air dance pavilion located just across Mill Creek from the 1920s-1940s. Download the event poster.
The historic dance pavilion was located on the south bank of Mill Creek across from the present Heritage Park, and was considered one of the finest outdoor dance facilities in the country, featuring both local and touring bands.
The May 13 Big Band Dance will be a free community event to recreate the Edgewater experience, featuring three jazz ensembles from the Walla Walla Valley Bands, as well as a string of lights around the dance area reminiscent of the lights surrounding the historic pavilion. The 18-piece Main Street Jazz Band will begin at 7:00 pm, followed by the 17-piece Mill Creek Jazz Ensemble, as well as a new Dixieland group called Dixie Fix.
From about 1926-1946, Edgewater Park offered open dancing, dance contests and exhibitions, as well as jitney dancing, boxing, wrestling matches and other events.  Jitney dancing was the practice of paying for each dance in advance. The Edgewater with its 8000 square foot dance pavilion and cool breezes off the water was the place to be for dancers throughout southeast Washington and northeast Oregon when the weather was good.
More information on Edgewater Park and other Walla Walla area historical sites can be found at www.ww2020.net/historic-sites, email: ww2020@charter.net, telephone: 509-522-0399.
http://ww2020.net/wp-content/uploads/May-1938.jpg
800
781
Site Manager
http://ww2020.net/wp-content/uploads/2011/12/ww2020_logo.png
Site Manager
2016-04-19 08:24:50
2016-05-03 08:27:40
WW 2020 Big Band Dance at Heritage Park on May 13