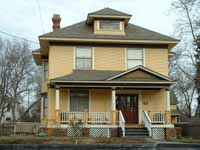 Property Description:
Tract A of short plat recorded in the office of the Auditor of Walla Walla County, Washington, in volume 3 of plats at page 11 under auditor's file #9500274, being the northwest portion of Lot 8, Page Addition, according to the official plat thereof of record in the office of the Auditor of Walla Walla County, Washington, in volume C of plats at page 36.
Title History:
Walla Walla was originally laid out by surveyor H.H. Chase in 1859, even before its formal incorporation as a city in 1862, as a one-quarter mile square oriented N-S, E-W and with its eastern side centered on the point where Main Street crossed Mill Creek (at roughly the point where it does now). To this original area, additional parcels were annexed from time to time, usually named after the land owner of record at the time the additions were made.
All of the land in this area was acquired from the Cayuse and Walla Walla Indian tribes by the U.S. Government in a treaty signed on June 9, 1855 in Walla Walla, and ratified on March 8, 1859 by President James Buchanan. A. B. Roberts received 160 acres including this parcel as a homestead from the U.S. Government, recorded on May 23, 1870. Roberts Addition was platted by A. B. Roberts and Martha E. Roberts on January  20,1871 (Plat Book A, Pages 21 and 22, Walla Walla County Auditor's Office, Walla Walla County Courthouse). A. B. Roberts came to Walla Walla from Portland, Or. in 1859 and immediately purchased a large farm site just south of Main Street. He was a pioneer orchardist and real estate dealer.  A. B. and Martha Roberts sold block 23 of Roberts Addition, including this lot, to Zara Coston on July 28, 1871 for $1000. On February 16, 1872 Coston sold 8 lots in block 23, including this, to Eveline and Allen L. Brunson for $350. On March 2, 1878 Brunsons sold the same 8 lots plus 1 acre to Edward "Ned" Baumeister for $475. Mr. Baumeister was one of three Baumeister brothers (plus Max and Barney) who were early Walla Walla businessmen. They owned the Oriental Hair Dressing and Bathing Saloon in the wooden Baumeister Building on Main Street at a time when most hotels and boarding  houses did not have running water. It was located where the restored 1889 Baumeister Building now stands. On January 4, 1883 Baumeister sold these 8 lots to Joseph C. Painter for $1200. Painter, a single man, sold  16 lots, including this,  and considerably more to Thomas Page for $4000 on May 28, 1885. Page sold 16 lots to B. L. Sharpstein for a stated consideration of $100 on November 1, 1886.  Benjamin L. Sharpstein was a lawyer from Wisconsin who came to Walla Walla in 1865. In 1866 he was elected to the state legislature and was instrumental in getting the Washington State Penitentiary located in Walla Walla. He also served on the Walla Walla School Board. The restored 1898 Sharpstein School was named for him. He lived at 365 Catherine. On December 12, 1886 B. L  and S. J. Sharpstein sold this same property to F. Ellen Page for the stated amount of $1. Frances Ellen Page and Thomas Page were divorced on June 11, 1889. The plat for Page Addition was filed on September 7, 1904 for lots 1-7 on Palouse and 8-10 on Catherine Street.
On September 25, 1890 F. E. Page sold a 120' x 60' parcel to M. A. (Mathias Albert) Caris  "together with the dwelling house and improvements thereon" for $500.  At the same time Ms. Page sold a 90' x 120' parcel to Maria M. Caris for $500.  On February 4, 1892 Frances Ellen Page sold an irregular parcel (S10' x E200' x N160' x W80' x S150' x W120') to Maria M. Caris for $700. On March 17, 1896 M. A. Caris filed a Declaration of Homestead on his 160' x 200' parcel (purchased in 1890) to protect his principal residence against a court judgment. The Walla Walla Daily Union described Mr. Caris (on October 18, 1905, following his death) as "an old pioneer of the 60s."  He had been born in 1834 in Ohio and came to Walla Walla in 1864. He established the first machinery store on Main Street between First and Second Streets where the present Barrett Building is located. The newspaper said he had a farm on the Touchet River and was one of the leading farmers of the county. He purchased three U.S. Patents on 478 acres from the U. S. government between 1882 and 1890. In 1890 he moved back to Walla Walla and entered the teaming and contracting business with his son, Charles F. Caris. His first wife, Rachel, was the mother of Charles. She and his second wife, Pauline, both died. In 1880 he married Miss Maria Blum from Athena. The 1902 city directory listed Mathias A. Caris, grading contractor, as living a 611 Catherine. There is no 1903 city directory. By 1904 his address is 605 Catherine.  On October 2, 1905 M. A. Caris gave Maria M. Caris a quit claim deed to this property. Mathias died on October 17, 1905. His funeral was held on October 19, 1905 at 605 Catherine and he is buried in the Mountain View Cemetery.   Marie Caris made her home at 605 Catherine through 1913. In 1914 she married Theodore Dudgeon and they continued to live at 605 until 1932. In 1920-22 Theodore's occupation was listed as "police". On February 10, 1932 Maria M. (Caris) Dudgeon and Theodore, her husband, sold 605 Catherine to Arthur J. and Bertha M. Groff. On June 1, 1932 the Groffs signed an agreement with the Dudgeons that they would pay "taxes, necessities of life and burial" for the Dudgeons. Groff was a painter and his wife worked at Valley Realty. They lived on Woodlawn and Vine (now Chestnut Street). However the Dudgeons were still listed as living at 605 Catherine in 1932. It was vacant in 1933 and the Dudgeons lived at 611 Catherine. In 1935 James Baker and Sam Hatch lived in 605 while the Dudgeons were at 611. On October 30, 1936 the Groffs quit claim deeded "all rights to the property" back to Maria M. Dudgeon, widow. On November 17, 1936 Maria Caris Dudgeon deeded "all interest in real estate" (160' x 200') to Walla Walla County. Presumably the Groffs had no further responsibilities to the Dudgeons after they returned this property to them. It is interesting to note that Theodore, who died in 1936, and Maria Dudgeon, who died in 1937, are both buried in the same block D as Mathias Caris in Mt. View Cemetery.
The County sold the property to Lavina C. Miley, widow, on October 11, 1937 for $3000. In the 1939 and 1941 directories, Mrs. Miley, nurse, lived at 605. On June 22, 1943 she sold to Genevieve Ferrel, widow, for "$10." Mrs. Ferrel lived at 336 S. Palouse and operated  Ferrel Apts. On May 14, 1945 Mrs. Ferrel sold to Ida B. Smith, widow, for "$10." On May 22, 1945 Ida Smith gave "an undivided 1/2 interest" to Emil Anderson. By October 16,1945, Mr. Anderson had returned the 1/2 interest to Mrs. Smith. On August 2, 1946 Mrs. Smith gave  "and undivided 1/2 interest" to G. W. Butts. In 1946 Ida B. Smith, Wilma E. Braden, Mrs. Gussie Freeburg and Bernard Jaffe lived at 605 Catherine. Ida Smith, widow of Telman, worked at a cannery worker at General Foods Corporation. No Emil Anderson or G. W. Butts were found in city directories of this period. On September 21, 1946 Ida Smith and G. W. Butts sold the property to R. R. and Elizabeth Hope for "$10."
The Hopes lived in apartment 1 at 605 Catherine. On August 16, 1948 the Hopes sold to Leo J. and Ruth I. Oldoski for "10." The Oldoskis lived at 515 Catherine, apartment one. Ruth was a bookkeeper. On May 19, 1953 the Oldoskis sold this property to Simon C. and Mary A. Peirce (sometimes spelled Pierce) for $10. Peirces did reside at 605 with several renters. Simon was a carpenter and drove a 1947 Kaiser car. On October 26, 1956 Simon Peirce's estate was inventoried with a value of $12,000 for house and land. Mary Pierce then signed an Agreement for Deed with Jesse Clemenson, widow of Larenzo.  On May 14, 1971 Mrs. Clemenson deeded the property to  Willard Felthouse, real estate appraiser.  Mrs. Clemenson then moved to 324 Grove and Mr. Felthouse sold the property to Randy Cacka on January 26, 1972 for $19,900. By December of that same year Mr. Cacka had relinquished his real estate contract with Mr. Felthouse. Mr. Felthouse then sold to Raymond J. and Sydney Wagner on February 28, 1973 for $15,500. Mr. Wagner was a draftsman with Gessel, Smith and Mosman who lived 330 W. Chestnut before moving briefly to 605 Catherine.  On August 29, 1974 the Wagners sold the property to Robert and Diana Schreindl for $18,453. Mr. Schreindl was a teacher at Garrison Junior High School. They lived on South Third Street.  On January 31, 1977 the Schreindls sold the property to William C. and Helen A. Sauer for $27,345. Mr. Sauer was also a Garrison teacher. They lived on Kendall Road. On October 1, 1979 the Sauers sold this property on contract to Billy J. and Alice S. Reitz for $58,700. Billy was chief of social services at the VA Hospital and Alice was a travel agent at AAA. They lived at 1125 Chestnut Drive. They owned and rented out 605 Catherine through 1993 by which time he was working at the Washington State Penitentiary and she was manager of AAA. On September 19, 1994 the Reitzs sold this property to Mike and Pam Bryan for $117,500. The Bryans had it short platted on January 9, 1995. It continued to be a rental property until the Bryans sold it to Roy L. and Lianne M. Schellenberg on May 31, 2002 for $156,000. The Schellenbergs converted this rental property back into a single residence in 2002 and have worked to recreate the grand home it was built to be.
Construction of the House:
The Walla Walla County Assessor's Office has two building dates for this property–1890 and 1898. Neither are correct, and these may represent the dates of structures on other portions of the larger parcel know as lot 8 of which this property was a part.  The 1894 Sanborn Fire Map did not show any house on this property. By 1905 it shows the footprint of the present residences. Since the 1902 City Directory indicated that M. A. Caris lived at 611 Catherine and in 1904 he was at 605 Catherine it is reasonable to assume this house was built circa 1903 (no city directory that year). We have no record of a building permit for the house  (although Maria Caris had permits to repair 605 1/2  and to add to 605 in 1909).  This would have been a time of active construction in this neighborhood. Mike Toner's house at Catherine and Whitman Streets was also built in 1903.
References:
Andres, Penny, Walla Walla Her Historic Homes, 1991.
Bennett, Robert A., Walla Walla Portrait of a Western Town 1804-1899, Pioneer Press, Walla Walla, 1980.
Bennett, Robert A., Walla Walla A Town Built to be a City 1900-1919, Pioneer Press,  Walla Walla, 1982.
Building permits: Whitman College Penrose Library
Lyman, Professor W.D., An Illustrated History of Walla Walla County  1901.
Sanborn Fire Maps: 1884-1905 (with updates until 1950).
Walla Walla City Directories: 1880-present (various publishers–not all years).
Walla Walla County Assessor
Walla Walla County Auditor
Walla Walla Mt. View Cemetery
Walla Walla Statesman
  Mary E. Meeker Walla Walla 2020 Research Service PO Box 1222, Walla Walla WA 99362 November, 2003
http://ww2020.net/wp-content/uploads/605_Catherine.jpg
150
200
Mary Meeker
http://ww2020.net/wp-content/uploads/2011/12/ww2020_logo.png
Mary Meeker
2003-11-01 17:38:07
2017-02-05 12:23:08
History of 605 Catherine Street, Walla Walla, WA