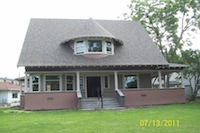 Legal Description:
Tract on east side of Park Street in southeast corner of Northwest quarter of Southeast quarter of Section 20, Township 7, Range 36 know as 171 South Park Street, City of Walla Walla, Washington.
Title History:
Washington Territory was created in 1853. The new legislature created Walla Walla County in 1854 which stretched from the crest of the Cascade Mountains to the crest of the Rocky Mountains in the present states of Washington, Idaho and Montana. In 1855 an Indian council was held on the banks of Mill Creek at the present site of Walla Walla to purchase land from the Indians. The Yakimas, Cayuses and Walla Wallas were dissatisfied with the treaties and war followed. Missionaries, former French-Canadian employees of the Hudson Bay Company trading post at Wallula, and soldiers at the military Fort Walla Walla were the primary European occupants of the area prior to 1859 when it was opened for settlement. All of the land in this area was acquired from the Cayuse and Walla Walla Indian tribes by the U.S. Government in a treaty signed on June 9, 1855 in Walla Walla, and ratified on March 8, 1859 by President James Buchanan.
Walla Walla was originally laid out by surveyor H.H. Chase in 1859, before its formal incorporation as a city in 1862, as a one quarter-mile square with its eastern side centered on the point where Main Street crossed Mill Creek (at roughly the point where it does now). Main Street originally followed the old Nez Perce Indian Trail. Consequently the streets leading off of it were at right angles to it, and were not in a north-south orientation. This was corrected as the city moved eastward which gave Walla Walla its peculiar street pattern with the three street intersection at Palouse, Boyer and Main Streets. To the original plat, additional parcels were annexed from time to time, usually with the name of the land owner of record at the time the additions were made.
This property is part of the oldest U.S. Patent in Walla Walla. On September 10, 1861 Andrew J. Cain and Cornelius Kelly filed a patent on 160 acres under the Script Warrant Act of 1855 northeast of the original City of Walla Walla town site. During 1862, A. J. Cain surveyed Cain's Addition to the City (this survey was rerecorded on May 11, 1865, following a disastrous fire which destroyed most of the county's earlier records).
A. J. Cain was a lawyer in Walla Walla between 1860 and 1873. He was elected on the Democratic ticket as prosecuting attorney of Walla Walla County in 1868. He later moved to Dayton and in September 1874 began publication of the Dayton News, a weekly Democratic newspaper. He became known as the "Father of Columbia County" as a result of his leading role in the formation of that county.
The first legal transaction involving this property recorded in the local records was a deed on December 5, 1864 from A. J. and Emma Cain to Dorsey S. Baker with the stipulation that Cain would provide a warranty deed "whenever the United States shall issue a patent therefore to party of the first part."  Baker had moved to Walla Walla in 1861 and built a home on College Creek on what is now Boyer Avenue . He also donated four acres of this forty acre parcel on the south side of Boyer Avenue to Whitman Seminary. In 1862, Baker was on the city council and some years later was a Walla Walla County Commissioner. He was the founder of Walla Walla's Baker Boyer Bank and builder of the first railroad in the valley. Dr. Baker died in 1888 but his will stipulated that his property could not pass to his heirs before 1900 so his estate was operated for many years by his extended family. On February 10, 1882 Dorsey S. and Elizabeth H. Baker sold 1.17 acres including this property to John M. Hill for $500. On March 30, 1896 J. F Boyer and his wife signed a Quit Claim Deed giving their previously undisclosed interest in this property to Dorsey S. Baker. On March 27, 1889 the Estate of Dorsey S. Baker gave a deed to John Hill for "the premise now occupied by John M. Hill, with creek water for domestic and lawn use."  In 1904 John M. Hill transferred ownership of this property with 2.25 acres excepting water rights to his wife Lucinda H. Hall.
In 1880 J. M. Hill was superintendent of Walla Walla & Columbia River Railroad with a residence on Whitman Street. In 1883 he was general superintendent of Walla Walla Flume and Milling Co. and lived on Boyer's Avenue. He was subsequently treasurer of the Blue Mountain Flume Company and general superintendent of the Walla Walla Street Ry. Co. and lived at 39 Park Street. In 1898 his son Dorsey S. Hill was a student at Whitman College. In 1900 John worked for Baker Boyer National Bank and Dorsey was a clerk at Blackman Bros., a dry goods store. In 1907 Dorsey Hill was the County Clerk and Clerk of Superior Court with his residence at 71 Park, the prior address of this house.
After Lucinda Hall's transfer of this property to her son Dorsey M. Hill, Dorsey and  his wife Elsie R. Hill sold this residence to William K. Southard on July 18, 1908 for $7800. Southard was not listed in the 1909 city directory. On April 27, 1910 William K. and Cora E. Southard, husband and wife, sold this place to Charles N. Hatch for $10,000. Hatch operated Hatch and Son Hardware at 10-12 East Main Street. On April 15, 1916 Charles and Josephine A. Hatch sold this property for the stated amount of $10 to Orris M. Richmond, "whose wife is Nellie M. Richmond." Orris was a farmer. After Nellie's death Orris Richmond sold this home to Oakley Taylor, whose wife was Gladys Richmond Taylor, on December 29, 1923 for "love and affection." Orris continued to be listed in the city directories as a resident at this address until 1926. Oakley also was a farmer. On August 16, 1932 Oakley Taylor transferred the title for this property to his wife Gladys Richmond Taylor. On June 21, 1954 Oakley L. and Gladys Taylor signed a Quit Claim Deed giving this property to Meryl E. and Jerome F. Davenport, husband and wife, for "love and affection." Jerome was the Post Office superintendent and his wife Meryl was the daughter of Gladys and Oakley Taylor and granddaughter of Orris Richmond. In 1951 the city directory listed Taylors at 171A, Rays at 171B and Davenports at 171 Park. (Despite the same address the apartments A and B are located on an adjacent property in a duplex built by the Davenports.) This continued until 1957 when Davenports were replaced at 171 Park by Clem Davis, who worked for Snyder Crecelius. On April 30, 1969 Jerome F. Davenport signed a Warranty Deed to Stanley S. and Marian B. Ray. Marian was Meryl Davenport's sister, daughter of Gladys and Oakley Taylor and granddaughter of Orris Richmond. She was the nurse at Walla Walla High School. Stanley ran Ray's Dental Lab. From 1958 until 1979 Florence McGovern, a high school English teacher, lived in 171A. Numerous renters have occupied two of the apartments at this address while Marion B. Ray continues to live here. In 2006 when the Park Street bridge was rebuilt Marian B. Ray gave a deed to the City of Walla Walla for 256 square feet of this property and signed an easement with City of Walla Walla. On December 10, 2008 Marian B. Ray (unmarried) transferred title of this property to the Marian B. Ray Revocable Living Trust. This house has been lived in since 1916 by members from four generations of the same family, a total of 94 years.
Construction of the Building:
The Walla Walla County Assessor's Office lists a construction date of 1906. Dorsey Hill took out a construction permit in 1905 for $5000 and its footprint is on the 1905 fire map. Therefore the origin of this grand old home can be stated as 1905, with an expanded footprint at some time.
References:
Bennett, Robert A., Walla Walla  Portrait of a Western Town 1804-1899, Pioneer Press,  Walla Walla, 1980.
Bennett, Robert A., Walla Walla  A Town Built to be a City 1900-1919, Pioneer Press,  Walla Walla, 1982.
Bennett, Robert A., A Nice Place to Raise a Family 1920-1949, Pioneer Press, Walla Walla, 1988.
BLM Land Patent Records
Building permits: Whitman College Penrose Library (1907-1939)
Gilbert, Frank T.; Historic Sketches of Walla Walla, Whitman and Garfield Counties, Washington       Territory, and Umatilla County, Oregon, 1882.
Sanborn Fire Maps: 1884-1905 (with updates until 1950)
U. S. Census records
Walla Walla City Directories: 1880-present (various publishers–not all years).
Walla Walla County Assessor's Office
Whitman College Archives.
  Mary E. Meeker ; Walla Walla 2020 Research Service PO Box 1222, Walla Walla WA 99362 March 2010
http://ww2020.net/wp-content/uploads/171_S_Park.jpg
133
200
Mary Meeker
http://ww2020.net/wp-content/uploads/2011/12/ww2020_logo.png
Mary Meeker
2010-03-01 18:11:00
2017-02-05 12:20:45
History of 171 South Park Street, Walla Walla, WA