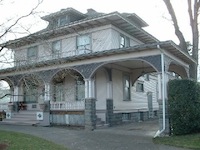 Property Description:
Lot 8 in Block 1 of Walnut Grove Addition
Parcel No. 360721240013
Construction Date:
Information provided by owner showed that the house on this property was constructed in 1905 by John Milton Crawford and Martha Cox Crawford, co-owners of Whitehouse-Crawford Lumber Company and Tum-a-Lum Lumber Company, as their residence.
This property is the subject of an article on pp. 28-29 in Volume I of  Walla Walla, Her Historic Homes by Penny Andres.
  Summary report by Daniel N. Clark, for Walla Walla 2020 Historic Building Project, 11-15-05
http://ww2020.net/wp-content/uploads/1324_E_Isaacs.jpg
150
200
Site Manager
http://ww2020.net/wp-content/uploads/2011/12/ww2020_logo.png
Site Manager
2005-11-15 18:44:41
2014-01-22 20:03:51
History of 1324 East Isaacs Avenue, Walla Walla, WA