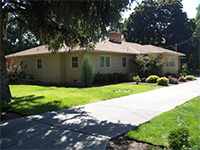 Property Description:
Beginning at the Northeast corner of Lot 1 of Bryant's Acre Tracts in the City of Walla Walla, Washington, according to the official plat thereof of record in the office of the Auditor of Walla Walla County, Washington, in Book C of Plats at Page 39, and running thence South along the East line of said Lot 1, a distance of 151.0 feet, more or less, to a point in the center of the channel of Garrison Creek; thence down the center of the channel of said Garrison Creek by the following courses and distances: North 89º53' West 55.0 feet; thence South 47º 36' West 16.28 feet; thence South 80º 39' West 30.4 feet; thence North 75º12' West 43.4 feet; thence South 86º18' West 45.07 feet; thence North 89º02" West 24.0 feet more or less, to the point of intersection with a line parallel to and distant 70.0 feet East, measured at right angles, from the West line of Lot 2 of Said Bryant's Acre Tracts; thence North along said parallel line to a point in the North line of said Lot 2 which is 70 feet East of the Northwest corner thereof; thence East along the North line of said Lot 2, and along the North line of said Lot 1, a distance of 208.0 feet, more or less, to THE POINT OF BEGINNING.
All situated in the County of Walla Walla, State of Washington.
Title History:
Washington Territory was created in 1853. The new legislature created Walla Walla County in 1854 which stretched from the crest of the Cascade Mountains to the crest of the Rocky Mountains in the present states of Washington, Idaho and Montana. In 1855 a treaty council was held on the banks of Mill Creek at the present site of Walla Walla to purchase land from the Indians. The Yakimas, Cayuses and Walla Wallas were dissatisfied with the treaties and war followed. Missionaries, former French-Canadian employees of the Hudson Bay Company trading post at Wallula, and soldiers at the military Fort Walla Walla were the primary European occupants of the area prior to 1859 when it was opened for settlement. All of the land in this area was acquired from the Cayuse and Walla Walla Indian tribes by the U.S. Government in a treaty signed on June 9, 1855 in Walla Walla, and ratified on March 8, 1859 by President James Buchanan.
Walla Walla was originally laid out by County Surveyor H. H. Case in 1859, before its formal incorporation as a city in 1862, as a one-quarter mile square with its eastern side centered on the point where Main Street crossed Mill Creek (at roughly the point where it does now). The City of Walla Walla received a Trustee Townsite from the U. S. Government which consisted of 80 acres issued on July 20, 1869 by the Vancouver, W.T. District Land Office.   Main Street originally followed the old Nez Perce Indian Trail. Consequently the streets leading off of it were at right angles to it, and were not in a north-south orientation. This was corrected as the city moved eastward which gave Walla Walla its peculiar street pattern with the three street intersection at Palouse, Boyer and Main Streets. To the original plat, additional parcels were annexed from time to time, usually bearing the name of the land owner of record at the time the additions were made.
The first transaction on this property in the Walla Walla legal records was on March 8, 1881 when John P. and Viretta Bryant sold forty acres to John F. and Sarah E. Boyer. On December 2, 1881 the Boyers sold the same property back to the Bryants, suggesting that the prior warranty deed was security for a loan. The north half of the 40 acre purchase was designated for future lots. For the next 19 years the Bryants leased portions of the 40 acre property for a nursery (John T. Miles) and gardens (Lee Yune, Yick Hock, Sim Sin, Chung Lon and Gin Wing) for periods of 1-10 years for $300-$500 a year rent in gold coin. The leases were multiple pages of hand-written details, sometimes signed in Chinese, with an "X" or by a wife. At that time Chestnut Street was known as Nursery Street. John Bryant died in 1898. Following the settlement of his estate his children, William H., John P., Mandana, and Cyrus signed Quit Claim deeds to their mother, Viretta Bryant, at which time she sold this property to William D. Paul for "$10." On April 20, 1908 William D. and Kathie L. Paul sold Lots 1 and 2 of Bryant's Acre Tracts to Andreas Bard for $3000. Two weeks later Andreas and Christine Bard sold these same two lots to Enid Smitten for $3500 on May 4, 1908. Enid Padmore Smitten married Lester Lee Hobbs. On November 6, 1944 Freeman Cornwall Smitten signed a Quit Claim deed, transferring his interest to the Estate of Enid Smitten Hobbs. On November 27, 1944 Lester Lee Hobbs signed a Quit Claim deed transferring his ownership to the estate of his deceased wife, Enid Padmore Smitten Hobbs. On January 11, 1945 the Personal Representative for Enid Hobbs' estate gave an Administrative Deed on this property to Roland E. and Emma Jane Miller and Ivar E. and Mary B. Highberg for $1500. On January 26, 1945 the Millers signed a Quit Claim Deed giving sole ownership to the Highbergs. On October 6, 1948 the Highbergs sold this property to John H. and Marion W. Crawford for "$10." John Howard Crawford was the son of Clarence Howard Crawford and the grandson of John Milton Crawford who came to Walla Walla in 1904 and bought the Whitehouse-Crimmins Lumber Company and changed the name to Whitehouse-Crawford. By 1921 he owned 50 lumber companies throughout the Pacific Northwest. On April 2, 1956, John H. and Marion W. Crawford sold Lot 1 of this property to C. H. and Margaret Crawford. On August 30, 1988 the Estate of Margaret Crawford sold this lot to Michael E. and Patricia Golden. On July 1, 1992 Patricia A. Golden signed a Quit Claim Deed transferring her interest in this property to her husband, Michael. Following a divorce and remarriage, on June 23, 1998 Jeanne Golden transferred her interest in this property to Michael who became sole owner as his separate, non-marital property. On June 25, 1998 Michael signed a Warranty Deed for this property to Philip D. and Jeanette H. Brick. On June 10, 2003 the Bricks sold this property to James D. and Alice J. Shanley. On February 14, 2012 the Estate of Alice J. Shanley transferred ownership to James D. Shanley. On August 21, 2013 Mr. Shanley sold this property to Darcie Suzanne Furlan and Jeanne Michelle Denker.
Occupant History:
The first occupants at this address were J. H. and Marion Crawford starting in the 1949-59 city directory. They continued to live there until 1957 when C. Howard and Margaret R. Crawford moved here from 208 S. Division. From 1988 until the present this house has been occupied by the owners.
Construction of the Building:
The Walla Walla Tax Assessor states a 1948 construction date for this house which concurs with the year the land was purchased by John and Marion Crawford. From this research, that date appears to be accurate, and should be used as the build date for this residence.
References:
Andres, Penny, Walla Walla Her Historic Homes, Vol. I, 1991.
Andres, Penny, Walla Walla Her Historic Homes, Vol. II, 1993.
Andres, Penny, Walla Walla Her Historic Homes, Vol. III, 1998.
Bennett, Robert A., Walla Walla Portrait of a Western Town 1804-1899, Pioneer Press, Walla Walla, 1980.
Bennett, Robert A., Walla Walla A Town Built to be a City 1900-1919, Pioneer Press, Walla Walla, 1982.
Walla Walla City Directories: 1880-present (various publishers–not all years).
Whitman College Archives.
http://ww2020.net/wp-content/uploads/1228_S_Division.jpg
150
200
Mary Meeker
http://ww2020.net/wp-content/uploads/2011/12/ww2020_logo.png
Mary Meeker
2015-01-28 08:11:41
2015-02-16 08:07:23
History of 1228 South Division, Walla Walla, WA