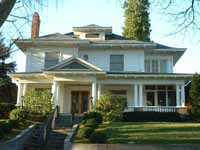 Property Description:
Lot 12 in Block 14 of Green's Park Addition
Parcel No. 360721511412
Construction Date:
Information provided by Jack F. McDonald, owner, showed that the home on this property was constructed on May 21, 1909 by James A. and Mamie O. McLean, owners and contractors, who thereafter resided on the property until selling it on March 29, 1921 to Paul H. Weyrauch, who sold it to Madalene Johannesson on February 4, 1927, followed by a sale from Johannesson to Vigil Rule on March 14, 1955, who sold it to Milton P. Warner on October 24, 1958.  Warner sold the property to Jack F. and Margaret McDonald on July 23, 1959, who have resided there since that time.
The construction date was verified by a copy of the deed for the property to James A. McLean on March 18, 1909 as well as a copy of building permit records, which show the issuance of a permit on May 21, 1909 to J.A. McLean for construction of a dwelling on Alvarado near Clinton valued at $4000.
  Summary report by Daniel N. Clark, for Walla Walla 2020 Historic Building Project, 11-15-05
http://ww2020.net/wp-content/uploads/1049_Alvarado.jpg
150
200
Site Manager
http://ww2020.net/wp-content/uploads/2011/12/ww2020_logo.png
Site Manager
2005-11-15 18:00:48
2014-01-19 20:14:32
History of 1049 Alvarado Terrace, Walla Walla, WA