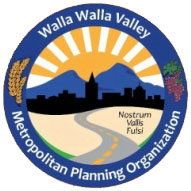 The Walla Walla Valley Metropolitan Planning Organization/Sub-Regional Transportation Planning Organization (WWVMPO/SRTPO) invites you to participate in workshops designed to gather input for the development of the 2040 Plan. Planning staff will be on hand to hear from you about the Community's transportation vision, needs, issues, and priorities.
Any member of the community is welcome to attend the identical workshops:
Thursday, July 30,

5:30-7:00 PM

– Milton-Freewater Community Building, 109 NE 5th St
Tuesday, August 4,

5:30-7:00 PM

– College Place City Hall Council Chambers, 625 S College Ave
Wednesday, August 12, Noon-1:30 PM – City of Walla Walla Police Department Community Room, 54 E Moore St
As Federal, State and local funding becomes available, the purpose of the 2040 Plan is to guide regional multi-million dollar investments into all modes of transportation – roadway, bicycle, pedestrian, public transportation, and freight. The 2040 Plan will examine current transportation infrastructure, services, and deficiencies, as well as forecast the region's growth and anticipated transportation needs over the next 25 years for the Walla Walla Valley Metropolitan/Regional Planning Area. The planning area includes Walla Walla County, WA and the northeast portion of Umatilla County, OR, as well as the cities within – College Place, Milton-Freewater, Prescott, Waitsburg, and Walla Walla.
The workshop will include an overview of regional growth trends, provide information on the transportation planning process, and will include small group discussions on community values and transportation priorities. The goal of the workshop is to establish the Community's vision, which will guide the development of the 2040 Plan and the selection of regional transportation projects through the year 2040.
We thank you in advance for your active participation and your willingness to share your concerns, ideas, and vision with us as we strive to create the best possible transportation system for our region.