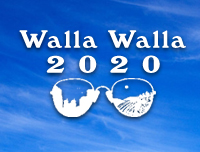 Wednesday, August 12, is shaping up to be a day of important public meetings, some or all of which we hope you will consider participating in.  In chronological order:
1) Long-Range Transportation Plan
The Metropolitan Planning Organization (MPO) is seeking public input regarding our transportation values and priorities.  The plan will have a significant effect on funding for projects.  The meeting is at Noon in the meeting room at the Walla Walla Police Department.  More detail about this meeting, click here.
2) Clear-Cutting on Mill Creek Levee
The Corps of Engineers is presenting its plan to remove all vegetation from the levee and receiving public comment and letters.  The meeting is at 5:00 in the meeting room in the Walla Walla airport terminal.  An excellent letter by 2020 member Bob Carson is available here.
3) Filtration or UV to Protect Water Supply
The city council will make a decision that will have a long-term effect on our water system.  The meeting is at 7:00 at City Hall, and public comment is always accepted  for agenda items.  This will be the first item on the active agenda.  This will also be discussed, though no decision made, at today's council work session, which begins at 4:00 today, August 10.  Public welcome.
http://ww2020.net/wp-content/uploads/ww2020_logo.jpg
152
200
Site Manager
http://ww2020.net/wp-content/uploads/2011/12/ww2020_logo.png
Site Manager
2015-08-10 10:23:30
2015-08-10 10:25:57
Aug 12: Another Chance to make a Real Difference