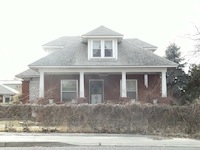 Legal Description
The North half of Lot 1 in Block 28 of Blalock Orchards, according to the official plat recorded in Volume D of Plats at page 46, records of Walla Walla County, EXCEPTING therefrom the West 75 feet in width thereof. Also EXCEPTING a parcel beginning at the Northeast corner of Lot 1 in Block 28 of Blalock Orchards, according to the official plot recorded in Volume D of Plats at page 46, records of Walla Walla County, and thence South, along the East line of said Lot 1, a distance of 170.6 feet to the Southeast corner of the North half of said Lot 1; thence West, along the South line of said North half, a distance of 73.37 feet; thence North 6E 48′ East 172.01 feet to a point in the North line of said Lot 1 which is 53 feet West of the point of beginning; thence East, along said North line, 53 feet to the point of beginning.
Title History
Block 28 is part of one of several tracts known as Blalock Orchards. Although located adjacent to College Place, it is a Walla Walla County address. It was once a very important fruit growing area; now it is primarily onion fields or residential areas. Dr. Nelson G. Blalock came to the Walla Walla area from the East coast in search of a better climate for his health. He received his medical degree from Jefferson Medical College in Philadelphia and was practicing medicine in Mt. Zion, Illinois when he came to the Walla Walla area in 1872. Medicine was just one of his interests, however. He believed that the area would be a fine place to grow fruit that could be shipped by rail to other areas of the U.S. In 1874 Blalock began purchasing a sage brush tract of land west of Walla Walla which gradually increased to 640 acres. According to a paper written by daughter Phoebe Blalock, in 1877 or 1878 sixty acres were "set out in fruit trees." Then 40 acres a year were added until the entire tract was planted. Later 40 acres of this tract were donated by Blalock to the Seventh Day Adventist Church with the stipulation that it would operate a school there for 25 years. This school became Walla Walla College which was founded in 1892 and was 114 years old in 2006, far surpassing Blalock's requirement.
Because it has been a rural Walla Walla County address with changing box numbers, the address 923 Wallula Ave. wasn't used in a City Directory until 2000. County tax lists were often the only way of identifying residents in several of the City Directories. This is a property that has had many owners.
On November 19, 1912 Rosa Simmons purchased Lot 1 of Block 28 which contained 1.87 acres from Blalock Fruit Company for $1870. On November 25, 1912 Byron Simmons and Rosa L. Simmons gave a mortgage on this property to George Struthers for $2500 in gold coin. The Simmons are listed on Wallula Road in the 1919-10 directory, but not in the 1910-11 or 1911-12 directories.  In the 1912-13 directory, they are listed at "Wallula Avenue, Blalock", and Byron Simmons' occupation as a farmer appears in the 1915 City Directory. The change of address to the Blalock property in the 1912-13 directory, as well as the $2500 mortgage on November 25, 1912 following their purchase suggest that the Simmons used the funds from the mortgage to build a home on the property in the spring of 1913.  On July 25, 1919 the Simmons sold Lot 1, Block 28 to V.E. Brown and Jennie Brown for an undisclosed amount. The legal description for that sale included water rights and water ditches "appurtenant to and belonging to said premises." On December 9, 1919 the Browns sold to Nellie Talbott and De Moville Talbott. Again, there was no price for the sale given, although the Browns gave the Talbotts a mortgage in the amount of $3125, suggesting a higher sale price, consistent with a house being on the property. On July 26, 1920 the Talbotts sold the property to Luella Moon. Again, there was no stated amount for this sale. This transaction resulted in the current legal description of "the north half of Lot 1 Block 28" reducing the property to today's lot size. Luella and John Moon are listed in the 1920's at Wallula Rd. RD2. In the 1927-28 White's Rural Directory of Walla Walla County, Luella Moon is listed as owning .9 acres in Blalock Orchards with an assessed value of $1545. Luella Moon died in January of 1934. John E. Kenney, executor of Luella Moon's estate, and Gladys L. Kenney evidently inherited the property because they were the next residents, living there from 1934 until 1943. On January 6, 1943 the Kenneys sold the house to Lottie Kinman and Jacob Kinman. The sale included "subject to provisions contained in a deed from Blalock Fruit Co. to Rosa L. Simmons." Those would have been regarding the water "for domestic and irrigation purposes." There was no City Directory information about where they resided so perhaps it was a rental during the short time they owned the property.
On December 8, 1944 Lottie Kinman sold the house to Dilce B. Wendler and Bessie E. Wendler for an undisclosed amount. Their long residency resulted in numerous box number changes for their RD 2 and then from 1967-1970 a street address of NW Evans, which is the street on the west side of the house. In the 1960 City Directory Dilce Wendler is listed as being retired, living at Finch (another name change) and Wallula Rd. and owning a 1951 Chevrolet. This is one of the very few directories that gave that much detail about area residents. On June 5, 1972 the Wendlers sold the property to James B. Bradshaw and Bernice Bradshaw. On November 20, 1973 the Bradshaws sold to Bernard Niel Hanson and Bonnie A. Hanson for an undisclosed amount. The 1974 City Directory lists Mr. Hanson as retired On May 27, 1975 the Hansons sold to Leland J. Johnston and Marcia C. Johnston. On May 14, 1976 the Johnstons sold this property to Wesley E. Small and Thelma F. Small. Wesley Small is listed as retired in the 1978 City Directory. On September 14, 1983, the Smalls sold to Gregory A. Ponti and Gloria Ponti. In the 1986 City Directory Greg Ponti is listed as self-employed at the Alvin Ponti farm and Gloria Ponti is an RN at St. Mary Medical Center. The 2000 City Directory gives the first listing for this address: 923 Wallula Ave. This is a very attractive barn red house, sitting on the corner of Wallula Ave. and Evans Ave. In October 2015 the home was purchased by Marcia and Richard Middleton-Kaplan.
Construction of the House
The Walla Walla County Assessor's records for 923 Wallula Ave. gives 1922 as the construction date. This research indicates a construction date of 1913 by Byron and Rosa Simmons, which should be used.
Resources used for this report:
Pioneer Title Company documents for this property
Penrose Library Northwest Archives, Whitman College, for City Directories, miscellaneous information
Walla Walla Public Library for City Directories and county maps
Walla Walla County Assessor's files
Walla Walla County Auditor's Grantor/Grantee file
Walla Walla College Library archives and general collection
  Katherine Weingart Walla Walla 2020 P.O. Box 1222, Walla Walla WA 99362 May 2006; updated June 2016
http://ww2020.net/wp-content/uploads/923_Wallula.jpg
150
200
Katherine Weingart
http://ww2020.net/wp-content/uploads/2011/12/ww2020_logo.png
Katherine Weingart
2006-05-01 17:39:31
2017-02-05 12:28:03
History of 923 Wallula Avenue, Walla Walla, WA