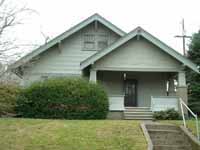 December 31, 1994
904 Bonnie Brae St.
Walla Walla, Wash. 99362
To whom it may concern:
This is regarding our home at 904 Bonnie Brae. In order to find out how old the house is, I went to the Assessor and found out that the house was built in the general time of 1920.
Then went to Auditor's office and checked back through the records until I found out that the house was built in 1921. A man named Norman Hawk, who worked for Whitehouse-Crawford built the home that year and was listed as living at 904 Bonnie Brae in the 1921 City Directory.
One interesting note is that I happened to see Joe Webster and asked him if he remembered who had owned our home and he said he had lived at 811 Alvarado Terrace in 1921 and observed Mr. Hawk as he was building the home. He did it during the evenings and week-ends. Before that Mr. Webster grew squash on our property and the two homes North of 904 Bonnie Brae. Mr. Webster remembered that
Mr. Hawk was the name of the man who did build our home.
Sincerely,
W. Barbara Lloid
http://ww2020.net/wp-content/uploads/904_Bonnie_Brae.jpg
150
200
Site Manager
http://ww2020.net/wp-content/uploads/2011/12/ww2020_logo.png
Site Manager
1994-12-31 01:11:47
2014-01-19 18:00:02
History of 904 Bonnie Brae Street, Walla Walla, WA