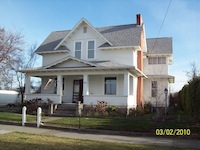 Legal Description
All of Lot One (1) and that part of Lot Two (2) lying easterly of a line drawn parallel to and distant 8.3 feet westerly, measured at right angles, from the easterly line of said Lot Two (2), all in Block Eleven (11) of Reese's addition to the City of Walla Walla, according to the official plat thereof of record in the office of the Auditor of Walla Walla County in Volume "A" of plats at page 13.
Title History
The land that comprises the City of Walla Walla was acquired from the Cayuse and Walla Walla Indian tribes by the U.S. Government in a treaty signed on July 9, 1855 in Walla Walla and ratified on March 8, 1859 by President James Buchanan. Walla Walla was originally laid out by surveyor H.H.Chase in 1859, even before its formal incorporation as a city in 1862, as a one-quarter mile square oriented N-S, E-W with its eastern side centered on the point where Main Street crossed Mill Creek (at roughly the point where it does now). To this original area, additional parcels were annexed from time to time, usually with the name of the land owner of record at the time the additions were made. 801 W. Alder is located in Reese's Addition, named for Isham T. Reese and his wife Martha A. Reese. Reese is listed in Volume 1 of W.D. Lyman's Old Walla Walla County(1918) as a pioneer merchant living in the Walla Walla area prior to 1860. He left Walla Walla for Tacoma where he built the first wheat warehouse. Reese died in 1903.
The first recorded transaction for 801 W. Alder was on December 9, 1870 when Isham T. Reese and Martha A. Reese sold lots 1 and 2 in Block 11 of Reese's Addition to William Neal and Jane H. Neal for a consideration of $100. The Neals had already purchased lots 3, 4 and 5 in Block 11 in July of 1870. On January 1, 1875 William Neal deeded all five lots to Jane Neal for a consideration of $1. In the 1881 City Directory William Neal is listed as the proprietor of "horse restaurant" located at 530 Alder. In the 1893-94 City Directory Jane Neal is listed as a widow, residing near the restaurant at 520 Alder.
On May 3, 1882 William and Jane Neal deeded lots 1 and 2 for a consideration of $1 to Bernard L. Simpson and S. Frances Simpson. Frances was the Neals' daughter, having married Simpson in 1881. The Simpsons are listed as residing at 10th and Alder in the 1883-84 City Directory and again in the 1892 City Directory. At that time Mr. Simpson was working at the State Saloon,117 Main. In the 1889 City Directory Simpson is listed as the night bartender at the Stine House, residing there as well. The first mention of the address 801 W. Alder is listed in the 1893-94 City Directory. Bernard Simpson's list of mortgages for this property began in 1882, another was filed in 1882, probably for the construction of a prior house on this property, and a third larger one ($1000) was filed in 1890, probably for construction of this house. There are no building permits for these years. Simpson continued in the spirits business selling wines and liquors at Simon (could that have been "Simpson?") House, according to the 1893-94 City Directory. On October 29, 1898, the Simpsons sold lots 1, 2, 3 and 4 to Leon Jaussaud for $2100. Thus began the ownership of the Jaussaud family which continues on to the current owner, Barbara Allen Griffin, granddaughter of Leon Jaussaud. Bernard Simpson is listed on the 1900-1901 City Directory as residing at 343 S. 4th with a telephone (black 872), not a very usual thing in those years.
Leon Jaussaud appears off and on in City Directories, beginning in 1889 when Jacko and Jaussaud at 324 Main was listed as his restaurant and his residence. The next time a City Directory mentions Jaussaud is the 1902 edition and then in the 1905 edition. His occupation is given as "stockman," an occupation that other family members would pursue. Leon Jaussaud is listed in W.D. Lyman's book as one of the leading sheep raisers in Walla Walla County, winning blue ribbons at the annual fair for his fine Rambouillet sheep. The sheep spent the winters near the Snake River and the summers near what is now Jubilee Lake in the Blue Mountains. The Jaussaud family spent the summers in the Blues as well.
In the 1911-12 City Directory Mary D. Jaussaud is listed for the first time. This must be Leon's wife who was known as Demerise. In the 1908 City Directory, Josephine Jaussaud is listed as a boarder at 801 W Alder and in the 1909-10 City Directory Josephine is listed as an ironer at Walla Walla Steam Laundry. Leon, Jr. (known as Leo) is first listed in the 1912-13 City Directory. He is then listed as "student," then as working in a lab and by 1920 as a rancher. The personal property sums given in the City Directories increase considerably from $48.10 in 1905, $1125 in 1914 and $6670 in 1921-22.
Leon Jaussaud died in 1927. Demerise served as the executor of his estate. The Jaussaud family was large (there were eleven children) and legal documents were filed confirming procedures for distribution of property. On May 11, 1939 an Agreement was filed by Demerise Jaussaud "to not sell any part of real estate described in the inventory and appraisement filed in the estate of Leon Jaussaud, deceased, without the consent of Louis Jaussaud, Frank Berard, Victor Jaussaud, Andre Jaussaud, Arthur Jaussaud, Louise Jaussaud and Leon Jaussaud, Jr." On March 15, 1945 a Quit Claim Deed was filed by Victor John Jaussaud, a divorced man, to Demerise Jaussaud, for a consideration of $10 for his portion of lots 1,2,3 and the easterly 20′ of lot 4 along with rural lands held by the Jaussaud family. The same Quit Claim Deed to Demerise Jaussaud was filed by Demerise Jaussaud McDaniel (daughter of Leon, Jr.) and Leonard McDaniel on December 18, 1952.
Various members of the family lived at 801 W. Alder but Demerise is the member of the family who had the longest residence, living there for several years by herself. Other family members resided next door at 809 Alder on the same property. Arthur Jaussaud lived at 801 W. Alder for many years. He is listed as a student in 1925, a rancher in 1931, a farmer in 1933, a farmhand in 1937, married to Hilda in 1939, a welder in 1946 and 1948. Hilda survives. The 1938 Sanford Firemap indicates that the outbuilding directly back of the house was a welding shop at that time.
On August 5, 1960 Demerise Jaussaud was declared incompetent and her daughter Louise Allen was appointed her guardian. Demerise died in 1961 and Louise Allen and Seattle First Bank were appointed as executors of her estate. The 1960 City Directory lists William A. Allen and Louise Jaussaud Allen, co-owners of Allen's Ice Cream in Milton-Freewater, Oregon, as the residents of 801 W. Alder. In the 1966 City Directory Miss Barbara Allen is listed in addition to her parents. In 1972 a Quit Claim Deed was filed for love and affection by the Allens to Lena, Leon and Jeanette Jaussaud, residing at 809 W. Alder, reducing the property 801 sits on to its current size which is given in the legal description. Also in 1972 Quit Claim deeds were filed for love and affection by surviving family members who had been a part of Leon Jaussaud's estate settlement in 1929 thus making Louise Allen the sole owner of this property. Louise Jaussaud Allen died in August of 2002 and Barbara J. Allen Griffin and her brother Stephen Allen were Co-Personal Representatives of her estate. A Quit Claim Deed made Barbara Griffin the sole owner on July 16, 2003. Ms. Griffin owns the Massage and Reflexology Center at 515 W Main in Walla Walla.
It is obvious there has been remodeling of this home over the years. The only recorded evidence of that is the Sanborn Fire Maps in the Walla Walla Public Library and Penrose Library Archives. Paste-overs are evident which indicate that changes occurred mainly in the back of the house. There was a building permit granted to Leon Jaussaud on April 26, 1912 for $200 for construction of a garage. The Fire Maps show various arrangements of outbuildings at the back of the house.
Construction Date
Because there were no building permits required before 1907, it isn't possible to be definite on the exact year of construction of 801 W. Alder The only building permit available was issued to Leon Jaussaud on April 26, 1912 for $200 to build a garage. Research proves that though the Jaussaud family has lived there for 104 years, the builders of the house were Bernard and Frances Simpson, who resided on the property in a prior house beginning around 1882, and are  first listed at this address in the 1893-94 City Directory. A mortgage large enough to build this house in that era was taken out by the Simpsons in 1890. There are no directories for 1890 or 1891, and after being listed at a different location in the 1889 directory, they are listed again on this property in 1892.  Therefore, this researcher concludes that the construction date of the current home is circa 1890. As we have often discovered in our research, the County Assessor records are incorrect as they claim1896 as the construction date.
Research Sources:
Pioneer Title Company documents for this property
County Records Vault, Walla Walla County Courthouse
Sanborn Fire Maps
Walla Walla County Assessor's Office
Walla Walla City Directories
Penrose Library Archives for building permits and biographical information
Katherine Weingart Walla Walla 2020 Research Service P.O. Box 1222 Walla Walla WA 99362 November, 2003
http://ww2020.net/wp-content/uploads/801_W_Alder.jpg
150
200
Katherine Weingart
http://ww2020.net/wp-content/uploads/2011/12/ww2020_logo.png
Katherine Weingart
2003-11-01 17:21:44
2017-02-05 12:29:03
History of 801 West Alder Street, Walla Walla, WA