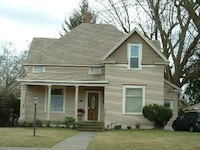 Property Description:
Beginning at a point in the North line of Block 2 of Spring Grove Addition No. 1 to the City of Walla Walla, according to the official plat thereof recorded in Volume B of Plats at page 48, records of Walla Walla County, Washington, which point is 170 feet West of the Northeast corner of said Block 2 measured along said North line; thence West, along said North line, a distance of 107 feet; thence South, parallel to the East line of Division Street in the City of Walla Walla, a distance of 145.25 feet; thence East, parallel to the North line of said Block 2, a distance of 107 feet; thence North 145.25 feet to the point of beginning.
Title History:
Walla Walla was originally laid out by surveyor H.H. Chase in 1859, even before its formal incorporation as a city in 1862, as a one-quarter mile square oriented N-S, E-W and with its eastern side centered on the point where Main Street crossed Mill Creek (at roughly the point where it does now). To this original area, additional parcels were annexed from time to time, usually with the name of the land owner of record at the time the additions were made.
Joshua C. Isaacs platted the Spring Grove Addition No. 1 to the City of Walla Walla on June 14, 1890 (plat map B, page 48). Mr. Isaacs was a single man who was the proprietor of the Walla Walla Water Works located at 217 Main Street. His residence was 309 N. Third Street.  He sold the north half of block 2, Spring Grove Addition No. 1 to J. F. Cropp on April 1, 1890 for $1500.
Dr. Cropp was a physician who lived at 403 E. Rose. He sold this same parcel to James F. Sloane on June 17, 1890 for $2150.
The property was foreclosed on 10/29/1891 and subsequently sold by J. M. McFarland, Sheriff for Walla Walla County to Emil Sanderson on 12/28/1892 for "$1501.00 in gold coin." Mr. Sanderson owned Sanderson and Gregory, a poultry, fish and oysters store.  Sanderson lived at 317 Cherry in 1883-89 and 15 Poplar in 1892. In 1898 he is listed in the city directory as a "constable, res. Pleasant and Division." In 1900 he was both a city and county constable. In 1902 he was a farmer and in 1904-05 a policeman living on "ss Pleasant 3e city limits." The city directory glossary indicated that "ss" means south side of the street, "3e" means three miles east. By 1907 Sanderson had moved to South Third. No other family members are listed in any city directory.
Emil Sanderson and his wife Mabel O. sold the property to Martin Luckenbill on 9/25/1907 for $4000. Mr. Luckenbill was a farmer. No street number was used for this house until 1912 when it was listed as 712 Pleasant. Mr. Luckenbill died in 1912. His wife Anna and two other women named Luckenbill lived at this address until Anna, acting as executor for his estate, sold to Lamar Martin for $5500 on 10/28/1920.
Mr. Martin's wife was incorrectly listed as "Anna" on this deed which required subsequent correction. Anna Luckenbill, widow of Martin Luckenbill, gave a quit claim deed to the Union Trust for the estate of Lamar Martin on 4/29/1925.
On 4/30/1925 the Union Trust for Lamar Martin estate sold the property to Oren Demaris and his wife Nettie for $3000. No occupation was listed for Mr. Demaris in the city directories. Within the next nine years both Mr. and Mrs. Demaris died and their children and heirs Bonnie Braden, Ina Ayde, Ida Clark and Roy O. Clark sold the property to J. C. Fondahn, whose wife was Lurena.
Fondahns paid $1600 on 3/1/1934. Mr. Fondahn was the foreman at Machinery and Draper Company. In 1949 the houses on this street were renumbered and this property became 736 Pleasant Street. The Fohdahns resided in this house longer than any other owner, for a total of 43 years. Following their deaths, Wayne M. Fondahn, personal representative for Joseph C. and Lurena L Fondahn estate, sold the property to Daniel Lee Hagedorn on 6/9/1977 for $30,000.
Dan was an employee of Fleenors Southgate Grocery. Dan and Cathy J. Hagedorn sold to John R. and Peggy A. Molsness on 11/17/1987 for $50,000. No occupation was listed in the city directories for Mr. or Mrs. Molsness.
Molsness sold to Matthew W. Laws III and Juliette T. Laws on 7/25/1994 for $110,000. Matthew was chief of planning for the Corps of Engineers. Juliette was employed by the Walla Walla Housing Authority.
Mr. and Mrs. Laws sold to Anthony and Kathryn J. Campbell on 8/2/1996, the twelfth  owners of this property since it was platted in 1890.
Construction of the House:
The Walla Walla County Assessor's Office records say this house was built in 1901. The 1905 Sandborn Fire Map shows the footprint of the present house, as well as two  outbuildings. These two facts confirm the assumption that Emil Sanderson must have built the house after he purchased the land in 1892 for "$1501. 00 in gold coin" and prior to 1907 when he sold it  for $4000. This property is beyond the range of any of the early birdseye maps in Bob Bennett's Walla Walla history books. Building permits were not required  until 1907 so it is impossible to be precise about the construction date. However, the city directory for 1898 says the Sanderson's residence was near Pleasant and Division Streets. This is the most precise information we have for a construction date in 1897 or 1898 (circa 1898).
The Campbells have noticed  an apparent "twin" to their house located on the SW corner of Madison and Washington Streets, about 4 blocks from their residence.
Mary E. Meeker Walla Walla 2020 Research Service PO Box 1222, Walla Walla WA 99362 January, 2001
http://ww2020.net/wp-content/uploads/736_Pleasant.jpg
150
200
Mary Meeker
http://ww2020.net/wp-content/uploads/2011/12/ww2020_logo.png
Mary Meeker
2001-01-01 18:48:48
2017-02-05 12:24:06
History of 736 Pleasant Street, Walla Walla, WA