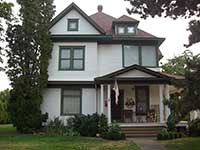 Property Description:
Beginning at the point of intersection of the north line of Pleasant Street with the east line of Division Street in the City of Walla Walla, Washington, and running thence east along said north line of Pleasant Street, a distance of 180 feet; thence north and parallel  to said east line of Division Street, a distance of 80.5 feet, more or less, to the point of intersection with the south line of the tract formerly owned by Chas. J. Springer; thence west along the south line of said Springer tract, a distance of 180 feet to a point in the east line of Division Street; thence south on said east line of Division Street, a distance of 80.5 feet more or less, to the point of beginning.
Situated in the County of Walla Walla and the State of Washington.
Title History:
Washington Territory was created in 1853. The new legislature created Walla Walla County in 1854 which stretched from the crest of the Cascade Mountains to the crest of the Rocky Mountains in the present states of Washington, Idaho and Montana. In 1855 a treaty council was held on the banks of Mill Creek at the present site of Walla Walla to purchase land from the Indians. The Yakimas, Cayuses and Walla Wallas were dissatisfied with the treaties and war followed. Missionaries, former French-Canadian employees of the Hudson Bay Company trading post at Wallula, and soldiers at the military Fort Walla Walla were the primary European occupants of the area prior to 1859 when it was opened for settlement. All of the land in this area was acquired from the Cayuse and Walla Walla Indian tribes by the U.S. Government in a treaty signed on June 9, 1855 in Walla Walla, and ratified on March 8, 1859 by President James Buchanan.
Walla Walla was originally laid out by County Surveyor H. H. Case in 1859, before its formal incorporation as a city in 1862, as a one-quarter mile square with its eastern side centered on the point where Main Street crossed Mill Creek (at roughly the point where it does now).  The City of Walla Walla received  a Trustee Townsite from the U. S. Government which consisted of 80 acres issued on July 20, 1869 by the Vancouver, W.T. District Land Office.   Main Street originally followed the old Nez Perce Indian Trail. Consequently the streets leading off of it were at right angles to it, and were not in a north-south orientation. This was corrected as the city moved eastward which gave Walla Walla its peculiar street pattern with the three street intersection at Palouse, Boyer and Main Streets. To the original plat, additional parcels were annexed from time to time, usually bearing the name of the land owner of record at the time the additions were made.
The first owner of record for this property in the Walla Walla land office was Joshua C. Isaacs who signed a deed on August 8, 1888 transferring title to Daniel Stewart for $1800 on property measuring 940 feet by 93 feet, including this property. This deed was corrected on March 15, 1890 to show the property was 940 feet by 371 feet. On March 14, 1901 Daniel Stewart sold 440 feet by 152.75 feet to Irene B. Goodman. Multiple members of the Stewart, Nixon, Winans and Cameron families signed a quit claim deed on this property in favor of Irene B. Goodman. On April 24, 1902 William S. and Irene Goodman sold a 440 feet by 152.75 feet parcel to  Otto Labudde for $1400, including this property On November 11, 1941 Otto Labudde sued Earnest and Pauline Petrie, formerly husband and wife, for failure to pay taxes on this property. Labudde had sold to Petrie, sometime prior to 1937, with an unrecorded contract. Following LaBudde's death there was another Superior Court case between LaBudde's estate and the families who had signed the quit claim deed in 1901 to quiet title to this property. On May 23, 1945 Kirk B. and Hattie M. Strong sold 180 feet by 80.5 feet, which is the current lot, to Helen Fix, whose husband was Aug M. Fix. On September 25, 1950 Aug M. Sr. and Helen Fix, August M. Jr. and Lisette C. Fix sold to Harding L. Trefz for a stated amount of $10. On August 19, 1955 Harding and Betty Trefz sold this home to Orval M. and Clatie L. Vernon. On June 20, 1960 the Vernons sold to Ernest V. and Dollie F. Stubblefield for "$10". On June 2, 1966 the Stubblefields sold to Marvin A. and Shirley R. Gardner. On June 12, 1966 Gardners signed a Deed and Purchaser's Assignment of  Real Estate Contract to Richard E. and Beverly E. Gilman. On January 14, 1994 Gilmans sold to the present owners, Curtis L. and Joyce L. Hayunga for "$10".
Occupant History:
After Otto LaBudde bought  440' x 152' on this block of Division Street (so named because it was the division between town and country) he built the house currently at 605 S. Division and lived there through 1910. Mr. Labudde was a farmer with land in Eureka. He and his wife Carolyn then built the house at 609 S. Division which they first occupied in 1911. In 1933 the house at 609 was occupied by Robert A. and Marjorie Seidel. It was vacant in 1935 and Otto Labudde lived at 705 Pleasant in 1935 and 709 Pleasant from 1937 until 1941. Ernest C. Petri lived at 609 Division in 1937. He worked at the Veterans Administration Facility. Also living at this address in 1939 were Frances E. Conser and Marie Conser. There were no city directories published between 1941 and 1946. By 1946 residents at 609 Division included A. M. and Helen Fix, Aug. M. and Lisette C. Fix, Dorothy Fix, Edward Fix and Frances R. Fix. August Jr. was employed at the post office, Dorothy and Frances both worked as operators at the telephone company. They continued to live here until 1951 when Harding and Betty Trefz lived here. He was a salesman and agent for Prudential Life Insurance Company. In 1956 Orville Vernon lived here and ran Vernon's Heating Service from here. In 1961Ernest V. Stubblefield and his wife Dollie F. lived here. He was an engineer at Walla Walla Canning (later Rogers Walla Walla Canning) and she was a school district cook. For several years Miss Frances Mundt and Roger Mundt, students, lived with them. Mr. Stubblefield became a life insurance salesman in 1965. From 1967  to 1973 this house was occupied by Marvin and Shirley Gardner. He was the owner and instructor of DeMer's Beauty School and Victor Beauty School. Shirley operated the Sugar and Spice Beauty Salon until it became Lady Elegance Hair Styling in 1972. From 1974 until 1993 Richard and Beverly E. Gilman lived here. Richard was an engineer tech at USCE and Beverly was a secretary at the VA Medical Center. Their daughter Karina was a student at Eastern Washington University. In 1993 Gilman retired and in 1994 sold this house to Curtis and Joyce Hayunga, who have lived there since that time.
Construction of the Building:
The Walla Walla County Assessor's records state that this house was built in 1910. This research confirms this date since 1911 is the first occupancy listed in a city directory. There is no building permit for this house in the Whitman College archives. The 1905 Sanborn Fire Map shows the house at 605 S. Division but there is no house on this corner lot at that time.
Upon visiting this 102 year old home I was fascinated by the details in it that match the Sears, Roebuck Co. kit home called "The Clyde (Victorian style)" produced at that time. It still has all the original seven room layout plus one bath, pocket doors, steam heat radiators, stairways, window size and placement, porch pillar placement, and eve brackets. Even the fence is period. In the 1920s Sears sold a bungalow design called "The Clyde" that bears no resemblance to this home. This home is a treasure for having been preserved largely without major changes. Only the kitchen, laundry room and siding have been updated. It is a treasure unique in my Walla Walla experience.
References:
Bennett, Robert A., Walla Walla  Portrait of a Western Town 1804-1899, Pioneer Press,  Walla Walla, 1980.
Bennett, Robert A., Walla Walla  A Town Built to be a City 1900-1919, Pioneer Press,  Walla Walla, 1982.
Building Permits: Whitman College Penrose Library Archives.
Lyman, Professor W.D., An Illustrated History of Walla Walla County  1901.
Fire Maps: 1884-1905 (with updates until 1950).
Sears, Roebuck and Co. 1926 House Catalog, An Unabridged Reprint. Dover Publications, 1991
Stevenson, Catherine Cole and H. Ward Jandl, Houses by Mail, A Guide to Houses from Sears, Roebuck and Company, Preservation Press, 1986.
Thornton, Rosemary. Finding the Houses That Sears Built. Gentle Beam Publications, 2004
Walla Walla City Directories: 1880-present (various publishers–not all years).
Whitman College Archives.
http://ww2020.net/wp-content/uploads/609_S_Division.jpg
150
200
Mary Meeker
http://ww2020.net/wp-content/uploads/2011/12/ww2020_logo.png
Mary Meeker
2012-12-01 16:43:51
2014-02-06 12:28:19
History of 609 South Division Street, Walla Walla, WA