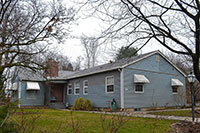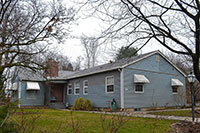 Legal Description
29-7-36 TAX 60F
43-44
Full Legal Description
Beginning at a point in the North line of Tietan Street, which point is 100.0 feet Easterly, measured along said North line of Tietan Street, from the point of intersection thereof with the East line of Tillamook Street in the Southwest Quarter of the Southeast Quarter of Section 29 of Township 7 North of Range 36 East of the Willamette Meridian; thence North 00°43; West, (at right angles to Tietan Street) a distance of 289.3 feet to the center of Stone Creek; thence along the center line of Stone Creek by the following courses and distance; North 82°26' East 25.2 feet; thence South 54°57' East 30.8 feet; thence South 69°54' East 53.5 feet; thence North 71°32' East 52.5 feet; thence North 23°51' East 120.3 feet; thence leaving Stone Creek South 00°43' East 311.4 feet to the North line of Tietan Street; thence Westerly along said North line of Tietan Street a distance of 200.0 feet, more or less, to the point of beginning.
Title and Occupant History
Washington Territory was created in 1853. In 1854, the new legislature created Walla Walla County, which stretched from the crest of the Cascade Mountains to the crest of the Rocky Mountains in the present states of Washington, Idaho and Montana. In 1855, Isaac Stevens held a council on the banks of Mill Creek at the present site of Walla Walla with representatives of regional Indian tribes to purchase land from them. The Yakamas, Cayuses and Walla Wallas were dissatisfied with the treaties and war followed. Missionaries, former French-Canadian employees of the Hudson Bay Company trading post at Wallula, and soldiers at the military Fort Walla Walla were the primary European occupants of the area prior to 1859, when it was opened for settlement. The U. S. Government, in a treaty signed on June 9, 1855 in Walla Walla and ratified on March 8, 1859 by President James Buchanan, acquired all of the land in the Walla Walla area from the Cayuse and Walla Walla Indian tribes.
Walla Walla was originally laid out by County Surveyor H. H. Case in 1859, even before its formal incorporation as a city in 1862, as a one-quarter mile square with its eastern side centered on the point where Main Street crossed Mill Creek (at roughly the point where it does now). The City of Walla Walla received a Trustee Town site from the U. S. Government that consisted of 80 acres issued on July 20, 1869 by the Vancouver, W. T. District Land Office.
The property on which 60 West Tietan is situated was and remains a Special Plat, unnamed to this day. This and much of the surrounding property was owned by B. F. and Henrietta Stone. B. F. Stone was born in 1826 and was living in Walla Walla prior to 1860, where he owned large tracts of land. He was elected to the first City Council of Walla Walla on April 1, 1862, and also served as an early mayor of the city. He died in 1897. Henrietta Stone was born in 1848. Her impressive residence was illustrated in The Coast magazine in March 1908, listed initially in Walla Walla City Directories as located "ws (west side) s. 2nd 1 mi. s city limits," and in later directories as "2nd Av. So. & Stone R.D. 3." This would be approximately the present location of Trinity Lutheran Church. In 1917, she had a commercial garage constructed in Walla Walla that measured 100 x 120 feet and cost $30,000. She died in 1931.
Stone's Addition to the City of Walla Walla was platted by Henrietta Stone in 1909, by then a widow. It was adopted by the City Council and filed May 4, 1909. The eastern boundary of this addition was Tillamook Street, which at the time continued south all the way to Tietan Street (it now terminates just south of Natches Street). For reasons unknown, the truncated triangular portion of land she owned east of Tillamook extending to South 2nd Avenue was never platted.
The 1909 Plat Map of Stone's Addition. Note the unplatted portion denoted as Henrietta M Stone and showing "Res." near the center, presumably that of Mrs. Stone referenced above. Courtesy Mary Meeker.
6/3/1898, Warranty Deed, John and Jane Pieper (sometimes spelled Peiper), grantors; Amander M. Nicholas, grantee; Lots 6, 7 and 8, Block "C" South Park Addition to City of Walla Walla; $500. (Neither the Assessor's Office vault nor Pioneer Title contains any listing of a South Park Addition. This deed predates the platting of Stone's Addition [see below] by over a decade; hence Stone's Addition may have supplanted South Park Addition.) John Pieper was born in 1831, was a Command Sergeant In Company H, 10th Maryland Infantry. He died in 1909 and is buried in the Masonic Section of Mountain View Cemetery. His wife, Jane Pieper, was born in Michigan in 1834, died in 1915, and is buried with her husband. Amander M. Nicholas was born in LaPorte County, Indiana in 1854. He arrived in Walla Walla in 1877, where he worked as a farmer, purchasing 215 acres six miles southwest of town. He was married to Susan Bashore in 1887, by whom he had four children.
2/7/1945, Release of Executor by Heir, Ruth Stone Van Brunt to Ben G. Stone, Executor of Estate of Henrietta M. Stone, deceased. Ben G. Stone was likely a nephew of B. F. and Henrietta Stone. He was born in 1913, and was for years the owner of a successful insurance brokerage. He died in Monterey, California in 2006. In 1908, his wife, Mary Paine Stone, aged 29, was so taken by a house designed by Frank Lloyd Wright that was featured in a Ladies Homes Journal magazine that she commissioned the Portland architectural firm of McNaughton, Raymond & Lawrence to design a home for her family based on Wright's design. This house is extant at 1415 Modoc Street, and is often referred to as the "Walla Walla Frank Lloyd Wright house," although in fact that is a misnomer.
2/13/1945, Quit Claim Deed, Ruth Stone Van Brunt, grantor; Ben G. Stone, executor of the estate of Henrietta M. Stone, deceased; $10.
6/21/1948, Warranty Deed, Mary Paine Stone, grantor; Joseph P. and Dorothy Krieger, grantees; $10 and other valuable considerations.
8/7/1950, Real Estate Contract, with a fulfillment deed which was placed in escrow on this date, and later recorded in 1953 when the contract was paid off; Joseph P. and Dorothy Krieger, grantors; Howard A. and Harriet W. Preston grantees, $14,500. The purchase price indicates that the property consisted of a house and lot by this date. Therefore, it would appear that it was most likely the Kriegers, who lived in Sunnyside, WA, who purchased the house and had it moved from the former Army Air Training Base to 60 West Tietan, and not the Prestons, as was understood by various owners over the years.
2/13/1953, Warranty Deed, Joseph P and Dorothy Krieger, grantors; Howard A. and Harriet W. Preston, grantees; $10 and other valuable considerations in fulfillment of a contract of sale of 8/7/1950. This is the first document in the chain of title concerning this property that identifies the Prestons as purchasing the property. It was understood by previous owners that the Prestons purchased the house at 60 West Tietan Street from the Army Air Training Base and had it moved to its current location in 1948, but this was before they had any interest in the property. There are no listings for Howard and Harriet Preston in City Directories, including all county listings until the consolidated 1949-50 directory published in 1950, when they were listed as living at 60 West Tietan Street. (There were no houses listed on Tietan Street prior to that year, although it is obvious that the house at 850 Tietan, near Fern Avenue, dates from around the turn of the last century.)
Howard Preston (1903 – 1976) became prominent in Walla Walla. He was employed by the Army Corps of Engineers for 40 years, retiring in 1970. He was involved in the Ice Harbor Dam project, and authored two books: Walla Walla District History, Part I: 1948 – 1970 (1970); and Walla Walla District History, Part II: 1970 – 1975 (n.d.). He also served on the School Board, and the Prestons were active at Pioneer United Methodist Church.
In 2012, the Columbia Section of the American Society of Civil Engineers endowed the Howard Preston Scholarship Award for Undergraduates and Graduates in Civil Engineering.
Two views of 60 West Tietan in the 1990s prior to more recent additions and alterations. Courtesy Walla Walla County Assessor's Office..
7/26/1985, Statutory Warranty Deed, Harriet W. Preston, grantor; Charles W. and Joy A. Masoner, grantees; $10 and other valuable considerations. Charles "Chick" Masoner was owner of Chick's Auto Electric.
(Undated), Deed of Trust, Charles W. and Joy A. Masoner, grantors; Baker Boyer National Bank, grantee; $200,000 for properties at 60 West Tietan Street, 223 South Roosevelt Street and 1023 West Rose Street. (Chick's Auto Electric was and still is located at 1023 West Rose Street.)
This deed of trust apparently involved the Masoners' business and the rebuilding of the house following a fire (see Construction of Building below).
7/23/2001, Statutory Warranty Deed, Charles W. and Joy A. Masoner, grantors; Frederick J. and Anitra D. Breit, grantees; $10 and other valuable considerations.
Construction of Building
The house at 60 West Tietan Street was built as part of the former Army Air Training Base; that would place its presumed date of construction as 1942. The Port of Walla Walla now owns all of the land that was formerly the air base, which includes the Walla Walla Regional Airport. Although most of the WWII-era buildings have been razed, a number of examples remain, some reconstituted for other purposes, some standing unused and neglected.
A close examination of a map of the air base at the Port office did not disclose any building(s) that might have been detached residences, nor did the legend include any such reference. All buildings denoted as officers' quarters were barracks-type structures. However, the Masoners, who owned the house for a number of years, reported that it had been an officer's residence on the base. A search through all of the extant editions (5/12/1944 – 6/14/1946) of the Walla Wallop, the base weekly newspaper, did not reveal any photos of buildings that appeared to be detached residences, but there was one photograph depicting a children's playground on the base, that indicates a possibility there were families residing on the base. A few of the buildings on the former air base resemble the 1990s photos of 60 West Tietan Street. When the McCaw Hospital, located on West Rose on the VA hospital grounds, closed in 1946, several of its buildings, that were similar in design to buildings on the base, were moved to serve new purposes; the house at 814 Howard Street was formerly a McCaw Hospital building.
The property at 60 West Tietan Street was purchased by Joseph P. and Dorothy Krieger of Sunnyside in 1948 and the major portion of the present house moved that year to its present location. No permit to move the building could be located in the Whitman Archives, or with the City of Walla Walla Development Services, where permits only go back as far as the 1950s. Thus, the Walla Walla City Directory for 1948 that has no listings at all for the entire length of Tietan Street and the 1949-50 edition that lists the Prestons at 60 West Tietan Street, along with the 1950 purchase price of $14,500 by the Prestons, is the most conclusive validation of this move having been accomplished prior to the Prestons' ownership.
It is obvious that the house presents an appearance distinct from its earlier life on the Air Training Base, and the following permits are worth noting.
11/24/1958, Howard Preston, to build an attached carport
6/9/1972, Howard Preston, for construction of a patio and utility room, permit fee $11
5/21/1974, Howard Preston, basement remodel, permit fee $7
11/27/1974, Howard Preston, to add a solarium 4' x 8' to the rear, permit fee $12
3/19/1991, Charles Masoner, to install vinyl siding, Thermo Systems, contractor, cost $13,000, permit fee $148.50
7/9/1992 Charles Masoner, construct greenhouse 32' x 12', cost $4,400, permit fee $76.50 12/7/1994, Charles Masoner, rebuild & remodel entire house after fire at a cost of $90,000, permit fee $599
The original structure when moved in 1948 consisted of a simple rectangle with a gable roof, much as it appears in the two older photographs above. It was presumably during the 1994 remodel of the house that the smaller wing was added, creating an "L" shape; this addition also has a simple gable roof.
References
Whitman Archives
The Washington Historian, Vol. 1, Issue 3
findagrave..com
Lyman, William, History of Old Walla Walla County
The Coast, March 1908
Walla Walla Union-Bulletin "Lifestyles," July 2012
Port of Walla Walla, Jennifer Skoglund, Airport Manager
Walla Walla Army Airfield Cantonment Area map, 1941-42
Walla Wallop, 5/12/1944 – 6/14/1946 (Army Air Base weekly newspaper)
Walla Walla: A Nice Place to Raise a Family, 1920 – 1949, Robert A. Bennett, 1988
Exploring Washington's Past: A Road Guide to History, Ruth Kirk, U of W Press, 1990
Walla Walla: Her Historic Homes, Volume 1, Penny Andres, 1991
Kammy Hill, Walla Walla City Clerk
Shelley Clarke, City of Walla Walla Development Services
http://ww2020.net/wp-content/uploads/60-w-tietan.jpg
133
200
Steve Wilen
http://ww2020.net/wp-content/uploads/2011/12/ww2020_logo.png
Steve Wilen
2015-02-16 08:23:40
2015-03-06 09:09:44
History of 60 West Tietan Street, Walla Walla, WA