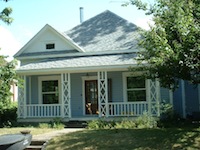 Legal Description:
Lots 3 and 4 in Block "B" of Hawley's Addition to the City of Walla Walla, according to the official plat thereof recorded in Volume B of Plats at Page 51-A, records of the Auditor of Walla Walla County, State of Washington, excepting, however the South 7 feet of said Lots, which have been taken for alley purposes.
Title History:
Walla Walla was originally laid out by surveyor H.H. Chase in 1859, even before its formal incorporation as a city in 1862, as a one quarter mile square oriented N-S, E-W and with its eastern side centered on the point where Main Street crossed Mill Creek (at roughly the point where it does now). To this original area, additional parcels were annexed from time to time, usually with the name of the land owner of record at the time the additions were made.
On August 28, 1869 Alvin B. and Martha Roberts sold about 10 acres of their land claim in the S.E. quarter of the S.E. quarter of Section 20, Township 7N, Range 36E E.W.M. including the property in this legal description to Sarah Jane Hawley for the recorded consideration of $1. A. B. Roberts had come to Walla Walla from Portland, Or. in 1859 and immediately purchased a large farm site just south of Main Street. He was a pioneer stonecutter, orchardist and real estate dealer.
Philip L. and Sarah Jane Hawley came across the plains from Illinois to Walla Walla in 1861. On August 10, 1876 the Hawleys gave a right of way deed to Sewall Truax for a 3 inch water pipe from Isaacs Reed's property on the east side of this property.  This area was first platted as Park Addition on March 29, 1877. Philip Hawley died in May of 1877. On October 31, 1878 Sarah Jane Hawley died without a will. Her son Livingston R. Hawley was appointed administrator of the estate.  On April 24, 1884 Sewall and Sarah Truax gave a right of way deed to the City Water Company to lay and maintain a pipe through the property for a consideration of $100. Washington, Lincoln and Dr. Newell Streets were surveyed on March 24-26, 1886 with a deed given to the City for these streets from the Hawley heirs.  On April 24, 1891 Hawley's Addition (out of a portion of Park Addition) to the City of Walla Walla was filed by W. B. Hawley, the county auditor, and L. R. Hawley, the deputy county auditor. William B. and Livingston R. Hawley were sons of Philip and Sarah Jane. With their brother P.B. Hawley they purchased, sold and farmed much land in Walla Walla County. Sarah Jane Hawley's six children (and two of their spouses)  W. B., L. R., P. B. Henry H. (all single), Thomas B. and Martha E. Hawley, Sarah Hawley Rees and Frank W. Rees finally settled their mother's estate and sold this property to Thomas and Martha Hawley on February 14, 1898 for $1.
On February 16, 1898 Thomas and Martha Hawley sold Lots 3 and 4 to S. D. Gardemour and I. W. Sims for $400. They operated a grocery and gents furnishings store at 126 Main Street.
On October 19, 1898 S. D. and Nellie Gardemour and I. W. and Adelia B. Sims sold this property to Margaret L. Birdwell for $475. Margaret and Revel A. Birdwell and their children are listed in the city directory as living at this location in 1900. He worked as a secretary for Dr. Ely and a clerk at Davis Kaser Furniture.
On June 8, 1909 Margaret L. Birdwell and R. A. Birdwell sold these two lots to J. G. Anderson for a stated amount of $10.  Anderson lived at 548 Washington and he worked at Worth-Anderson Real Estate. On July 24, 1912 Lena A. Anderson transferred her marital interest in the property to her husband, J. G. Anderson. On October 14, 1912 J. G. Anderson sold the property to J. A. Wiseman for $10. In order to clear title at this time it was necessary for W. P. Winans, President of Farmers Savings Bank, to testify that Philip L. Hawley died in May 1877 and Sarah Jane Hawley died in October 1878. Wiseman was a bookkeeper for D. W. McFadden Hardware and Agricultural Implements. On April 27,  1929 J. A. and Edith Hazel Wiseman sold this property to F. C. Perry for $10. One month later on May 25, 1929 F. C. and Roberta D. Perry sold lots 3 and 4 to Arthur N. and Mary Beryl Sherrod. None of these people was listed as living at this address during this year of financial crisis.
Three months later on August 26, 1929 the Sherrods sold to Paul L. and Nell Wait Harvey for $1 plus a $2000 mortgage and 2 notes of $200 each. On January 10, 1934 Paul Harvey made a Declaration of Homestead on behalf of his wife Nell and their two minor children to protect their home from creditors. The value of their home at that time was $2000. Nell died on April 17, 1959. On August 4, 1966 Paul Lynn Harvey transferred this property to his son Philip H. Harvey and daughter Elaine Harvey Peick as tenants in common. Their father continued to live here until 1984. He was listed as publisher and owner of the Joy Book Store. In 1984 he was listed as owner of the book store but Philip Pike (probably Peick) is listed as living at this address and was listed as the manager of the book store. Pike is listed as living here through 1989 and worked in maintenance for the Walla Walla school district. In 1990 Philip Peick (presumably the same person) lived here and worked as the assistant custodian at Berney School.
Philip Harvey died in 1994. Elaine Harvey Peick established a living trust that included this property in 1995 and then revoked it in 1998. She transferred ownership to Charles F. Peick on March 13, 1998 "for love and affection." On October 20, 2000 Charles F. Peick signed a Quit Claim Deed transferring this property as gift to Philip C. Peick.  On April 28, 2004 Philip C. Peick sold this property to Erich Wolf, a single person.
Construction of the House:
In October of 1898 Margaret Birdwell purchased these two lots for $475,  indicating there was no house here at that time. The 1900 city directory said Revel A. Birdwell (wives' names were not listed in the directory at this time) lived here. The records of the Walla Walla County Tax Assessor say this house was built in 1900. No building permits exist from that time. The footprint of this house matches the one on the 1905 fire map except for the addition at the back and the modern garage. Therefore, it seems likely that Mr. and Mrs. Birdwell built and occupied this house sometime during 1899. No 1899 edition of the city directory is available.
References:
Archive, Whitman College Penrose Library
Bennett, Robert A., Walla Walla  Portrait of a Western Town 1804-1899, Pioneer Press, Walla Walla, 1980
Bennett, Robert A., Walla Walla  A Town Built to be a City 1900-1919, Pioneer Press, Walla Walla, 1982
Bennett, Robert A., A Nice Place to Raise a Family 1920-1949, Pioneer Press, Walla Walla, 1988
Bennett, Robert A. We'll All Go Home in the Spring. Pioneer Press, Walla Walla, 1984
BLM Land Patent Records
Ogle's Standard Atlas of Walla Walla County, 1909
Sanborn Fire Maps: 1884, 1888, 1889, 1890, 1894, 1905 (with updates until 1950)
Walla Walla City Directories: 1880-present (various publishers–not all years)
Walla Walla County Assessor's Office: files
Walla Walla County Auditor's Office: Plat maps
U. S. Census records
  Mary E. Meeker ; Walla Walla 2020 Research Service PO Box 1222, Walla Walla WA 99362 May, 2008
http://ww2020.net/wp-content/uploads/548_Washington.jpg
150
200
Mary Meeker
http://ww2020.net/wp-content/uploads/2011/12/ww2020_logo.png
Mary Meeker
2008-05-01 17:21:22
2017-02-05 12:20:49
History of 548 Washington Street, Walla Walla, WA