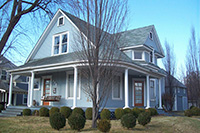 Legal Description
The east one-fifth of lot 22, all of lots 23 and 24 in Block B of Hawley's Addition to the City of Walla Walla. As per plat thereof recorded in volume B of plats at page 51. Records of Walla Walla County, excepting therefrom however, the north 7 and a half feet opened to public use for alley purposes. Recorded in the office of the auditor of Walla Walla County, situated in the city and county of Walla Walla, State of Washington.
Title History
Walla Walla was originally laid out by surveyor H.H. Chase in 1859, even before its formal incorporation as a city in 1862, as a one quarter mile square oriented N-S, E-W and with its eastern side centered on the point where Main Street crossed Mill Creek (at roughly the point where it does now). To this original area, additional parcels were annexed from time to time, usually with the name of the land owner of record at the time the additions were made.
On August 28, 1869 Alvin B. and Martha Roberts sold about 10 acres of their land claim in the S.E. quarter of the SE quarter of Section 20, Township 7N, Range 36E E.W.M. including the property in this legal description to Sarah Jane Hawley for the recorded consideration of $1. A. B. Roberts had come to Walla Walla from Portland, Or. in 1859 and immediately purchased a large farm site just south of Main Street. He was a pioneer stone-cutter, orchardist and real estate dealer.
Philip L. and Sarah Jane Hawley came across the plains from Illinois to Walla Walla in 1861. On August 10, 1876 the Hawleys gave a right of way deed to Sewall Truax for a 3 inch water pipe from Isaacs Reed's property on the east side of this property.  This area was first platted as Park Addition on March 29, 1877. Philip Hawley died in May of 1877. On October 31, 1878 Sarah Jane Hawley died without a will. Her son Livingston R. Hawley was appointed administrator of the estate.  On April 24, 1884 Sewall and Sarah Truax gave a right of way deed to the City Water Company to lay and maintain a pipe through the property for a consideration of $100. Washington, Lincoln and Dr. Newell Streets were surveyed on March 24-26, 1886 with a deed given to the City for these streets from the Hawley heirs.  On April 24, 1891 Hawley's Addition (out of a portion of Park Addition) to the City of Walla Walla was filed by W. B. Hawley, the county auditor, and L. R. Hawley, the deputy county auditor. William B. and Livingston R. Hawley were sons of Philip and Sarah Jane. With their brother P.B. Hawley they purchased, sold and farmed much land in Walla Walla County. Sarah Jane Hawley's six children (and two of their spouses)  W. B., L. R., P. B. Henry H. (all single), Thomas B. and Martha E. Hawley, Sarah Hawley Rees and Frank W. Rees finally settled their mother's estate and sold this property to P. B. Hawley for the stated consideration of $1.
The next recorded transaction on the property was from L. R. Hawley (unmarried) to Carrie E. Cornwell on November 4, 1901 for $700. In 1902 the city directory lists Arthur G. Cornwell, farmer, as having his residence at the NW corner of Lincoln and Howard Streets, which is this property. The 1904 city directory first uses the 539 Lincoln address. Arthur was one of seven children of James M. Cornwell who came to Walla Walla in 1861. The A. G.
Cornwell family, including daughter Armesia (as per the 1908 city directory), lived there until 1910.  Her name is listed as Artemisia in the 1904 city directory and she graduated from Whitman College in 1916. She had a sister Edna and a brother Elmer. The Cornwells took out a building permit for a new residence on Palouse near Newell and sold 539 Lincoln to C. A. Bryan on July 8, 1911.  Charles A. and Idabelle B. Bryan lived at 733 Catherine through 1912. He worked for the International Development Company.  They apparently moved to 539 Lincoln in 1912 when he worked for Hanger, Bryant and Fletcher. On April 22, 1913  Bryan sold to F. D. Parker. On October 1, 1913 Frank D. and Minnie Parker transferred their interest in this property back to Carrie E. and A. G. Cornwell. Apparently Cornwells had not received full payment from Bryan or Parker. On May 9, 1914  Cornwell sold to C. W. Ray. On June 1, 1915 C. W. and Lucy Ray sold to Frank P. Klahr for $1 stated consideration. Frank P. and Clara E. Klahr and their daughter Leora E., a  high school teacher, lived at 539 Lincoln until 1919 when they sold the property to Elizabeth Schubert. She purchased the property on September 18, 1919 and she and Jacob lived there through 1950. Jacob was a farmer. On June 28, 1951 Elizabeth  signed a quit claim deed to Jacob Schubert "for love and affection." Jacob died on May 29, 1954 and his estate deeded the property to W. W. and Letha M. Schubert. They were not listed in the Walla Walla city directory which listed the house as vacant from 1955 through 1957.
On April 9, 1958 the Schuberts sold the house to Jacob and Phyllis June Klicker for $10. Phyllis worked at the Marcus Whitman Coffee Shop and Jake was a student in 1958. Jake was listed as living at 539 Lincoln through 1961. In 1962 the house was rented to Martin R. and Genevieve Cleven. Martin worked as seasonal labor at Birdseye. It was vacant in 1963; occupied by Rudolph Wagner, ROTC Sgt., in 1964; vacant in 1965; rented to "Bill" T. and Dora Kinney in 1966. Bill was a tractor driver for Tremayne Rae and Dora was an instructor at Victor Beauty School in 1966. In 1967 Dora opened D.K. Beauty Saloon in their home which she continued to operate until 1989. On July 1, 1971 Phyllis J. Klicker assigned a contract to Jacob Klicker in a divorce decree. On May 15, 1972  Jacob gave a deed and seller's assignment to Everett T. and Dora L. Kinney for $5886.47. Everett T. "Bill" retired in 1980. On August 18, 1998 he signed a Quit Claim Deed to Dora L. Kinney as separate community property. On July 1, 2001 Dora L. Kinney sold this property to Kirsten Eberhardt and Tom C. Post.
Construction of the House
The Walla Walla County Assessor's Office states that this house was built in 1920. However, the 1905 fire map shows the footprint of a house and outbuilding that appear identical to both of the present structures. No structures were present on the 1894 fire map. No building permits existed for this period. The first people to be listed in the city directory as living on this property were the Cornwells in 1902. It seems likely that A.G. and Carrie Cornwell built this house following their purchase of the lot in November of 1901, late in the construction season, for $700, a price indicating bare land only. Therefore a construction date of 1902 is probable and should be used for this house and probably the outbuilding. Restoration of the outbuilding was done by Kirsten Eberhardt and Tom Post following their purchase in 2001.
References:
Bennett, Robert A., Walla Walla A Town Built to be a City 1804-1899, Pioneer Press,  Walla Walla, 1980, page 119.
Bischoff, William N., We Were Not Summer Soldiers: The Indian War Diary of Plympton J. Kelly 1855-1856,Washington State Historical Society, 1976.
Building permits: Whitman College Penrose Library, Larry Dodd, Archivist
Gilbert, Frank T.; Historical Sketches Walla Walla County, Whitman County and Garfield County, Washington Territory, 1882.
Lyman, Professor W. D., Lyman's History of Old Walla Walla County, Vol. II., 1918, page 123.
Sanborn Fire Maps: 1884-1905 (with updates until 1950)
Walla Walla City Directories: 1880-present (various publishers–not all years)
  Mary E. Meeker Walla Walla 2020 Research Service PO Box 1222, Walla Walla WA 99362 January, 2003
http://ww2020.net/wp-content/uploads/539_Lincoln1.jpg
133
200
Mary Meeker
http://ww2020.net/wp-content/uploads/2011/12/ww2020_logo.png
Mary Meeker
2003-01-01 17:18:47
2017-02-05 12:24:01
History of 539 Lincoln Street, Walla Walla, WA