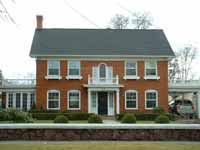 Property Description:
Commencing at a point on the West line of Palouse Street 150 feet South on said West line from the Northeast corner of Block 17 of Robert's Addition to the City of Walla Walla, thence running South along the West line of Palouse Street 70 feet; thence at right angles Westerly to the alley in said Block 17; thence North along the East line of the alley 70 feet; thence East to The Point of Beginning, being the Northerly 70 feet of Lots 13, 14, 15, and 16 of Block 17 of Robert's Addition to the City of Walla Walla, situated in the City and County of Walla Walla, State of Washington.
Title History:
Walla Walla was originally laid out by surveyor H.H. Chase in 1859, even before its formal incorporation as a city in 1862, as a one-quarter mile square oriented N-S, E-W and with its eastern side centered on the point where Main Street crossed Mill Creek (at roughly the point where it does now). To this original area, additional parcels were annexed from time to time, usually named after the land owner of record at the time the additions were made.
A. B. Roberts received a large tract containing this parcel as a homestead from the U.S. Government. Roberts Addition was platted by A. B. Roberts and Martha E. Roberts on January  20,1871 (Plat Book A, Pages 21 and 22, Walla Walla County Auditor's Office, Walla Walla County Courthouse). A. B. Roberts came to Walla Walla from Portland, Or. in 1859 and immediately purchased a large farm site just south of Main Street. He was a pioneer nurseryman and real estate developer. On July 22, 1871 A. B. and Martha Roberts sold lots 1-4, 13-16 in block 17, along with the right to carry irrigation water under the property, to Sarah G. Minor for $700. On July 24, 1871, Sarah and A. J. Miner sold this same property to Henry Howard for $330. On November 21, 1881 Henry and Selinda M. Howard sold all of block 17 (16 lots)  to John F. Boyer for $5000. Mr. Boyer was the cofounder of Baker Boyer Bank and over the next ten years he had numerous legal transactions that were probably all related to money lending (quit claim deeds, warranty deeds and powers of attorney) involving this property. Other parties to these transactions included Sigmond and Rose Schwabacher, T. R. and Elizabeth Tannatt, John A. Paddock and C. B. Upton. On November 25, 1891 John F. and Sarah E. Boyer gave a warranty deed to T. C. Davies, unmarried, for $1000. On October 6, 1900 T. C. Davies gave an indenture to Gilbert Hunt Co. for $1400 in gold coin.
Mr. Hunt's company was one of the largest manufacturing plants of farm machinery in the northwest. They manufactured "separators, windmills, tanks, drapers, agricultural machinery, beltings, pumps, engines, boilers, etc." at 519 W. Main Street. His family lived at 534 South Palouse, including his daughter Mabelle A. Hunt who was a student at Whitman in 1902. In 1904 Gilbert Hunt Company transferred title of this property  to Mrs. Gilbert Hunt, Hopie Hunt. In 1905 Gilbert Hunt purchased one of five of the first "dependable" gasoline-powered automobiles in Walla Walla. He was on the board of the Walla Walla Auto Club formed in 1909. In 1910 Mabelle Hunt married Wilbur Toner, a lawyer, and Gilbert Hunt built them the "honeymoon cottage" designed by Kirkland Cutter at 610 Palouse just south of the Gilbert Hunt family home. In 1910 Marguerite Hunt resided at 534 S. Palouse and was a student at Whitman College. By 1911 the city directory also listed Eugene A. and Jessie B. Hunt as living at 534 South Palouse. Gilbert Hunt died in 1914. His wife, Hopie Hunt died on October 7, 1918 and her daughter Mabelle Hunt Toner was appointed executor.
On December 21, 1921 the Hunt Estate (by Eugene A. Hunt, Mabelle H. Toner and Marguerite A. Meese) sold this property for a stated amount of $10 to James Dallas Garred and Georgia Garred. The Garreds were to own this property for the next 44 years. J. D. Garred and Nathaniel Higgens had been the proprietors of Tallman Drug Store since 1909. By 1920 Norbert B. Krause was Garred's partner in Tallmans. By 1946 Mr. Krause ran Tallmans and Mr. Garred owned the Walla Walla Drug at 10 South Second, across the alley from the Baker Boyer Bank. In 1959 Mr. Garred retired and Joe Burns ran the Walla Walla Drug.
On July 18, 1965 the Garreds sold this property to Alan L. and Jean Lillian Barer for $32,500. Mr. Barer was the owner of B. Barer and Son. Following her death, Mrs. Barer's interest in this house was transferred to her husband in 1998. The Barers had owned this house  for 35 years when it was sold to Bradley W. and Jacquelyn K. Tompkins, the present owners, on January 5, 2000. The Tompkins are both descendants of local pioneers, as represented by the Tompkins Century Farm and the McCulloch Century Farm.
Construction of the House:
This property did not have a house on it in 1905 when it was a part of the Hunt property to the south, as confirmed by the 1905 Sanborn fire map. J. D. and Georgia Garred purchased this property in 1921 when it was separated from the Hunt home to the south at 534 S. Palouse. They took out a building permit on May 8, 1922 for $8000 with C. D. Lambert as the builder. The Garreds were first listed in the city directory as living at 516 South Palouse in 1923-24.  Therefore, they constructed the house in 1922 (the county assessor incorrectly lists 1921) after purchasing the land in December of 1921, the first of only three families to live in this gracious home.
References:
Andres, Penny, Walla Walla Her Historic Homes, Vol. I, 1991
Bennett, Robert A., Walla Walla  Portrait of a Western Town 1804-1899, Pioneer Press,  Walla Walla, 1980.
Bennett, Robert A., Walla Walla  A Town Built to be a City 1900-1919, Pioneer Press,  Walla Walla, 1982.
Building Permits: Whitman College Penrose Library Archives.
Lyman, Professor W. D., An Illustrated History of Walla Walla County  1901.
Sanborn Fire Maps: 1884-1905 (with updates until 1950).
Walla Walla City Directories: 1880-present (various publishers–not all years).
Whitman College Archives, Colleen McFarland, archivist
Washington's Centennial Farms Yesterday and Today, Washington State Department of Agriculture, 1989.
  Mary E. Meeker Walla Walla 2020 Research Service PO Box 1222, Walla Walla WA 99362 , December, 2004
http://ww2020.net/wp-content/uploads/516_S_Palouse.jpg
150
200
Mary Meeker
http://ww2020.net/wp-content/uploads/2011/12/ww2020_logo.png
Mary Meeker
2004-12-01 16:59:38
2017-02-05 12:23:04
History of 516 South Palouse Street, Walla Walla, WA