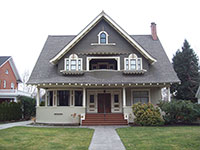 Property Description:
Beginning at a point in the Westerly line of Palouse Street in the City of Walla Walla, Washington, which point is 75 feet Southerly, measured along said Westerly line of Palouse Street, from the Northeasterly corner of Block seventeen (17) of Roberts' Addition to the City of Walla Walla, Washington according to the official plat thereof of record in the office of the Auditor of said County of Walla Walla, and running thence Southerly along said Westerly line of Palouse Street a distance of 75 feet to the Southeasterly corner of Lot 1 of said Block 17 of Roberts' Addition; thence at right angles Westerly along the Southerly line of Lots 1,2,3, and 4 of said Block a distance of 190 feet to the Easterly line of the alley; thence Northerly along the Easterly line of said alley a distance of 75 feet; thence at right angles Easterly 190 feet to the point of beginning.
Title History:
Washington Territory was created in 1853. The new legislature created Walla Walla County in 1854 which stretched from the crest of the Cascade Mountains to the crest of the Rocky Mountains in present states of Washington, Idaho and Montana. In 1855 an Indian council was held on the banks of Mill Creek at the present site of Walla Walla to purchase land from the Indians. Many of the Indians were unhappy with the treaties (The Yakimas and Walla Wallas rejected the treaty) and prepared for war which followed. Missionaries, former French-Canadian employees of the Hudson Bay Company Trading Post at Wallula, and soldiers at Fort Walla Walla were the primary European occupants of the area prior to 1859 when it was opened for settlement. All of the land in this area was acquired from the Cayuse and Walla Walla Indian tribes by the U.S. Government in a treaty signed on June 9, 1855 in Walla Walla, and ratified on March 8, 1859 by President James Buchanan.
Walla Walla was originally laid out by surveyor H.H. Case in 1859, even before its formal incorporation as a city in 1862, as a one-quarter mile square oriented N-S, E-W and with its eastern side centered on the point where Main Street crossed Mill Creek (at roughly the point where it does now). To this original area, additional parcels were annexed from time to time, usually named after the land owner of record at the time the additions were made.
A. B. Roberts received a large tract containing this parcel as a homestead from the U.S. Government. Roberts Addition was platted by A. B. Roberts and Martha E. Roberts on January 20,1871 (Plat Book A, Pages 21 and 22, Walla Walla County Auditor's Office, Walla Walla County Courthouse). A. B. Roberts came to Walla Walla from Portland, Or. in 1859 and immediately purchased a claim to a large farm site just south of Main Street. He was a pioneer nurseryman and real estate developer. On July 22, 1871 A. B. and Martha Roberts sold lots 1-4 and 13-16 in block 17, along with the right to carry irrigation water under the property, to Sarah G. Miner(Minor) for $700. On July 24, 1871, Sarah and A. J. Miner sold this same property to Henry Howard for $330. On November 21, 1881 Henry and Selinda M. Howard sold all of block 17 (16 lots) to John F. Boyer for $5000. Mr. Boyer was the cofounder of Baker Boyer Bank. On August 1, 1882 John F. and Sarah E. Boyer signed a quit claim deed for all of Block 17 to Thomas R. Tannatt for $5000. Over the next eight years there were numerous legal transactions that were probably all related to money lending (quit claim deeds and powers of attorney) involving this property. Other parties to these transactions included Sigmond and Rose Schwabacher, John A. Paddock and C. B. Upton. On December 18, 1890 T. R. and Elizabeth Tannatt gave a warranty deed for this property (75' feet x 200 feet minus 10 feet for the alley) to T. G. Davies, unmarried, for $900. Thomas Davies was a partner in Davies and Skinner, a real estate and mortgage loan business. On December 7, 1893 T. G. Davies sold a large number of parcels including this one to John Henry Lee for $6000. On the same day John Henry and Mary Lee sold just this parcel to Joseph Paul for $1500. On October 30, 1894 Joseph and Tracy Paul sold this property to Henry Copeland for $1500. On March 12, 1903 Henry and Mary Ann Copeland sold it to Fred E. Mojonnier for $1400. Fred Mojonnier worked for Walla Walla Produce until he started his own hothouse vegetable business at Whitman Crossing west of town. By 1916 he had three acres under glass until it collapsed under the weight of snow in 1921 (see pictures in Bennett vol. II, page 187).
On March 7, 1910 Fred E. and Mathilde Mojonnier sold this property to Grant Copeland for $11,000 plus $500, including the mortgage to Joseph Tachi. Grant Copeland was a partner in Copeland and Ginn, a real estate, insurance and loan business at 10 North Second. Henry S. and Mary Copeland lived in a large home (no longer standing) at 506 Palouse adjacent this residence. On October 31, 1912 Grant and Alice H. Copeland sold this property to Thomas G. and Mary Eubanks for a stated amount of $10. The 1914 City Directory lists the Eubanks as residents at this address. On December 15, 1924 Thomas Eubanks died and Mary was appointed administrator of his estate. Mary continued to live here as a widow until 1931. She apparently rented the house for the next ten years. Eric A. and Marguerite Erickson lived here in 1933. He was an ROTC instructor. In 1933 there was a lien on the property for $84.10 for furnace work. Starting in 1935 Anton M. and Selma Lodmell lived here. He was a dentist in the Baker Building. On September 18, 1940 Mary Eubanks (widow) sold this place to Henry Dixon (widower) for "$10." He was a farmer. On March 3, 1943 Henry Dixon sold it to Harry E. Starry for "$10." Mr. Starry was a mechanic at TMCo. and lived with Mary E. Starry, the widow of Seawright Starry and Sybil Starry. Harry Starry died on September 28, 1948 and Sybil Starry was appointed administrator of his estate. On December 14, 1948, Sarah Mae Mitchell, daughter and heir of Harry E. Starry gave a deed for this property to Sybil Starry, spinster. On May 20, 1952 Sybil Starry sold the property to Bertram W. and Marian E. Hoare for "$10." Bertram Hoare was an employee of the Army Engineers at that time. On July 9. 1999 Bertram and Marian Hoare transferred their title to the Hoare Family Revocable Living Trust. Marian Hoare continues to live in this grand old home more than 53 years after purchasing it.
Construction of the Building:
The Walla Walla County Assessor's office states that this house was built in 1900 but there was no footprint of a house on this property on the 1905 Sanborn Fire Map. However, on January 2, 1906 the Evening Statesman newspaper published an article titled "Walla Walla's Wonderful Growth" saying over 100 residences costing $1000 and upwards were erected during 1905. Their list included a permit for F. E. Mojonnier to build a house on Palouse at a cost of $6000, which appears to be this residence. There is no record in city directories to show that Fred Mojonnier ever lived in this house, but he may have done so. From 1902-1905 he was listed as a bookkeeper for the Walla Walla Produce Company living at 339 Whitman. From 1908-1910 he was listed only in the Walla Walla County index as "Fred E. Mojonnier, $5533." with no address given.
References:
Bennett, Robert A., Walla Walla Portrait of a Western Town 1804-1899, Pioneer Press, Walla Walla, 1980.
Bennett, Robert A., Walla Walla A Town Built to be a City 1900-1919, Pioneer Press, Walla Walla, 1982.
Lyman, Professor W.D., An Illustrated History of Walla Walla County 1901.
Sanborn Fire Maps: 1884-1905 (with updates until 1950).
Walla Walla City Directories: 1880-present (various publishers–not all years).
Whitman College Archives.
  Mary E. Meeker Walla Walla 2020 Research Service PO Box 1222, Walla Walla WA 99362 November, 2005
http://ww2020.net/wp-content/uploads/510_S_Palouse.jpg
150
200
Mary Meeker
http://ww2020.net/wp-content/uploads/2011/12/ww2020_logo.png
Mary Meeker
2005-11-01 16:52:11
2017-02-05 12:22:06
History of 510 South Palouse Street, Walla Walla, WA