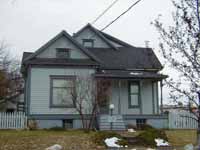 Legal Description:
Lot 6 in Block 35 of Langford's Addition to the City of Walla Walla. Beginning at the NE corner of Lot 6 running West along the North line a distance of 115 feet to the NW corner, then North along the East line of an alley for 24 feet thence East parallel to the North line, a distance of 115 feet to a point in the West line of Seventh Ave. North (formerly Seventh St.) as now opened and established thence South along said West line of Seventh Avenue, a distance of 24 feet.
Title History:
Walla Walla was originally laid out by surveyor H.H. Chase in 1859, even before its formal incorporation as a city in 1862, as a one quarter mile square oriented N-S, E-W with its eastern side centered on the point where Main Street crossed Mill Creek (at roughly the point where it does now). To this original area, additional parcels were annexed from time to time, usually bearing the name of the land owner of record at the time the additions were made. 423 N. 7th. Ave. is located in Langford's Addition named for W.G. Langford who bought the 160 acre parcel for $2000 on February 10, 1866 from J. H. Lasater and Emily Lasater, his wife. In the 1881 City Directory, Langford is listed as a lawyer with an office in room 4 in Quinn's Building and boarding at the Stine House, the hotel that preceded the Dacres Hotel. On May 28, 1870 Langford sold the 160 acres to Charles Moore and his wife Julia A. Moore for $2000. Moore was listed in the 1881 City Directory as residing at 23 Sumach St. He was the brother of Miles C. Moore, the last Governor of Washington Territory.
Lot 6 was combined first with Lot 7 (the property north of it on 7th) and then with Lot 11 (the property behind it that now faces 9th Ave.)and with Lot 12 where ABC Taxi is now located. Due to a reconfiguration of the streets north of Rose St., there is no 8th Ave. in this area. On June 27, 1890, Miles C. Moore and his wife Mary E. Moore, Frank W. Paine and Ida B. Paine and Julia A. Moore, widow of Charles Moore (he died in 1888) negotiated a Deed of Dedication to the City of Walla Walla for streets and alleys in Langford Addition, so progress was being made in this development. On May 12, 1892 lots 6, 7, 11 and 12 were purchased by Nathaniel Webb and Eliza Jane Webb for $575. Webb is listed as a farmer and then as a "stock raiser." His obituary cites him as famous for growing sheep. The Webbs are listed in the 1893-94 City Directory as residing at S. 7th and S. Pine in a house that must have been constructed in1892 or 1893. The 1900-01 Directory lists Nathaniel Webb's residence as 425 N. 7th, the address used today for the house north of 423 N. 7th.
On March 21, 1896 the Webbs sold lots 6 and 11 (the lot behind lot 6) to Jacob Valaer for $400. This price would indicate that there was no house on the lot. The 1894 Sanborn Fire Map shows no structure on that lot. There wasn't another Fire Map until 1905 and that shows a house and shed with the lot extending to 9th. The first City Directory's listing for Valaer's residence is the 1898 edition "near the corner of 7th and Pine." The County Assessor lists 1891 as the construction date which would be before Valaer had bought the property and contradicts the 1894 fire map.
In the 1898 City Directory, Valaer is listed as a "capitalist." The 1907 directory lists him as a partner with J.W. Wolfe in Wolfe and Valaer, Real Estate and Loans, with an office in the Paine Building, which is on the southeast corner of Second and Main. The 1927-28 City Directory lists him as owning 3801 acres assessed at $93,085 and producing grain. Jake Valaer died in 1928.
It is interesting that the next generation of Valaers and Webbs continued on as neighbors in two of Walla Walla's grand homes, 104 N. Division (the Webbs) and 110 N. Division (the Valaers), both taking over their family businesses of wheat farming and sheep raising.
Virgil Valaer and Dorothy Valaer, Jacob Valaer's heirs, sold the house to J. L. Digh and his wife Ada Digh on July 10, 1930 for stated consideraton of $1. Records show that they took out a mortgage of $1350. John L. Digh had a washing machine business at 105 First Ave. S. according to the 1931-32 City Directory. The Dighs sold Lot 6 to Raymond Heimbigner and Ethel Heimbigner on December 27, 1944 for stated consideration of $10. On May 4, 1945 the Dighs sold Lot 11 to Joseph E. Heimbigner (listed as the janitor at the Liberty Theater) and Madeline M. Heimbigner for a stated consideration of $10. On January 24, 1946, Lot 11 was sold by Joseph and Madeline Heimbigner to Wave Richwine, listed as a widower for $400. On November 28, 1945 Raymond and Ethel Heimbigner sold 423 N. 7th to Marshall R. Foster, a bachelor, for $4250. The sale terms included the gas automatic hot water heater in the house. On April 25, 1946 Marshall Foster sold the house to Deane C. Boyer and Marcella Boyer. The Boyers took out a $3250 mortgage to purchase this property. Deane C. Boyer is listed as a steam engineer at General Foods Corporation in the 1946 City Directory and then electrician for Birds Eye-Snider in 1950. Marcella Boyer is listed as a waitress at the Marcus Whitman Hotel. In October of 1950 the Boyers were divorced and a Quit Claim Deed was filed by Marcella Boyer giving Deane Boyer the house. Boyer owned the house until 1976 but seems to have rented it out for several years. City Directories list various tenants: The 1953 Directory lists Richard and Marie Torrey, who owned a 1946 Buick.(Directories in the 50's and early 60's listed automobiles owned!) Richard Torrey worked at Columbia Reproductions. The 1960 Directory lists Horace A. Worley, who owned a 1953 DeSoto and worked at the Corps of Engineers. The 1966 directory lists as residents Jack L. and Patricia Richards. Jack Richards was sports editor of the Union Bulletin. The 1971 directory lists Ted A. and Mary V. Wolfgram, retired, and Terry Wolfgram, employee of Pioneer Car Wash. The house was listed as vacant some years. In 1973 Deane (listed as retired) and Esther L. Boyer returned to the house. On October 22, 1976 the Boyers sold the property to Bruce P. Beauregard and April Beauregard for $12,750. Beauregard is listed as a self-employed painter which might account for some of the decorating the next owners found.
On September 16, 1980 the Beauregards sold to John R. Knapp and Lynn Small Knapp for $36,000. The Knapps own Knapp Furniture Restoration and Lynn Small Knapp is an English as a Second Language instructor at Walla Walla Community College. Their restoration skills are evident in their ambitious renovation and remodeling of this house. In 1997 they added a gable on the front and raised the roof on the back adding a shed dormer. The upstairs is now John's painting studio. The house is a "work in progress" from putting on new siding to remodeling the kitchen, installing antique lighting and interior woodwork. Hopefully their example will inspire other homeowners in this older part of town to restore homes that have lots of potential.
Construction of the House:
The date of 1891 listed as the year built by the County Assessor's Office can't be correct for several reasons. The Sanborn Fire Maps began in the 1890's and no house is shown on the 1894 microfilm version in the Whitman College archives. No maps exist from 1894 until 1905. The 1905 paper version shows a house and a shed at 423 N. 7th. Also, it appears that Nathaniel Webb owned lots 6, 7, 11, and 12 in 1892 and built a house on lot 7. The Webbs sold lots 6 and 11 to Jacob Valaer in 1896 during the construction season for $400, a price that would indicate that it was land only. The first residential listing for Valaer in a city directory is in 1898 (although no City Directories are available for 1896 or 1897).  Conclusive evidence of the construction date was uncovered by Lynn Knapp, consisting of entries in the diary of Paul Webb, Sr. for 1896 showing the sale of the two lots to Jake Valaer on March 21, 1896, "Jake working on house," and "Jake papering house" in April, 1896, followed by "Jake's house about finished" on September 20, 1896.  This researcher concludes that Jacob Valaer built 423 N. 7th Ave. in 1896.
References:
Andres, Penny, Walla Walla: Her Historic Homes, Vol. II, 1993.
Bennett, Robert A. Walla Walla: Portrait of a Western Town, 1804-1899
Walla Walla City Directories beginning in 1880 (although not available for all years)
Whitman College Archives, Larry Dodd, Archivist
  Katherine H. Weingart Walla Walla 2020 Historical Research P.O. Box 1222 Walla Walla, WA 99362 July 12, 2002
http://ww2020.net/wp-content/uploads/423_N_Seventh.jpg
150
200
Site Manager
http://ww2020.net/wp-content/uploads/2011/12/ww2020_logo.png
Site Manager
2002-07-12 16:26:40
2016-10-04 09:49:40
History of 423 North Seventh Avenue, Walla Walla, WA