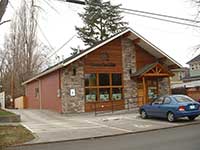 Legal Description:
South 38 feet 7 inches of Lots 1 and 2 plus 6 feet 5 inches adjacent on the North side of Block 11 of Roberts Addition to the City of Walla Walla, according to the official plat thereof recorded in Volume A of Plats at Page 21, records of the Auditor of Walla Walla County, State of Washington.
Title History:
Washington Territory was created in 1853. The new legislature created Walla Walla County in 1854 which stretched from the crest of the Cascade Mountains to the crest of the Rocky Mountains in the present states of Washington, Idaho and Montana. In 1855 an Indian council was held on the banks of Mill Creek at the present site of Walla Walla to purchase land from the Indians. The Yakimas, Cayuses and Walla Wallas were dissatisfied with the treaties and war followed. Missionaries, former French-Canadian employees of the Hudson Bay Company trading post at Wallula, and soldiers at the military Fort Walla Walla were the primary European occupants of the area prior to 1859 when it was opened for settlement. All of the land in this area was acquired from the Cayuse and Walla Walla Indian tribes by the U.S. Government in a treaty signed on June 9, 1855 in Walla Walla, and ratified on March 8, 1859 by President James Buchanan.
Walla Walla was originally laid out by surveyor H.H. Chase in 1859, before its formal incorporation as a city in 1862, as a one quarter-mile square with its eastern side centered on the point where Main Street crossed Mill Creek (at roughly the point where it does now). Main Street originally followed the old Nez Perce Indian Trail. Consequently the streets leading off of it were at right angles to it, and were not in a north-south orientation. This was corrected as the city moved eastward which gave Walla Walla its peculiar street pattern with the three street intersection at Palouse, Boyer and Main Streets. To the original plat, additional parcels were annexed from time to time, usually with the name of the land owner of record at the time the additions were made.
A. B. Roberts came to Walla Walla from Portland, Oregon in 1859 and immediately purchased a large farm site just south of Main Street for $250 from Tom Hughs. He fenced his new property and put up a  canvas house which allowed him to hold it until the government surveyed it in 1860. He had brought some grafted fruit trees from Portland and was able to sell them in 1860 for $1.00 apiece. He realized there was money to be made in fruit trees and so engaged extensively in the nursery business as well as real estate. Roberts Addition was platted by A. B. Roberts and Martha E. Roberts on January 20,1871 as recorded in Plat Book A, Pages 21 and 22, Walla Walla County Auditor's Office, Walla Walla County Courthouse. This was the first legal record in Walla Walla for this property. Prior to there being a land office (and legal records) in Walla Walla, Alvin B. Roberts filed a homestead claim for 160 acres with the Vancouver Washington Land Office on May 2, 1870 . On March 8, 1872 A. B. and Martha Roberts sold Lots 1-4 in Block 11 which included this property to John Dovell. In 1880 Dovell ran Dovel and Co. planing mill on "north side Main above the bridge." He lived on the southwest corner of Main and Touchet Streets.
On November 27, 1877 John and Margaret Dovell sold these same 4 lots to Brainard M. and Julia Ann Washburn for $300. On September 26, 1878 Washburns sold the same property to William Bigham for $1050. On November 21, 1879 William and Jane Ann Bigham sold these 4 lots to James D. Demarris for $1250. In just two years the price for this property had increased over 300% . On December 17. 1894 James and Eliza Demarris (alt. Demaris) sold just lots 1-2 to Mary J. Anderson for $1500. On April 21, 1899 Mary J. and J. E. Anderson sold lots 1-2 to J. F. Ladd for $700. On February 9, 1900 the Estate of James F. Ladd gave a 10 month lease to Charles B. DeMoss for "that certain storehouse and lots and everything on said lot known as 414 Park" for $10 a month. On February 11, 1901 the son and heir of  James F. Ladd sold property from the southwest corner of Lot 2 Block 11 to 38 feet, 7 inches North to 100 feet East to Park Street to 38 feet, 7 inches South to 100 feet West to Samuel F. Rhodes for $850. On April 12, 1902 Samuel Rhodes, a single man,  sold this property to Mary J. Anderson (previous owner in 1899) for a stated amount of $1. On October 1, 1904 Mary J. and J. E. Anderson sold this property to Ephraim J. Johnson for $3000. On January 15, 1908 Ephraim J. and Eliza Johnson, husband and wife, sold this property to W. R. Holdman for $5000.
On June 24, 1909 W. R. and Clara M. Holdman sold this property to Herman Timm for $5500. Herman and Clara Timm were born in Holstein, German in 1864 and 1873.  Herman Timm and his son Herman Jr. owned this property and operated a grocery store on this location from 1914 until 1957. After Herman Sr.'s death his widow signed a Quit Claim Deed on this property to her son Herman Jr. on February 11, 1954, On April 19, 1957 Herman and Vera Timm sold this property to Fae Lenore Rainwater (widow) and Larry and Lorraine Rainwater for a stated amount of $10. The Rainwater family gave a mortgage to Gerald Randolph on May 31, 1957. On August 14, 1957 Rainwaters signed a Release of Mortgage to the Gerald G. and Frances Randolph. On August 15, 1957 Randolphs sold this property to Wayne C. and Helen L. Elliott. On February 1958 Elliotts sold to Robert A. and Mabel N. Hiatt for $10. On March 5, 1959 Mabel N Hiatt signed a Quit Claim Deed giving  full title to Robert A. Hiatt. On March 21, 1961 Robert Hiatt sold this property to Nick and Alta Zauner on contract. On October 1, 1962, Alta Zauner, a widow, sold this property to Walla Walla Council of Campfire Girls who assumed the Zauner mortgage of $3792.
Occupant History:
This is one of the oldest residential areas in Walla Walla. On the southeast corner of this block the Park Street School was built in 1879 for $2000. The teacher was Miss Angie Bean and there were 50 students enrolled  here prior to the completion of Sharpstein School across Park Street in 1898. The first automobiles did not arrive in Walla Walla until 1900. Therefore the neighborhood grocery was a common part of many residential neighborhoods.
In 1893 the city directory lists J. E. Anderson and Thomas Ledd as grocers Ledd, Anderson Co at 414 Park. The 1894 Sanborn fire map shows the footprint of a building at this location with the notation of storage and "Gro."  In 1898 J. E. Anderson was the grocer at "Park and Dr. Newell Streets" with his residence the same. In 1900 Anderson lived next door at 342 Newell and Charles de Moss ran this grocery and rented this property for $10 a month. From 1902 to 1905 the grocer at this location was Ephraim Johnson. He had one of the early Walla Walla telephones with number Black 701. He was succeeded in this grocery business in 1905 by Gilbert S. Johnson, his son who lived with Ephriam and Eliza on Fern Avenue near Pleasant. They had lived in Iowa in 1900 and moved to Kitsap County, Washington by 1910. From 1908-1910 the grocery was operated by W. L. Talbert who lived on Whitman Street. In 1911-1913 the grocery was run by Bruce M. and Hassie Painter who lived at 329 Juniper.
In 1914 Herman and Clara Timm became the proprietors of what was then called the Park Street Grocery. They lived next door at 342 Newell with their children, Herman Jr. and Ida who were born in Sheridan, Wyoming. Even though they purchased this property in 1909 they did not appear in the Walla Walla City Directories until 1914. The father and son continued to operate what became known as Timm's Grocery for the next 43 years.  Clara Timm worked as a teacher between 1918 and 1922.
In 1958 Harold Zoller ran the Park Av. Cash Grocery. Lynn's Barber Shop also was operated here in 1958 and 1959. In 1960 Raymond S. Coffee operated Coffee Barber Shop and #2 was vacant. From 1961- 1962 this entire building was vacant. It was purchased in 1963 by the Walla Walla Council of Campfire Girls who have continued to occupy this building until the present. They have now been here longer than any other occupant, including the Timms, a total of 47 years. They are currently planning to remodel this building.
Construction of the Building:
The 1894 fire map shows there was a business housed at this location at that time. Although Mary J. Anderson didn't purchase the property until 1894, the 1893 city directory listing  for J. E. Anderson (Mary's husband) and Thomas Ledd as "grocers Ledd, Anderson Co." at 414 Park, indicates the existence of a store building at this location in 1893. The tax assessor's office has no construction date and there are no building permits for this address. It is possible that the original store was added to over the years. A circumstantial construction date for some portion of this building  is "circa 1893 for J. E. and Mary Anderson, grocers."
References:
Bennett, Robert A., Walla Walla  Portrait of a Western Town 1804-1899, Pioneer Press,  Walla Walla, 1980.
Bennett, Robert A., Walla Walla  A Town Built to be a City 1900-1919, Pioneer Press,  Walla Walla, 1982.
Bennett, Robert A., A Nice Place to Raise a Family 1920-1949, Pioneer Press,  Walla Walla, 1988.
BLM Land Patent Records
Building permits: Whitman College Penrose Library (1907-1939)
Gilbert, Frank T.; Historic Sketches of Walla Walla, Whitman and Garfield Counties, Washington       Territory, and Umatilla County, Oregon, 1882.
Sanborn Fire Maps: 1884-1905 (with updates until 1950)
U. S. Census records
Walla Walla City Directories: 1880-present (various publishers–not all years).
Walla Walla County Assessor's Office
Whitman College Archives.
Wolf, Karen, Executive Director, Walla Walla Council of Campfire Girls, pictures.
  Mary E. Meeker ; Walla Walla 2020 Research Service PO Box 1222, Walla Walla WA 99362 March 2010
http://ww2020.net/wp-content/uploads/414_S_Park.jpg
150
200
Mary Meeker
http://ww2020.net/wp-content/uploads/2011/12/ww2020_logo.png
Mary Meeker
2010-03-09 16:10:28
2017-02-05 12:20:45
History of 414 South Park Street, Walla Walla, WA