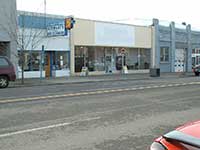 Property Description:
Certain store rooms commonly known as 210-212 East Alder, Walla Walla, Washington, being an area approximately 45 feet by 120 feet, which is situated on the westerly 45 feet (approximately) in width of the following property:
Beginning at a point in the Southerly line of Alder Street in the City of Walla Walla, Washington, which point is 74.8 feet Easterly measured along said Southerly line of Alder Street, from the point of intersection with the Easterly line of Colville Street (formerly East Street) in said City; thence Easterly along said Southerly line of Alder Street, a distance of 65.2 feet; thence at right angles Southerly 120 feet; thence at right angles Westerly 65.2 feet; thence at right angles Northerly 120 feet to the point of beginning.
The easterly 20 feet 3 inches of the described tract is known as 214 East Alder Street.
Title History:
Washington Territory was created in 1853. The new legislature created Walla Walla County in 1854 which stretched from the crest of the Cascade Mountains to the crest of the Rocky Mountains in present states of Washington, Idaho and Montana. In 1855 an Indian council was held on the banks of Mill Creek at the present site of Walla Walla to purchase land from the Indians. The Yakimas, Cayuse and Walla Wallas were dissatisfied with the treaties and prepared for war which followed. Missionaries, former French-Canadian employees of the Hudson Bay Company trading post at Wallula, and soldiers at Fort Walla Walla were the primary European occupants of the area prior to 1859 when it was opened for settlement. All of the land in this area was acquired from the Cayuse and Walla Walla Indian tribes by the U.S. Government in a treaty signed on June 9, 1855 in Walla Walla, and ratified on March 8, 1859 by President James Buchanan.
Walla Walla was originally laid out by County Surveyor H.H. Case in 1859, even before its formal incorporation as a city in 1862, as a one-quarter mile square with its eastern side centered on the point where Main Street crossed Mill Creek (at roughly the point where it does now). Mr. Case's survey also included this property. The City of Walla Walla received a Trustee Townsite from the U. S. government which consisted of 80 acres. It was issued on July 20, 1869 by the Vancouver, Washington Territory, District Land Office.
This property was part of the 160 acre homestead claim of Alvin B. Roberts filed in the land office in Vancouver, Washington Territory. Roberts had visited this area as a soldier and brought his wife from Portland to settle in Walla Walla in 1859. The first legal transactions regarding this property recorded in the Walla Walla land office were mortgages. Robert's Addition was platted in 1871. Due to its location adjacent the original city there seem to have been numerous sheds, log cabins, etc. built along the current alley at an early time. Poplar Street stopped at East/Colville Street where the large M. B. Ward estate and home (later moved to 228 E. Poplar where it stands today) were sited in the middle of the land between Alder and Birch Streets. Perhaps that explains why the property lines for this property are so complicated and do not follow lot lines on the plat.
William A. Green and John N. Fall sued A. B. Roberts on May 1, 1873 for $183 in gold coin plus 1.5% per month interest due in 60 days. Following a district court decision Walla Walla County Sheriff, B. W. Griffin, gave a Sheriff's Deed on the property to John F. Boyer on August 26, 1873 which included "certain frame house on Lot 2 Block 2 of Robert's Addition." This was followed on October 2, 1873 with a lawsuit by Benjamin L. Sharpstein against A. B. Roberts and 24 other defendants (including Green and Fall from the prior suit) for $3205.82 plus interest. This suit was followed by a Sheriff's Deed to William Glasford on December 8, 1873 for lots 1 and 3 of block 2 for $110. On July 9, 1870 John F. and Sarah Boyer gave a Warranty Deed to William Glasford for $100 for lot 2, block 2.
On March 3, 1886 William Glasford gave a one year lease for $125 a month to J. R. Addison including the planing mill, sash and door factory, lumber yard and water power machinery (excepting lot 1 with the building occupied by C. H. Dodd as an agricultural implement and carriage house on the alley and lot 3 with the house occupied by "the China man"). On March 26, 1890 William and Agnes Glasford signed another lease with Charles Cooper, G. W. Whitehouse and D. J. Crimmins for $150 a month to include the planing mill, machinery and appurtenances, and ditches and water rights.
On May 4, 1892 the Estate of Dorsey S. Baker received a Certificate of Purchase of Real Estate from William and Agnes Glasford, Thomas Mosgrove and Al Lowe for $20,000 following a superior court decision on June 8, 1891. A Sheriff's Deed was issued to Dorsey Baker Estate on October 14, 1892 for $20,000. An Agreement for Deed was given by the Dorsey Baker Estate to W. D. Smith for a piece 40' by 70' on December 16, 1898 for $500. W. D. and Nathalie Smith signed a Quit Claim Deed to Baker Boyer Bank on June 26, 1900 for $300.
On November 19, 1900 Winfield D. and Nathalie G. Smith sold the western 40 feet of this property to A. K. Dice for $800. Baker Boyer Bank subsequently signed a Quit Claim Deed to Mr. Dice. On February 11, 1902 the Baker Estate sold the eastern 25.2 feet (by 70 feet deep) of this property to A. K. Dice for $504.
Amos Kramer Dice's name first appeared in a Walla Walla city directory in 1892. At that time he was a dentist with an office in the Quinn Building on Main Street between Second and Third Streets. His residence was at 421 Duluth Street. From 1893-98 he had a dental practice in the Paine Building at the corner of Second and Main Streets and lived at 315 Whitman Street. By 1900 he was a notary and insurance agent at 5 South Second Street and had moved to the home still occupied by his family at 524 Catherine Street. In 1902 he partnered with Jackson and Kirkman as financial agents and insurance salesmen. He also had started a long relationship as treasurer of the Walla Walla Lumber Company. His daughters Edith, Mabel and Ruth were listed as students living in the family residence in these years. In 1907 he added the responsibility of Treasurer of the IOOF Cemetery committee (predecessor of part of the present Mountain View Cemetery). In 1909 he became the manager of the Walla Walla Safety Deposit and Trust Company. In 1912 his wife Flora was listed in the city directory for the first time and A. K. Dice was then the City Commissioner of Finance and Accounting. In 1920 he became the Secretary-Treasurer of the Union Trust Company of Walla Walla. He operated Dice and Allen, Bond Insurance and Investments at 16 1/2 West Main Street between 1921 and 1926. He continued as City Commissioner of Finance through 1936.
On March 9, 1904 A. K. Dice signed a Party Wall Agreement with Thomas Durry who owned the property immediately to the west of this property. The wall was to be built by Dice, and Durry would pay one-half the cost. Another Party Wall Agreement was signed on March 11, 1920 between A. K. and Flora Dice and Julia A. Moore for the east side of the Dice building and the west side of Ms. Moore's building. On March 3, 1924 Julia Moore received $858.82 from Mr. and Mrs. Dice for half the cost of the party wall.
The Dice property in this location was completed on January 5, 1918 when Augusta Ward Rees, Lora Rees Compton, Frank Rees and Ella Rees Turner sold the 50 feet x 65.2 feet portion on the south side of the two original buildings to A. K. Dice for a stated amount of $1. This extended this property to the present alley.
A. K. Dice died on June 21, 1937. On March 20, 1939 Flora A. Dice signed a Quit Claim Deed on this 65.2' x 120' property to Edith Dice Harold and Ruth Dice Borgstrom for love and affection. Parry Borgstrom gave his interest in this property to Ruth Dice Borgstrom on May 23, 1945. Ruth Borgstrom then signed a Quit Claim Deed to Edith Dice Harold for $4000 on May 29, 1945. Edith Dice Harold died on February 6, 1970. Jane H. Sutherland and Burton M. Sutherland subsequently relinquished their undivided 1/3 interest in this property to Raymond D. Harold. In 1997 Ann Jacobson gave a Quit Claim Deed to Jennie M. Harold as representative for the Estate of Ray D. Harold. In 2003 Jennie M. Harold transferred title on the property which has been in the Dice-Harold family for over 105 years to the Harold Living Trust.
Occupant History:
This was part of the first addition to Walla Walla and had "a certain frame house" on it in 1873. By 1886 Glasford's Planing Mill had been build across "East Street" (now Colville) to the west of this property (now Holly's Flowers). This can be seen on the 1876, 1884 and 1889 birds eye maps in Bennett's vol. 1. The Sanborn Fire Map showed that this property was occupied by lumber piles and a lumber shed in front of a wooden flume with an assortment of small buildings along the present alley. J. R. Addison and Co. was the mill lessee in 1888. On the 1890 fire map Glasford's Planing Mill lists Whitehouse, Crimmins & Co. as lessees at which time there still were lumber shed and "low lumber pile extends 140 feet" on this property. In 1894 the planing mill was "vacant and open, walls badly cracked." Whitehouse and Crimmins and Co. had moved the mill to its present location on Third and Cherry Streets (now Whitehouse Crawford Restaurant). The lumber piles were gone and replaced by a hay and grain warehouse (14' to eaves) in this approximate location until the purchase of the property in 1900 and 1902 by A. K. Dice. He is the likely builder of the two buildings seen on the 1905 fire map. No buildings appeared on either side of these two at that time. Farther east on this block #222 was a photo shop, #224 a cobbler and #230 the Walla Walla Hospital (opposite the new Spokane Street) in 1905.
The building at #212 with the "iron clad front" housed a blacksmith shop run by A. K. Durant in 1905. There was a wagon shop and paint shop at #214 at this time. H. J. Schafer worked as a carriage painter here. This property had some longtime tenants. Mr. Dice's son-in-law, William Henry Harold ("W. H. H.") was an electrician whose business address in 1920-1924 was 115 1/2 E. Birch (residence was 115 E. Birch). In 1925-27 he had a business address of 109 W. Main. By 1928-29 Harold Electric was located at 210 E. Alder and remained on this property through 1968 when it was moved to 811 West Rose Street. The building was listed as vacant in 1969-1970. Croft's Flowers occupied #210 from 1971-1980. The Buyline occupied #210 from 1981 through 1997 (last year of city directories). Master's Appliances and Standard Printing have been tenants since then.
Some unspecified remodeling was done in 1914 (building permit for $200).
The building at #214 has been occupied by Stewart's French Dry Cleaners for 85 years. Nelson H. Stewart opened the business as Stewart and Barnett (cleaners) in 1921. Prior to that he operated the Bungalow Dye Works at 43 S. Palouse.
Construction of the Building:
The 1905 fire map shows the footprint of apparently two buildings on this property. The building at #210-212 was labeled "iron clad front" and was a blacksmith shop. The building at #214 on the east side of the property was a wagon shop in front with a paint shop behind. Only the building at #210 had an iron clad front. The two buildings were extended from 70 to 120 feet back from Alder Street following the purchase of that addition space in 1918 which explains the unified brick appearance of these buildings from the alley. A. K. Dice bought the western 40 feet of this property in November of 1900 and the eastern 25.2 feet in February of 1902. A likely construction date for the larger building at 210-212 E. Alder would be circa 1901. The smaller building at #214 was probably built circa 1902, with an addition to the back of both buildings circa 1918.
References:
Andres, Penny, Walla Walla Her Historic Homes, Vol. III, 1998
Bennett, Robert A., Walla Walla Portrait of a Western Town 1804-1899, Pioneer Press, Walla Walla, 1980.
Bennett, Robert A., Walla Walla A Town Built to be a City 1900-1919, Pioneer Press, Walla Walla, 1982.
Building Permits: Whitman College Penrose Library Archives.
Lyman, Professor W.D., An Illustrated History of Walla Walla County 1901.
Sanborn Fire Maps: 1884-1905 (with updates until 1950).
Walla Walla City Directories: 1880-present (various publishers–not all years).
Whitman College Archives.
Mary E. Meeker ; Walla Walla 2020 Research Service PO Box 1222, Walla Walla WA 99362 March, 2006
http://ww2020.net/wp-content/uploads/210-214_E_Alder.jpg
150
200
Mary Meeker
http://ww2020.net/wp-content/uploads/2011/12/ww2020_logo.png
Mary Meeker
2006-03-01 21:41:25
2017-02-05 12:22:05
History of 210-214 East Alder Street, Walla Walla, WA