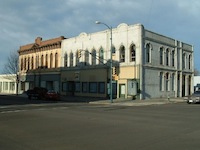 Property Description:
Abbreviated: Block 4, Lots 9 and 10 at the NW corner of the intersection of Main and Fourth Streets in the original city of Walla Walla in Washington Territory, as platted in 1861.
History:
Territory was created in 1853. The new legislature created Walla Walla County in 1854 which stretched from the crest of the Cascade Mountains to the crest of the Rocky Mountains in present states of Washington, Idaho and Montana. In 1855 an Indian council was held on the banks of Mill Creek at the present site of Walla Walla to purchase land from the Indians. The Yakimas and Walla Wallas rejected the treaty and prepared for the war which followed. Fur trappers, missionaries and soldiers at Fort Walla Walla occupied the area prior to 1859 when it was opened for settlement.
Walla was originally laid out by surveyor H.H. Chase in 1859, even before its formal incorporation as a city in 1862, as a one-quarter mile square oriented N-S, E-W and with its eastern side centered on the point where Main Street crossed Mill Creek (at roughly the point where it does now). To this original area, additional parcels were annexed from time to time, usually named after the land owner of record at the time the additions were made.
property at Fourth and Main Streets has a history that goes back to these earliest days since it was part of the original town plat. This makes for very interesting and complex history. Some of the original property owners could not sign their own names and property descriptions and legal transactions were loosely defined and frequently changed. This is an attempt to describe this area's owners and occupants over a period of 140 years. It was a colorful part of town largely occupied by cigar stores, hotels (many became boarding houses and/or brothels over time) and saloons, which were frequently the places local farmers hired day laborers. There have been three separate buildings on this site since before the oldest fire map in 1884, one on lot 9 in the center of the block and two on lot 10 next to Fourth Street. The two buildings closest to Fourth Street on lot 10 have the Main Street appearance of a single building and have had considerable overlap of ownership.  They will be described first to be followed by the building to the west on lot 9. Various structures have occupied the area in back of these buildings next to the alley including a "Furniture Mfy.", shed, office, kitchen, and sleep rooms according to old fire maps.
206 West Main Street (lot 10):
area around this property at Fourth and Main Streets was occupied prior to the city plat in 1861 including some buildings in the newly designated intersection which had to be moved or razed. The first title company record for the part of the property closest to Fourth Street was when Vance Lado Burboa sold 34 front feet of the corner lot to Tomacita Plough for $250 on August 19, 1862. In 1863 a lien was recorded for $167.10 against a "house" on this property. On January 8, 1864 Tumiceti Plow (sic) sold a portion of the corner lot to F. Orsalle (sic), who signed with his mark, described as the NE half of lot 10, block 4, for $250. Mr. Orselli was an orchardist who owned 180 acres west of the city limits. He had been born in Lucca, Italy in 1833 and arrived in Walla Walla in 1859. Frank and Sophia Orselli sold a portion of this land to Isaiah Revenaugh for $250 on November 24, 1864.
Mr. Revenaugh obtained a deed from the City of Walla Walla for a parcel 60′ x 60′ on February 24, 1866 for $10 that apparently included part of the west half of this lot. The Orsellis deeded him the NE quarter of lot 10 on July 10, 1872 for $300. 
the west half of lot 10 (30 front feet by 120 feet deep) was sold by W. A. Hines to Mary Petty on October 8, 1863 for $500. She sold to William S. Goodman for $170 on September 1, 1865. Mr. Revenaugh was owner of record (see above City of Walla Walla deed) on June 5, 1867 when he sold (or borrowed money on) a 30′ x 60′ parcel to David and Mary Weston for $800. The Westons then deeded it back to Mr. Revenaugh for $1000 on August 15, 1871. Thus, by 1871,  Mr. Revenaugh owned both the east and west half of lot 10.
July 11, 1872 Isaiah Revenaugh sold the 60′ x 120′ parcel at Main and Fourth plus lots 1-2 behind it on Fourth and Rose Streets for $5000 (including a $1000 mortgage) to Fred Schwartz. On January 26, 1874 Fritz and Sarah Schwartz (a.k.a. Fred and Jane Schwartz) sold all of lots 1, 2, and 10 to Daniel Stewart for $6000.
Daniel Stewart was born in 1825 in Ohio of Quaker parents. He first came to Walla Walla in 1848 when he fought in the Cayuse War. He returned to settle in 1861 where he owned 800 acres on Dry Creek. He married Margaret Fruit and they had eight children. He was elected a Joint Councilman several times but became strongly opposed to both political parties and worked to oppose monopolies, which he felt was 'the great cause of the day."  On April 10, 1878 Daniel and Margaret Stewart gave a deed to Charlemagne Stewart for $8000. On April 13, 1878 Charlemagne gave a deed to Margaret Stewart for the same amount.  On June 21, 1880 the Stewarts signed a deed (in Nez Perce Territory of Idaho) to James B. Thompson and H. E. Holmes for a 60′ x 120′ lot for $8000. Mr. Thompson was sheriff of Walla Walla County in 1880. On June 13, 1885 James B. and Agnes Thompson gave a deed for their share of the property to their partner Henry E. Holmes for $4120.
In 1876 Henry Holmes moved his drug store to Main Street between Second and Third Streets where it was the predecessor of Green and Jackson Drug Company. A drug store has continued to operate ever since in that location. Holmes was one of 16 subscribers to the first telephone exchange in Walla Walla in 1884. He was born in Wisconsin in 1849 and moved to Walla Walla in 1873. He made his home above the store until 1883 when he moved to 28 E. Birch. By 1889 his store was called Stewart and Holmes Drug Company. In 1894 Henry E. and Kate Turner Holmes lived in Seattle where they signed a quit claim deed giving this property to their children. On October 29, 1904 a lien was placed on the property for the purpose of paving Main Street from Mill Creek (at First Street) to Sixth Street. On August 2, 1906 a similar lien was placed for the paving of Fourth Street from Main Street north to the bridge over Mill Creek. After Kate and Henry Holmes died within 3 months of each other in 1928 their children continued to own this property for a total of 73 years before  they sold it to David and Dorothy Barer, I.J. and Esther Barer, and Alan and Jean Barer on November 12, 1958. Barer family members transferred their interests to Alan in 1967 who formed a Family Limited Partnership in 1998. He sold to Cayuse Vineyards LLC on April 1, 2002.
208-212 West Main Street (lot 9):
first title company entry on lot 9 (west of the above property) is for a preemption claim ("no patent yet issued" ) filed by E. H. Barron on November 14, 1858. On January 15, 1861 Lawrence M. Baldwin gave a deed for the property to Augustus Thibodo for $1300 (lot 9, block 4 plus nearby lot 2, block 10). On May 9, 1864 Augustus James Thibodo gave a deed to Charles F. Kraft for lot 9, block 4 for $100. Thibodo was elected Walla Walla County coroner in 1864. Kraft was a machinist and engineer, dealer in pipes, steam, water and gas fittings. On August 13, 1864 Charles F. and Eliza Kraft gave a deed to Christian Sturm for an "undivided half of lot 9, block 4" for $1200. On February 3, 1865 Mr. Sturm sold his half interest back to Mr. Kraft for the same price. This transfer was probably for security of a loan to Kraft. On March 8, 1866 the City of Walla Walla, Washington Territory (George Thomas, Mayor), gave a deed to Charles F. Kraft for a lot 60′ x 120′ which was 60′ from the corner of Fourth Street for $40 (including 3 lots at Rose and Fifth). On May 7, 1867 district court rendered a judgment against Charles F. Kraft and directed that the property be sold at auction. A sheriff's deed was granted on June 5, 1872 to B. L. Sharpstein for lot 9 of block 4 including all buildings. On November 1, 1873 Charles F. Kraft gave a deed to B. L. Sharpstein for this property plus the "hay scales in front of the premise" for $1700.
Mr. Sharpstein had arrived in Walla Walla in 1865. He was a lawyer and subsequently a judge who served in the state legislature and on the local school board. Walla Walla's oldest operating elementary school in the state is named in his honor. He helped locate the state penitentiary in Walla Walla. On May 16, 1876 Sharpstein and his wife Sarah J. Sharpstein signed a deed for this property to Philip L. Hawley for $1995.
Philip and Sarah Hawley signed an agreement with C. F. Kraft for this property (and the hay scales) with a three-year note for $2337 on May 16, 1876. On March 8, 1877 Philip and Sarah Jane Hawley give a warranty deed to Daniel Stewart (lot 9 and the hay scales) for $2390 (three years after he bought the two adjacent buildings on lot 10). On October 4, 1878 C. F. Kraft gave a warranty deed to O. P. Lacy and E. B. Whitman (including the hay scales) for $1.
Lacy and Whitman were both prominent local figures in early Walla Walla. Mr. Lacy  was elected a state representative and the county assessor. Mr. Whitman, a distant cousin of pioneer missionary Marcus Whitman, served as mayor of Walla Walla. Together they were "Real Estate Brokers, Insurance, Auction and Commission Merchants. " In 1880 their office was on the south side of Main Street between Second and Third Streets.  On October 12, 1878 Daniel and Margaret Stewart signed a deed to O. P. Lacy and E. B. Whitman for $2390. Lacy and Whitman took out a $9000 mortgage on December 8, 1883. On February 25, 1884 Oliver P. Lacy gave his wife Mary an undivided half interest in this property. On April 13, 1892, E. and Maria G. Whitman and Mary E. Lacy (now a single woman) conveyed their ownership to Jacob Betz, including the assumption of the $9000 mortgage from 1883.
Jacob Betz was a German brewer who had come to Walla Walla in 1874. He was known as a very generous and civic-minded man, serving on the city council from 1891-1895. He operated the Star Brewery on Main Street between Third and Fourth Streets. Then he bought the old county court house at Third and Alder Streets for his brewery where he made up to 10,000 barrels a year to supply many of the town's saloons. He remodeled extensively and an article in the Walla Walla Union in 1896 described a "splendid saloon." Above it was a dancing and meeting hall. He apparently resisted having a grand home, living at the brewery in 1880 and moving frequently thereafter. In 1903 he built a three-story stone building at Third and Alder for his brewery. The Walla Walla Evening Statesman reported in 1904 that the brewery was being sold.
Jacob and Augusta Betz owned the "Lacy-Whitman Building" for the rest of their lives. Jacob died in Tacoma in 1912. When his wife Augusta died their estate was inventoried at $515,990 with extensive real estate in Walla Walla and Columbia Counties.Their daughters Eleanor Betz and Katherine Betz Zimmerman inherited the "Delmonico Building" in 1927.  On the death of Eleanor Betz her estate sold the building to Alan L. and Jean Barer for "$10" after 74 years of Betz family ownership (one year longer than the Holmes' family ownership of the two adjacent buildings on lot 10). Barers sold to the building to Cayuse Vineyards LLC on April 1, 2002.

of 202-206 West Main:

There are several sources to learn about occupants of these buildings. City directories were issued at various intervals starting in 1880. Early directories had imprecise or nonexistent addresses (and streets were sometimes renamed and renumbered), but they did have a classified section that was useful for business locations if the type of business was known. Not until 1931 did they have a street address index to use when the type of business or resident's name was unknown.  A second source for early information (1884-1905) on occupants were fire maps which gave a "footprint" of a building with some details pertinent to fire fighters. These usually listed the name of the occupant but did not always identify second floor occupants. Between 1905 and the 1950s fire maps were updated regularly with "cut-and-paste" changes so dating is impossible. The other significant sources are hand-drawn bird's eye maps of Walla Walla in 1866, 1876, 1884 and 1889 reprinted in Bennett's 1804-1899 volume. Needless to say, these sources don't always agree or are not always complete but the following is an attempt to reconstruct the uses of these three buildings' first and second floors.

In August of 1873 the local newspaper reported that fire destroyed the feed stable, Colley's stables and Wintler's shop at Fourth and Main for a loss of $10,000. Over 100 soldiers and fireman battled the blaze which was just across Main Street from the newly opened Stein House Hotel. The 1876 bird's eye view of Walla Walla (Bennett p. 91-92) appears to show three single-story buildings. In 1878, two years before the two buildings closest to Fourth Street came under the same ownership, Daniel Stewart gave a lease on lot 10 to J. S. Cox for the west 20 feet of lot 10 x 120 feet deep. Cox operated a sash, door and second-hand furniture business. The terms of this lease were $8.33 a month for three years. In 1880 owners H. E. Holmes and James B. Thompson gave a lease to L. K. G. Smith for 10 years at $50 a month. Smith was a wholesale and retail cigar dealer. Gilbert's Historical Sketches of Walla Walla County has a drawing of buildings in this block in 1881 (reprinted in Bennett, 1804-1899, p.106) which shows a building matching the present corner building at 202 (three arched second-story windows) bearing the name of L. K. G. Smith, in the currently blank semi-circle on top of the facade. A small photograph of this building is in Bennett's book (p.120, #28). Meanwhile on February 2, 1881, Thompson and Holmes gave a lease to Eli Baucher (sic) and Andrew Dow in the "building formerly occupied by Tatro as a saloon." They gave a lease on the "second story of the brick building" (202) to the Oregon Improvement Company for two years at $50 a month on March 31, 1881. In the 1883 city directory E. LeBoucher, "retail liquor dealer" was located at 204. The Delmonico Hotel, I. Chilberg, proprietor, was at 206. On the 1884 fire map the corner building was occupied by the cigar store in front and the telegraph office in the rear, while the adjacent building (designated "22 and 23") housed a saloon and a restaurant. On April 14, 1885 buildings owned by Holmes and Thompson burned, including LeBoucher's Liquors and the one-story Delmonico Hotel (but apparently not the two-story brick at 202). They were rebuilt by October of that same year, probably as another wooden structure that predated the present brick building at 206.
Delmonico Hotel was listed in city directories between 1883 and 1910. Newspaper accounts report that the Delmonico opened on May 27, 1885, burned on August 7, 1885 and reopened on November 1 of the same year.  The Gilbert drawing of this block in 1881 shows two single-story buildings between 2 two-story buildings on either side. The one-story at 206 was labeled Delmonico.  Street numbers changed and the fire maps listed "Delmonico Hotel" between 202 and 212 but did not indicate which floor or floors it occupied.
1888 fire map shows the building at 202 had added the U. S. Land Office to the cigar store. The saloon was still next door at 204 but the restaurant space (206) was vacant. In 1889 the city directory listed 204 as occupied by F. M. Pauly Cigars (see Bennett page 167) and the U.S. Land Office. Henry G. Tobin's Saloon was at 204. The Delmonico Hotel, Carlyle and Kelley, proprietors, was upstairs. Frank Talabere, barber, was "below the Delmonico on Main Street." The 1889 fire map shows the same occupants in the corner building, 21 (202), and a barber in the west half of the second building, 22 and 23 (204 and 206). The 1890 fire map shows much the same occupants except the telegraph office is listed just as an office. In 1891 a lease was recorded from Thompson and Holmes to Fred M. Pauly for a "two story brick" building. By 1893 the directory listed F. M. Pauly Cigars at 202, Henry G. Tobin "wines and liquors" at 204, and Swartz and Soldek, barbers at 206. The 1894 fire map shows much the same detail but it appears there was a barber on the second floor at the rear of the corner building at 202, and apparently a new opening in the single wall between 202 and 204. In 1893 the Delmonico was moved to 208 with H. D. Henroid as manager, and the remainder of its history will be given in the section of this report on occupants of 208-212. On the 1905 fire map a new stairway was shown at the back of the 202 corner building with two doors into the adjacent building at 204. There were no interior opening into 206 which was a shooting gallery (dividing "wall on first floor only"). The city directory of the same year listed 204 as E. A. Smyth Saloon, 206 as V. J. Walker Shooting Gallery, 208 as Frank Engelman Saloon, 208 1/2 as the Delmonico Hotel.
At 16 N. Fourth behind 202 adjacent to the alley was the Idle Hour Restaurant and Saloon starting in 1905.  During World War II this building was used at a Chinese social club. When this building was removed by Alan Barer after 1958 he reports that it was made with square nails and contained a "crib" for prostitutes.
By 1909 the F. M. Pauly Cigar store (wholesale) at 202 was the only business that could be located here. The cigar business continued in this location until 1959, with retail sales in the Grand Hotel at First and Alder Streets. Clarence Breman was a barber at 206 in 1914. In 1925 the Silver Cafe with Edward Hoy, American and Chinese food (open 6 am to 2 am), had moved from 208 to 206. In 1931 the Silver Cafe continued at 206 and Tom Hattori was the barber at 204. The pattern of different barbers and the Silver Cafe continued through 1962 when the Silver Cafe became the Silver Tavern. The corner space at 202 was vacant from 1960 to 1965 when Cal's Corner restaurant opened.  By 1966 the Silver Tavern had become The Lamplighter. In 1967 Bill and Sady's Cafe replaced Cal's at 202. Number 204 was vacant in 1970. The Fabric Outlet opened at 206 in 1969 through 1976. A painted sign is still visible for this business from the alley. In 1980-1985 H&H Sports and Loans was located at 206. In 1987 The Gizmo was opened at 206 by Robert and Pauline LeRoue. It was again vacant in 1991. In 1995 the Liquidation Center opened at 206 for a short time, followed by LaHacienda, which has continued to 2002. In 1996 the Kids Korner was at 202. By 1999 Leo's Salon was at 202.
of 208-212 West Main:

The first recorded lease on the property on lot 9 was given to Charles Hart and Charles T. Baldwin in 1871. Subsequent leases included "the hay scales" in front which would suggest early use as a stable or feed yard. The Gilbert drawing of this block in 1881 clearly shows the facade of the present building on lot 9 with two single-story buildings between it and the corner two-story building. The 1889 fire map shows an office at 24 (208) and a dining room at 25 (212) in the west half of the "Lacy/Whitman" building. The earliest city directory listing that could be found for this address was in 1893 when the Delmonico Hotel was at 208 and the next closest address on the west was on the property at 214 (Olson's Restaurant in 1893 followed by the Star Restaurant in 1905, both in the Louvre/Ritz Hotel).
In the same year, 1893, H. D. Henroid signed a lease with J. Betz for "Delmonico Hotel" for 5 years at $200 a month. In 1895 Betz signed a lease with V. J. Walker at 208 for second story "Delmonico Hotel and upper floor of building in rear and stairs plus back house and entire control of front entrance."  In 1905 the Delmonico was at 208 1/2. In 1909 it was listed at 210 and in 1910 it was listed at 210 with Hugh Rodman as manager. From 1910 until 1920 the hotel was called Rodman House. Starting in 1914 it was listed at 210 1/2. In 1939 this address listed Enterprise Rooms as the occupants. The Rose Rooms were the occupant between 1941 and 1966. Nellie LeRoy was the manager in 1941. Fred W. Nipp, in 1946, Mrs. Mattie Ebert in 1949. In 1951 it was classified as a "lodging house" run by Georgia Solar.  Mrs. Billie Callahan was the manager in 1953. By 1957 Dewey F. Henroid was the manager (H. D. Henroid was manager of the Delmonico in 1893). The city directories for 1960-64 listed the names of the mostly retired male occupants of the Rose Rooms. In 1967 it was listed as vacant. In 2002 the 210 1/2 address is still written on an alley doorway with the name Rose Rooms.
These premises often had the reputation of being used for prostitution.  The world's oldest profession arrived in Walla Walla with the earliest soldiers and settlers. Stories about Dutch Jo (Josephine Wolf) and her "girls" are very much a part of local history, but details are hard to find. The best evidence now is seen at the Mountain View Cemetery where there is a plot of markers with no or only first names. In 1871 the county commissioners increased the quarterly license fees for "Hurdey Gurdy Houses" from $100 to $500 a quarter, paid in advance. In 1874 the Walla Walla Weekly Statesman reported that a young man married  a woman from "a notorious house of prostitution on Alder Street near Third" and promptly stole $700 from her and disappeared. Saloons lined the north side of Main Street between Third and Sixth Streets where many of the businesses were located. The Idle Hour house was at Fourth and Rose Streets (see Idle Hour Restaurant below) while Madam Clara Harris operated on West Main. A row of small "houses of ill repute" lined Rose Street between the old fire station behind the present city hall and Bob Johnson's Feed Mill (more recently Morrison's Supply). In 1913 the legislature passed a "red light abatement" act which led to legal action in 1915 against the owner of the Ritz Hotel (previously Hotel Louvre) at 214-216 W. Main, who was briefly jailed for failure to comply. He paid $300 damages and gave a one year guarantee against use of the Ritz for prostitution. A man who was hired to drive a local taxi in 1939 recounted in a 1993 newspaper story how he drove "the girls" to other towns in the region on Monday nights–another form of migrant labor. In 1952 Look magazine listed Walla Walla on a US "sin map" without supporting details.  
, the street level of the Lacy/Whitman Building was occupied in 1905 by the Frank Engelman Saloon at 208. In 1911-12 the N. S. Gholson Saloon was at 208 and the Star Restaurant at 212. By 1920 the Harry Griffith Cigars and the Silver Grill were at 208. In 1925 the Bean Brothers opened a second hand store in 208-212. By 1935 it had become Bean Brothers Furniture and continued to operate under this name until 1979, after which it was called Real Furniture located at 208. Randy Grudzinski ran this business plus the Blue Sky Auction Service at 210. In 1989 208 was listed as Chris 'n Dale's Fabrics. In 1990 Chris 'n Dale's Furniture occupied 206 and 208. In 1991 the Pak N Ship opened at 208. In 1994 Costume Creations was located at 210, followed by Earth Traverse. It was vacant from 1996 to 1999 when Chenille's Boutique opened briefly.   

Construction of the Buildings:

The earliest pictorial evidence of structures on this block is seen in the 1881 drawing of the block printed in Gilbert's history. The 2 two-story buildings at 202 and 208-212 in that drawing appear to match the present facades.
202 West Main:
The corner property, Lot 10, was purchased together with two other city lots in 1874 for $6000 by Daniel and Margaret Stewart.  In 1878, it was apparently mortgaged by Daniel and Margaret Stewart to Charlemagne Stewart for $8000, indicating the additional of substantial improvements, then sold to Thompson and Holmes for the same amount.  A lease was recorded in 1880 with L. K. G. Smith for the eastern third of Lot 10, now 202, whose name appears on what is clearly the present building in the 1881 drawing, and additional leases, one of which included the second floor, were signed early in 1881.  It therefore seems reasonable to conclude that this brick building at 202 W. Main was built circa 1878 by Daniel and Margaret Stewart.
204-206 West Main:
The Delmonico Hotel and two other businesses on the western portion of Lot 10 were reported to have burned in 1885 and been reconstructed the same year, probably as another single-story wooden building. No building permits exist for that early time. The present two-story brick building on the west 2/3 of Lot 10 had an inscription on its facade "Holmes, 1887" prior to remodeling by the Barer family.  The 1889 drawing appearing on page 144 of the Bennett book for the period clearly shows the present building. No city directories exist for 1884-1888. The 1884 fire map shows a footprint similar to later years but it probably was for the one-story wooden buildings. The Walla Walla County Assessor has a construction date of 1900 which is clearly disproved by the preceding details. The name and date now on the facade at 204 and 206 says "Barer, 1887". Alan Barer reports that it previously read "Holmes, 1887." It seems reasonable to assume Henry E. Holmes constructed the building at 204-206  West Main in 1887.
208-212 West Main:
The building on Lot 9, 208-212 W. Main, was constructed by E.B. Whitman and O.P. Lacy.  The lot had been purchased by Philip Hawley in 1876 for $1995, and sold by Hawley and his wife in 1877 to Daniel Stewart for $2390, who sold it to Whitman and Lacy in October of 1878 for the same price. Since the present building is clearly shown in the 1881 lithograph, and Whitman and Lacy were able to mortgage it in 1883 for $9000 after purchasing it for $2390, it is apparent the building was not on the property when they purchased it, and that it was constructed by them between 1878 and 1881.  Since they acquired the property late in 1878, the construction date for 208-212 West Main should be circa 1879.
References:
Archive, Whitman College Penrose Library, Larry Dodd, archivist.
Barer, Alan, personal communication.
Bennett, Robert A., Walla Walla  A Town Built to be a City 1804-1899, Pioneer Press,  Walla Walla, 1980.
,
Bennett, Robert A., Walla Walla  A Town Built to be a City 1900-1919, Pioneer Press,  Walla Walla, 1982.
permits: Whitman College Penrose Library, Larry Dodd, Archivist 
, Frank T.;
Historical Sketches Walla Walla County, Whitman County and Garfield County, Washington Territory, 1882.
,
Professor W.D., An Illustrated History of Walla Walla County
1901
's Standard Atlas of Walla Walla County, 1909
,
Vance, notes on early-day prostitution in Walla Walla.
Fire Maps: 1884-1905 (with updates until 1950)
Walla Walla Mountain View Cemetery records, Joan Schille, superintendent.
Walla City Directories: 1880-present (various publishers–not all years)
Mary
E. Meeker 
Walla Walla 2020 Research Service Box 1222, Walla Walla WA 99362 2002
http://ww2020.net/wp-content/uploads/202_W_Main.jpg
150
200
Mary Meeker
http://ww2020.net/wp-content/uploads/2011/12/ww2020_logo.png
Mary Meeker
2002-01-01 19:20:29
2017-02-05 12:24:03
History of 202-212 West Main Street, Walla Walla, WA