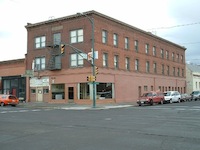 Property Description:
Westerly 40 feet of Lot 5 Block 15 of the Original City of Walla Walla, according to the official plat thereof of record in the office of the Auditor of said Walla Walla County.
Title History:
Washington Territory was created in 1853. The new legislature created Walla Walla County in 1854 which stretched from the crest of the Cascade Mountains to the crest of the Rocky Mountains in the present states of Washington, Idaho and Montana. In 1855 an Indian council was held on the banks of Mill Creek at the present site of Walla Walla to purchase land from the Indians. The Yakimas, Cayuses and Walla Wallas were dissatisfied with the treaties and war followed. Missionaries, former French-Canadian employees of the Hudson Bay Company Trading Post at Wallula, and soldiers at Fort Walla Walla were the primary European occupants of the area prior to 1859 when it was opened for settlement. All of the land in this area was acquired from the Cayuse and Walla Walla Indian tribes by the U.S. Government in a treaty signed on June 9, 1855 in Walla Walla, and ratified on March 8, 1859 by President James Buchanan.
Walla Walla was originally laid out by County Surveyor H.H. Case in 1859, even before its formal incorporation as a city in 1862, as a one-quarter mile square with its eastern side centered on the point where Main Street crossed Mill Creek (at roughly the point where it does now).  The City of Walla Walla received  a Trustee Townsite from the U. S. government which consisted of 80 acres issued on July 20, 1869 by the Vancouver, W.T. District Land Office.
The first deed recorded in Walla Walla on this property was on February 5, 1866 when Edwin L. James sold Lots 4 and 5 of Block 15 (120 feet by 120 feet on the corner of Alder and Fourth) to David S. Baldwin for $1650. On March 12, 1866 David Baldwin had the "word 'homestead' recorded in reference to Lots 4 and 5, Block 15,  in the town and village of Walla Walla, W.T." On April 11, 1866 Edwin L and Emma G. James transferred full title including "a one-story dwelling house thereon" to the aforementioned David Baldwin. On February 28, 1877 David Baldwin signed a Deed of Trust with Julius C. Baldwin on these two lots which included a contract between David Baldwin and The Reverend Lemuel H. Wells to board and educate the children of David Baldwin at St. Paul's School.  On July 22, 1881 Julius C. and David S. Baldwin gave a deed to J. B. Lewis "with tenements in trust for the following uses: pay Baker Boyer Bank $1200 plus interest ($854.75 long overdue); $225 building improvements; $25/ month to D. S. Baldwin; then profits to Julius and Minnie Baldwin and minor children of D. S. Baldwin until their majority." On February 14, 1884 the District Court of the First Judicial District of Washington Territory in Walla Walla allowed J. B. Lewis to sell this property. On November 15, 1884 John B. Lewis gave a deed for these two lots to Julius C. Baldwin for $3500. On March 29, 1890 Julius C. and Ellen D. Baldwin sold this property "free of all encumbrances" to R. M. McCalley and Edward McDonnell for $5500. R. M. McCalley died on March 9, 1891 and Mary A. McCalley was appointed executrix of his estate. On October 1, 1900 Mary A. McCalley signed a Quit Claim Deed for both lots to Edward McDonnell.
On October 2, 1900 Edward and Sarah A. McDonnell sold the west 40 feet of Lot 5,  Block 15 to John McFeely for $2000. This is the first time the present size lot appeared in the legal record.
McFeely came to Walla Walla in 1891 and found work as a horse shoer. He made good money at this  job and was able to buy "the old Baldwin property" at Fourth and Alder which was then covered with locust trees. He cleared the land and erected a horse shoeing shop. On January 27, 1903 John McFeely signed a Party Wall Agreement with Catherine Stahl which stated that Mrs. Stahl was not desirous of building or paying for a wall until she decided to build on her property east of this lot. McFeely wished to erect a one-story brick and stone building on his westerly 40 feet of Lot 5. On February 2, 1903 John and Martha McFeely gave title on this property as loan collateral to M. B. Dwelly for $4000. On August 10, 1906 M. B. Dwelley, alias M. B. Dwelly, and Lizzie Dwelley gave a warranty deed to John and Martha McFeely for $4000.
On June 1, 1911 McFeely took out a permit to "add to brick building" at Fourth and Alder for $13,000. This was a major addition since the Keylor Grand Theater across the street from the hotel was built in 1905 for  $17,000. In 1911 the Up-to-the-Times Magazine reported that the McFeely Hotel had 40 outside guest rooms with hot and cold running water, electric lights and steam heat. The manager was Mrs. E. Fanchier and Mr. McFeely continued to operate his horse shoeing business at the back of the hotel. He also owned 800 acres of wheat land in Dry Hollow near Prescott.
McFeely had many loans after this date until May 24, 1932 when he sold "subject to mortgages, taxes and leasehold for one year until June 1, 1932" to M. J. Anderegg for $5. On November 6, 1932 M. J. and Lillian Anderegg signed a Quit Claim Deed to Edna Weber (Portland, OR) "releasing forever all rights, title and interest" for a stated amount of $10. On February 20, 1934 Earl K. McInroe, Sheriff of the County of Walla Walla, Washington (by C. A. Woodward, Deputy) gave a Sheriff's Deed to Murphey, Favre and Co. against John and Martha McFeely, Emma S. Martin Mellon, Edna and Wellington Weber, Oscar and Carrie Stone, George and Ethel Cain, William and Johanna Hall, defendants, for $15,000. On July 17, 1936 an Agreement was signed by Paul E. Jamieson to cancel the contract of June 1, 1933 between Murphey, Favre,  Charles H.  Hooper and Paul E. Jamieson stating the Paul E. Jamieson had no further interests in this property. On June 5, 1936 Charles H. and Josephine Austin Hooper signed a Quit Claim Deed conveying all interest in this property to Murphey, Favre and Co. for $1. On August 1, 1936 Murphey, Favre and Co. signed an Agreement for Deed with Lulu M. Brown and Ed S. Matsen for $17,500 including furnishings. On April 1, 1941 Murphey, Favre gave a Warranty Deed to Ed S. Matsen, bachelor, and Lulu M. Brown, widow, subject to the 1903 Party Wall Agreement with Catherine Stahl.
On December 21, 1950 Matsen and Brown sold this property to Louis Epstein, whose wife was Marie. In 1951 Louis Epstein deeded half this property to his wife Marie, 1/4 to Edward Louis Epstein and 1/4 to Sally Lou Epstein. Louis Epstein reportedly died on August 29, 1955 and his wife Marie was appointed executrix of his estate. On June 7, 1972 Marie Epstein gave "for love and affection" an undivided 1/12 interest to Edward Louis Epstein, undivided 1/12 interest to Sally Lou Houk and an undivided 1/3 interest to June Dimmick. In 1978 the estate of Sally L. Houk gave title of her interest to Glen A. Houk. On June 26, 2006 Edward Epstein, June Dimmick Hunter and Glen A. Houk sold this property to Chaucer Lane LLC for $500,000. On November 10, 2006 Chaucer Lane LLC sold this historic property to 129 West Alder Property LLC for $1,000,000.
Occupant History:
John B. Lewis was owner of Lots 4 and 5 on this block from 1881 to 1884. He was a book and stationery dealer in 1880 and a bartender at the Palace Saloon in 1889. He boarded at the Italian Restaurant. The earliest available local fire map was 1888. At that time a dwelling sat in the middle of the two lots owned then by Julius C. Baldwin. The first city directory listing for Julius Baldwin was in 1893 when he lived at 519 N. Fifth. Julius was foreman of the news department at the Walla Walla Union newspaper. R. M. McCalley (co-owner 1890-1900) lived at and ran Standard Mills at Ninth and Rose Streets. His co-owner of this property, Edward McDonnell, was a farmer who lived at 353 Maple Street. The first city directory listing for John McFeely was in 1893 when he was listed as horse shoer at D. Sloan's Wigwam on the south side of Alder between Second and Third Streets (later the Drumheller Building block). He roomed at Russell House. In 1898 he lived at 113 Alder and was a blacksmith and chief of the Walla Walla Fire Department. He married Martha Besserer, daughter of one of the first owners of the Walla Walla Union newspaper. In 1901 he lived on Washington Street and was listed as a horse shoer at 29 West Alder. None of these owners appeared to have lived in the dwelling on these lots so it is reasonable to assume it was a rental property in these early years.
The first time John McFeely's City Shoeing Shop was listed on this property (129 W. Alder) was in 1905. His residence was at 23 Birch Street. In 1908 his City Horse Shoeing Shop was joined by the Commercial Saloon at 127 W. Alder and he lived outside the city limits.  The first listing for a hotel on this property was in 1911 with J. McFeely,  proprietor,  and Mrs. M. E. Fanchier,  manager. By 1914 the hotel was advertising "hot and cold water and telephone in each room, steam heat, all outside rooms." In 1914 he added a taxicab service for use of the general public. John McFeely and his wife Martha continued to live outside the city (RD 6 on Vine/Chestnut Street). However,  in 1923 he advertised "real estate, farm lands and city property with an office at 11 1/2 South Third. The hotel continued to be listed in the classified section with no proprietor or manager. In 1929 McFeely had an office in the Elks Building, which was then located on the northwest corner of Alder and Fourth Streets. In 1931 the McFeely Hotel also listed Tom's Taxi and Cain's Cafe was at 127. McFeely sold the property in 1932. In 1933 the McFeely Hotel was operated by Paul E. and Conchita Jamieson who lived there with no other tenants listed. In 1941 Lulu M. Brown and Edwin S. Matsen owned and operated the hotel and they both lived there. Warren May operated the McFeely Cafe at 127.  In 1946 Brown and Matsen operated a beer parlor and restaurant at 127. In 1948 Arthur Fazzari started more than 50 years of ownership of the McFeely Tavern. He lived at 217 W. Birch. In 1963 he hired Albert Pontarolo as manager. In 1982 the city directory listed the slogan "Relax Freely at McFeely." Meanwhile the hotel was owned by Louis Epstein and operated by a series of managers: Elmer and Eula Ertle (1951-1961), Mr. and Mrs. Roy Reynolds (1962-1966) and Mrs. Louis (Marie) Epstein from 1967 to 1983. She lived at the hotel in 1967-1969 but then lived at Clinton Court Apartments. After 1983 no manager was listed until Jeffrey Casali in 1995-1997 (last available city directory). In 1963 the city directory started listing residents at the hotel. The number of residents listed varied from 5 to 28. By the late 1970s several vacancies were also listed. No names were listed after 1990.
Construction of the Building:
The Walla Walla County Assessor's records incorrectly state that this building was constructed in 1910.  John McFeely signed a party wall agreement with Catherine Stahl in 1903. The 1905 fire map showed a horse shoeing business on the corner and a saloon on the east side of this lot with a blacksmith and wagon shop behind. The first saloon was listed at 127 in the city directory in 1908 (no directories in 1906-1907) but is shown on the 1905 fire map. A $13,000 building permit to enlarge the one-story brick building in 1911 was the start of the present building. The first hotel listing was in 1911. Therefore, the correct for the building date of the three-story brick hotel is 1911, having been preceded by a one-story brick building possibly built after McFeely received $4000 from M. B. Dwelley in 1903.
References:
Bennett, Robert A., Walla Walla  Portrait of a Western Town 1804-1899, Pioneer Press,  Walla Walla, 1980.
Bennett, Robert A., Walla Walla  A Town Built to be a City 1900-1919, Pioneer Press,  Walla Walla, 1982.
Building Permits: Whitman College Penrose Library Archives.
Lyman, Professor W.D., An Illustrated History of Walla Walla County  1901.
Lyman, Professor W.D., Lyman's History of Old Walla Walla County, Vol. 1-2, 1918.
McFeely Collection; Whitman College Archives.
Sanborn Fire Maps: 1884-1905 (with updates until 1950).
Up to the Times Magazine, 1911
Walla Walla City Directories: 1880-present (various publishers–not all years).
Whitman College Archives.
Mary E. Meeker ; Walla Walla 2020 Research Service PO Box 1222, Walla Walla WA 99362 March, 2007
http://ww2020.net/wp-content/uploads/129_W_Alder.jpg
150
200
Mary Meeker
http://ww2020.net/wp-content/uploads/2011/12/ww2020_logo.png
Mary Meeker
2007-03-01 18:00:56
2017-02-05 12:22:02
History of 129 West Alder Street, Walla Walla, WA - McFeely Hotel