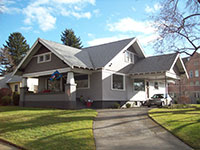 Legal Description:
Lot 7, Block 21 in Green's Park Addition.
Title History:
Walla Walla was originally laid out by surveyor H.H. Case in 1859, even before its formal incorporation as a city in 1862, as a one quarter mile square oriented N-S, E-W with its eastern side centered on the point where Main Street crossed Mill Creek (at roughly the point where it does now). The first recorded transaction for 1104 Alvarado Terrace occurred on October 7, 1867 when John Haley sold a 19.55 acre parcel to William O. Green for $1500.  Following William O. Green's death, his widow Mary F. Green continued the Green Investment Company with the assistance of her son-in-law, John Warren Langdon. The list of properties developed by this company on the north side of Isaacs, which includes Alvarado Terrace, is very impressive. The plat for Green's Park Addition was recorded July 23, 1903.
On May 27, 1914 Lot 7 in Block 21 was sold for $550 by the Green Investment Company to A.C. Cromer with "the promise to build a dwelling house at an actual cost of not less than $2500." Cromer is listed in City Directories as a carpenter residing at 713 Whitman and later at 110 W. Cherry. He was never listed as residing on this property.  In an extensive search, no building permits were found for this property, although they were required by then.   The address for this property was originally 726 N. Clinton.  One family, the McLeans, were the inhabitants for 86 years.  There was no record of prices paid or the details in the transferring of this property from one member of the McLean family to the next.
The first McLean listing appeared in the 1918 City Directory, in which William and Allie McLean, who formerly resided at 628 Washington, are listed as owners and residents at 726 N. Clinton. William McLean was a farmer/rancher, the occupation of each generation of the McLean family. The first entry in the records indicating by its value the presence of a house on this property was a 1920 deed from A.C. Cromer to Gordon and Marjorie McLean, the son and daughter of William and Allie McLean, for the sum of $5770. There is no record of Gordon and Marjorie's residence at this address, the city directory records continuing to show that William and Allie McLean lived at and owned 726 N. Clinton until 1946 when they moved to 1055 Boyer. It appears that William and Allie must have previously purchased the property from A.C. Cromer by unrecorded real estate contract, then arranged for their satisfaction deed to be conveyed to their children, rather than directly to themselves.
The address for this property was later changed to 1104 Alvarado Terrace. There is a door on the west side of the house, facing Clinton, which must have served as the main entrance for the Clinton address.  Following Marjorie's death, title to the property was transferred to Gordon and his younger sister Ethel McLean.  William McLean died in 1962, and Allie McLean died in 1966, while residing in Bothell,   On the folder for this property at the Walla Walla County Assessor's Office, Gordon S. McLean and Dorothy M. McLean are listed as owners of this property as of 1970.  Gordon S. McLean, son of William and Allie, died in 1997. In the settling of his estate the property was transferred to his wife, Dorothy M. McLean.  Gordon C. McLean and Ruth M. McNamara, presumably the children of Gordon S. and Dorothy M. McLean, acquired the property as a gift but did not reside there.  Dorothy M. McLean lived in the house until 2004.  The McLean family were residents of 1104 Alvarado from 1918 until 2004….86 years.
Dorothy M. McLean sold the property to Blayne R. (Barney) Barnhart, Jr. and Susan Kay Barnhart on September 4, 2004 for $239,000. Barney Barnhart is a Financial Adviser with an office on Boyer and Main St.  Susan Barnhart is a nurse at the Washington State Penitentiary.
Construction of the house:
A.C Cromer, a carpenter, purchased the bare lot in 1920 for $550 and sold it to the McLeans for $5770, which indicates the presence of a house at the time of that sale. Since Cromer is never listed as residing there, and the McLeans are listed as owning and residing on the property in the 1918 directory, it appears the house was built and first occupied in 1918.  It is not clear whether it was built to the specifications of the first occupants, William and Allie McLean, though this is probable.  This property remained in the McLean family until 2004…86 years.  The change of the original address of 726 Clinton to 1104 Alvarado occurred around 1946 and its corner location accounts for some of the architectural features of this house.
Resources for this research:
Pioneer Title Co. for documents for this property
Penrose Library Northwest Archives, Whitman College
Walla Walla County Assessor's Office
Walla Walla County's Clerk Office
Walla Walla County Auditor's Officd
Walla Walla Public Library Northwest History collection
A visit to 1104 Alvarado Terrace
Katherine H. Weingart and Daniel N. Clark Walla Walla 2020 Historic Research and Plaque Service August, 2008
http://ww2020.net/wp-content/uploads/1104_Alvarado.jpg
150
200
Site Manager
http://ww2020.net/wp-content/uploads/2011/12/ww2020_logo.png
Site Manager
2008-08-01 18:06:25
2014-01-19 19:07:07
History of 1104 Alvarado Terrace, Walla Walla, WA