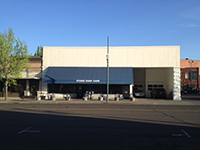 Property Description:
Lot 13: Beginning at a point in the Northerly line of Alder Street in the City of Walla Walla, Washington, which point is 30 feet Easterly, measured along said Northerly line of Alder Street, from the point of intersection of said Northerly line of Alder Street with the Easterly line of First Avenue South (formerly First Street); thence Easterly, along said Northerly line of Alder Street, a distance of 70 feet; thence Northerly at right angles, 120 feet; thence Westerly at right angles 70 feet; thence Southerly at right angles 120 feet to the Point of Beginning. Situated in the County of Walla Walla, State of Washington.
Title History:
Walla Walla was originally laid out by surveyor H.H. Chase in 1859, even before its formal incorporation as a city in 1862, as a one-quarter mile square oriented N-S, E-W and with its eastern side centered on the point where Main Street crossed Mill Creek (at roughly the point where it does now).
The first transaction regarding this property in the Walla Walla County records was a mortgage on February 9, 1864 granted by A.J. Miner and Sarah G Miner, his wife, to BN Sexton for $270. This transaction covered a large tract of land consisting of approximately 170 feet on the East side of First Avenue South from Main to East Alder, with a depth of 160 feet along East Alder; this property now consists of the Cox Jones building on First, as well as Stone Soup Café and the attached garage entrance at 109 East Alder. This transaction also notes a "residence" on a portion of the parcel.
The first official survey of the property conveyed was commissioned by A.J. Miner on February 2, 1866, and is described as land "between Main and Alder streets in Block H, lots 4, 5, 7, 8, and the North half of 6, including a residence." This plat was further subdivided into "lots 10-13, 19, 68, 134, 184, and 9530"; lot 13 is the land currently occupied by the brick building at 105 and 109 E Alder.
On October 18, 1867 A.J. and Sarah G Miner sold lot 13 to Emily Lasater for $800. Emily and her husband, James H. Lasater, kept the property until May 1, 1871 when they sold to James L. and Filenda Emeline Severson for $800.
The Seversons sold the property on September 1, 1874 to James B. and Agnes Thompson for $750.
A District Court judgment on February 3, 1886 was rendered against James B. and Agnes Thompson and their mortgagors, including H.E. Holmes, Abraham Schwabacher, Lewis Schwabacher, and Sigmond Schwabacher, forcing a sale on the court house steps. The sale, held March 20, 1886 by Walla Walla County Sherriff Archer S. Bowles, resulted in the purchase of the property by John and Louisa Louga for $1,900.
The Laugas sold the property to George W. and Anna J. Babcock on October 22, 1887 for $1,950.
George W. and Anna J. Babcock held the property until November 27, 1906 when an agreement for deed was filed between the Babcocks and The Cox-Barnett Company for $21,000, with "$1,000 down". The deed was officially transferred on October 16, 1908 from Anna J. Babcock, now widow of George W., to The Cox-Barnett Company.
Throughout the year 1908, several agreements were reached between Richard F. Smitten, V.H. Rogers, Benjamin and Lorena M. Stanton, and William Ewoldt to build onto the joint wall of "existing block building on lot 6."
On October 23, 1912 William and Lolo Ewoldt sold this property to Dorsey M. and Elsie R. Hill for $35,000. The Hills maintained ownership of the property until 1954, leasing space to several service stations and garage businesses on the property.
The Grand Hotel Company purchased this property via statutory warranty deed from Elsie R. Hill, widow of Dorsey M., for $10. The property was transferred again from Grand Hotel Company to Herbert and Lora Ringhoffer for $10 on November 3, 1959. Monro & Willman, Inc. purchased the property on February 5, 1960 for a stated consideration of $10.
Monro & Willman, Inc., later changing its legal name to Low Cost Drugs, Inc., sold the property to its current owners BGG&S Inc. on August 1, 1991.
History of Occupants of the Property:
The first listing for the property on 109 East Alder appears in the 1892 R.L. Polk & Co's Walla Walla City Directory, listed as the residence and business location for George Babcock, architect.
George Babcock continues to be listed as the resident and business owner at 109 E Alder, though his title changes from "Architect" to "VP Farmers Savings Bank, Councilman 1

st

Ward, and Architect" (source 1900-01, 1902, 1904, 1905 city directories).  He designed many local buildings after the 1877 fire. Babcock was also listed as Mayor of Walla Walla in 1902.
George and Anna Babcock held title to this property, which included a "residence," from October 22, 1887 until November 27, 1906 when they sold to The Cox-Barnett Co., retailer of "Farm Implements, Hardware, and Grocers."
In the 1907 city directory, which was published in December 2006, Cox-Barnett is listed at another location on Alder Street.  By the 1908 directory, they are listed at 105 E. Alder.
In 1909 city directory listings, Cox-Barnett moved further down East Alder and the Morrow-Drew Co took over this space, listed as a retailer of "Agricultural Implements & Hardware". The 1909 city directory listing is the first time the address 105, 107, and 109 are given for this property.
By 1910, Morrow-Drew Co was now J.H. Morrow Implement Co, managed by J.H. Morrow. By 1912 they were located in the Drumheller Building.
In 1912 city directory listings, (management of the J.H. Morrow Implement Co has transferred to William R. Criffield and) the business name has changed to Walla Walla Implement Co.  In 1916, Walla Walla Implement Co added John Deere Farm Implements to its retail offerings.
Walla Walla Implement Co continues to be listed at this address through 1920, when it is replaced by Sturgis & Storie, owned by James H. Sturgis & Elmer H. Storie, "agents for The Holt Manufacturing Co, General Farm Implements & Machinery."
In 1925, the building began new life as the Wilson-Wright Co Garage, owned by Leonard C. Wilson & Jason C. Wright. Note that the building still exhibits painted signage for this business on its east exterior parking lot wall. 1929-30 listings revise the services offered as "Nash Dealer and Storage Garage."
Colvin Brothers Super Services, owned by Harold F. & Paul L. Colvin, took up occupancy in 1931-32.
From 1933 through 1948, the building is home to The Grand Garage.
In 1949, Inland Auto Supply is listed, replaced by Heinz's Consignment Center in 1951.
From 1955 through 1967, Marsh Radio& TV and the White Cab Co shared space in the building, with the addition of the Book Nook Central Parking Garage in 1960. 1968-70 listings include only the Book Nook parking and use as the Book Nook warehouse.
In 1971, Low Cost Drugs and the Monroe& Willman Business Office share space at the address and continue their occupancy until 1991.
After spending a year vacant, the building is listed as Superior Detailing in 1993.
1994-97 city directories list Sun Fitness & Toning sharing space with City Directory Publishers offices (105A E Alder).
In 2000, Stone Soup, the current tenant, took over the 105 E Alder space, with 105A listed as "office".
Construction of the Building:
As previously noted, the first listing for the property appears in the 1892 R.L. Polk & Co's Walla Walla City Directory, listed as the residence and business location for George Babcock, architect, at 109 E Alder; this lot contains what is referred to later as street addresses 105-107-109 E Alder. Babcock continues to be listed through the 1905 edition, with Cox-Barnett Co. appearing at 105 East Alder in 1908 listings.
The Walla Walla County Tax Assessor's office does not list a construction date for this building; though the year 1940 appears on some tax documents, this is obviously not true. The 1905 Sanborn Fire Map shows a large multi-room "dwelling" facing East Alder, with the remainder of lot 13 empty. Later updates to the fire map show a "1 and 1 1/2 story brick building with mezzanine, wood columns holding the roof, and space for 40 automobiles."
The first photographic evidence of the existing brick building is a photo in a Joe Drazen collection marked circa 1908 -1909 that shows signage for the J.H. Morrow Implement Company.  Following acquisition of the property from the Babcocks by Cox-Barnett on November 27, 1906, too late in the year for construction in 1906, the  Walla Walla Statesman published an article on July 27, 1907 about the formation of the Cox& Barnett Company from grocery and hardware firms with plans to open the business in their new building on Alder Street, near First, by the first of the month, clearly documenting 1907 as its construction date.
References:
Bennett, Robert A., Walla Walla  A Town Built to be a City 1804-1899, Pioneer Press, Walla Walla, 1980.
Bennett, Robert A., Walla Walla  A Town Built to be a City 1900-1919, Pioneer Press, Walla Walla, 1982.
Lyman, Professor W.D., An Illustrated History of Walla Walla County 1901
Sanborn Fire Maps: 1884-1905 (with updates until 1950)
Walla Walla City Directories: 1880-present (various publishers–not all years)
Walla Walla County Assessor's records.
Walla Walla Statesman, July 27, 1907.
Bygone Walla Walla website: http://wallawalladrazanphotos.blogspot.com/
http://ww2020.net/wp-content/uploads/105_E_Alder.jpg
150
200
Chris Baird
http://ww2020.net/wp-content/uploads/2011/12/ww2020_logo.png
Chris Baird
2013-07-01 17:16:44
2014-02-06 12:23:10
History of 105 East Alder Street, Walla Walla, WA