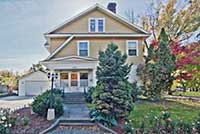 Property Description:
Lot 8 in Block 13 of Green's Park Addition to the City of Walla Walla. according to the official plat thereof of record in the office of the Auditor of Walla Walla County, Washington, in Volume "C" of Plats at page 28.
Title History:
Washington Territory was created in 1853. The new legislature created Walla Walla County in 1854 which stretched from the crest of the Cascade Mountains to the crest of the Rocky Mountains in the present states of Washington, Idaho and Montana. In 1855 a treaty council was held on the banks of Mill Creek at the present site of Walla Walla to purchase land from the Indians. The Yakimas, Cayuses and Walla Wallas were dissatisfied with the treaties and war followed. Missionaries, former French-Canadian employees of the Hudson Bay Company trading post at Wallula, and soldiers at the military Fort Walla Walla were the primary European occupants of the area prior to 1859 when it was opened for settlement. All of the land in this area was acquired from the Cayuse and Walla Walla Indian tribes by the U.S. Government in a treaty signed on June 9, 1855 in Walla Walla, and ratified on March 8, 1859 by President James Buchanan.
Walla Walla was originally laid out by County Surveyor H. H. Case in 1859, before its formal incorporation as a city in 1862, as a one-quarter mile square with its eastern side centered on the point where Main Street crossed Mill Creek (at roughly the point where it does now).  The City of Walla Walla received  a Trustee Townsite from the U. S. Government which consisted of 80 acres issued on July 20, 1869 by the Vancouver, W.T. District Land Office.   Main Street originally followed the old Nez Perce Indian Trail. Consequently the streets leading off of it were at right angles to it, and were not in a north-south orientation. This was corrected as the city moved eastward which gave Walla Walla its peculiar street pattern with the three street intersection at Palouse, Boyer and Main Streets. To the original plat, additional parcels were annexed from time to time, usually bearing the name of the land owner of record at the time the additions were made.
The first transaction in the legal record in Walla Walla for this property was a deed on May 23, 1863 from William H. and Elizabeth Ann Patton to John Haley for $100 to buy 19.55 acres. On July 16, 1865 John Haley received a U. S. Patent from President Andrew Johnson for 160 acres, including this property. On October 7, 1867 John Haley sold the 20 acres plus almost 27 acres elsewhere to William O. Green for $1500. Mr. Green and his wife Mary Francis crossed the plains and homesteaded in Walla Walla in 1862. He was an associate of Dr. Dorsey S. Baker in the stock business and acquired considerable land in Walla Walla and Franklin Counties. Green died in 1878. On December 30, 1895. Green's surviving children and their spouses, Clarinda J. and Hugh Roland Smith (the 1909 builders of the house that is now Green Gables Bed and Breakfast), Anne B. and W. H. Barnett, Philinda Green and Mary O. Green (daughter Fannie had died) quit claim deeded this land to their mother, Mary Frances Green for the stated consideration of $1. In 1898 there were two deeds recorded between H. P. Isaacs and the IOOF "only to correct an error in a 1896 deed" on 23 parcels.  On June 4, 1903 the IOOF signed a quit claim deed with the heirs of H. P. Isaacs  to clear title. On July 23, 1903, Mary Frances Green recorded the original plat of Green's Park Addition to the City of Walla Walla. Mrs. Green boarded at 22 East Birch and 310 Park Street prior to 1908, when she moved to 925 Isaacs with her daughter Philinda and son-in-law John W. Langdon, one of Walla Walla's "founding fathers."
On April 1, 1905 Mrs. Green sold this lot to Mrs. Louise Burns with a stipulation that no pollutants be allowed to drain into the adjacent creek forever. The deed also stipulated that a dwelling costing at least $2000 must be built before any other building on this lot or the owners would forfeit the property. On March 27, 1907 Louise Burns sold this property to Julia A. Moore. On July 10, 1909 Julia A. Moore, the widow of Charles Moore, sold this property and house for $6250 to Marilla E. Smith. On February 7, 1918 Marilla E. and J. L Smith sold this place to John D. Moore, Jr. and  his wife Cora W. Moore. On July 28, 1936  John and Cora Moore sold to Charles B. and Anna Garner. On August 5, 1936 a case was brought in Superior Court by the Garners against John Haley, Mary Green, the deceased husband of Julia Moor and all other claimants to quiet title. This resulted in a warranty deed from John and Cora Moore to the Garners for a stated amount of $10. On January 25, 1945 Charles and Anna Garner sold this place to Miles C. and Ruby Lamke, husband and wife, with the same stipulation about not polluting the creek as in the 1905 deed. Miles Carl "Jack" Lamke and his wife Ruby had no children. He died suddenly on March 26, 1952. Following his wife's death and  probate his niece Agnes Yeend of Redmond, Wa. sold this property to Orval James Rimbey and Cloella M. Rimbey on February 11, 1959. On August 16, 2001 Orval Rimbey signed a Quit Claim Deed to Steve L. Rimbey, Jon P. Rimbey, and Andy J. Rimbey subject to a life estate retained by the Grantor and a further life estate to Sylvan Rimbey. On March 4, 2009 Orval J. Rimbey  granted a  further interest in the property to Karen M. Berti-Rimbey. On April 27, 2012 the Karen Berti-Rimbey Life Estate sold this property to John A. Culhane.
Occupant History:
The first occupants of this house were Louise and Robert Burns. Mr. Burns was the district freight and passenger agent for the OR&N. Their address in the 1907 city directory was "Estrella Av Green's Park add." By 1909 the Burns had moved around the block to 1013 Isaacs and Julia A. Moore (widow of Charles Moore) lived in this house,  now called 1004 Alvarado Terrace. After Mrs. Moore sold to Marilla E. Smith in 1909, Marilla and Joseph L. Smith, a farmer, lived here. The Smiths sold this home to John D. and Cora B. Moore in 1918. Moore ran a car dealership. They sold Hudson, Oakland and Chalmers cars at Third and Rose. In 1925 they sold Packards, Chryslers and Maxwells. In 1929 they sold Packards and Hupmobiles. Their son C. MacArthur Moore and his wife Louise lived at 1004 Alvarado Terrace in 1931 at which time they sold Packard and Nash cars. In 1933 the house at 1004 Alvarado Terrace was rented to Claire and Harry J. Collins, a farmer. In 1935 the home was rented to Lester and Ruth Richmond. He was a salesman for Logan-Hahn Chevrolet at the Grand Garage. In 1936 title passed from the Moores to Charles B. and Anna Garner after a superior court case to quiet title. The Garners apparently never lived here. It was vacant in 1937. Phil I. Welk and his wife Edith lived here in 1939. Welk was the general manager of the Preston-Shaffer Milling Company. The house was again vacant in 1941. There were no city directories between 1942 and 1945. In 1946 Miles C. (Jack) and Ruby A. Lamke lived here as well as Allen C. and Agnes Yeend. The Lamkes ran a barber and beauty shop at 23 E. Main. Mr. Yeend was a salesman for Inland Empire Refineries. In 1951 Lamke operated the White Barber and Beauty Shop. Jack Lamke died suddenly in 1952 and his wife Ruby continued to live in this house through 1958. In 1959 Agnes Yeend, a niece, sold the house to Orval James and Cloella Rimbey. Orval was a driver for Inland Motor Freight and Cloella worked as a cook at Walla Walla High School. By 2000 Orval and Cloella were retired and Sylvan L. Rimbey lived with them. Sylvan worked for Harold Electric. No city directories exist after 2000.
Construction of the Building:
The 1905 Sanborn fire map shows a vacant lot in this location with the creek crossing the southeast corner of the lot. The Walla Walla County Tax Assessor's records state that this house was built in 1910. However, Louise Burns purchased the lot from Mrs. Green in 1905 and was listed in the city directory as living here in 1907 so a likely construction date would be 1906 by Robert and Louise Burns. Building permit records were not kept prior to 1907, and the only permit found for Robert or Louise Burns was a remodel at 14 Clinton in 1916, which also suggests a 1906 build date.
References:
Bennett, Robert A., Walla Walla  Portrait of a Western Town 1804-1899, Pioneer Press,  Walla   Walla, 1980.
Bennett, Robert A., Walla Walla  A Town Built to be a City 1900-1919, Pioneer Press,  Walla Walla, 1982.
Building Permits: Whitman College Penrose Library Archives.
Sanborn Fire Maps: 1884-1905 (with updates until 1950).
Walla Walla City Directories: 1880-2000 (various publishers–not all years).
Whitman College Archives.
http://ww2020.net/wp-content/uploads/1004_Alvarado.jpg
134
200
Mary Meeker
http://ww2020.net/wp-content/uploads/2011/12/ww2020_logo.png
Mary Meeker
2013-01-01 17:44:38
2014-02-06 12:27:41
History of 1004 Alvarado Terrace, Walla Walla, Wa