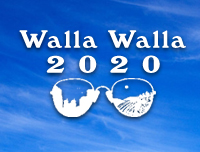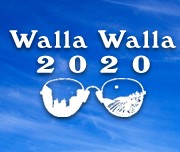 We're going to have a Walla Walla 2020 general meeting on Thursday, September 22, at 7:00pm at Whitman College's Glover-Alston Center, located at 26 Boyer (the mustard yellow building across from the sub shop).
While there's an abundance of anger and divisiveness at the national level, Walla Walla 2020 committees have been working locally to bring our community together and promote its long-term sustainability.
The Community Awards group presented a great awards ceremony at the GESA Power House Theatre to celebrate a decade-worth of community building and historic home and commercial building restoration.
The Xeriscape Park group has had at least two work parties and probably another coming up before winter.
The Energy Conservation group has been working on the Georgetown University Energy Competition—the informatioon five months ago was that Walla Walla was eighth or ninth out of 50 entrants nationwide.
 The Water/Mill Creek group created conservation yard signs, testified on the proposed Shoreline Management Plan, and is looking toward another presentation by the WSU Mill Creek visioning group.
The History group continues providing histories of local historic buildings to the buildings' owners, has dedicated several important historic signs and sites (including dances at the "Edgewater" site), and provides local history information to the media.
The Neighborhood group's accomplishments are modest but with high hopes.
A number of 2020 members are also members of City advisory committees, many of which were originally created as a result of 2020 efforts and have institutionalized the work of early 2020 committees.
Many of our projects and activities require that we carry insurance, and there are a few smaller recurring costs as well.  As a group we've set our annual dues at $25.  If everyone would send their checks to our treasurer or, even better, carry them to the meeting on the 22nd, we'd be in good shape.  If you can't make it to the meeting, please send your check to Sandy Shelin, Treasurer, 1839 Carl, Walla Walla 99362.
Hoping to see you soon,
Barbara Clark
President & Director
Walla Walla 2020
PS: Here's a well-done video that asks the question "Weather? or Climate Change?":   https://climatecrocks.com/2016/09/08/new-video-weather-or-climate-change/
http://ww2020.net/wp-content/uploads/ww2020_logo.jpg
152
200
Site Manager
http://ww2020.net/wp-content/uploads/2011/12/ww2020_logo.png
Site Manager
2016-09-13 10:20:35
2016-09-13 10:25:49
WW2020 General Meeting Fall 2016