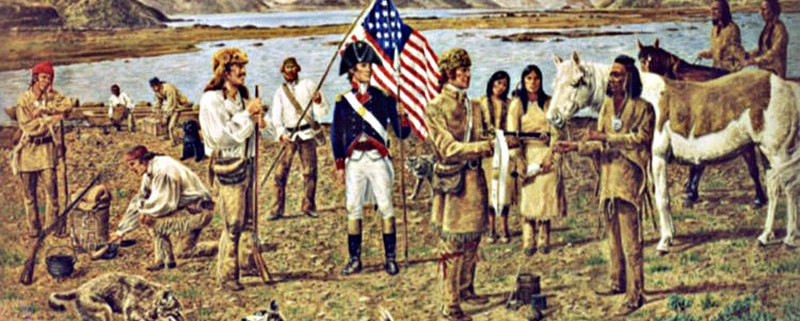 Editor's Note: Click here to visit the Walla Walla 2020 Wallula History Website
---
WALLA WALLA 2020 PLANS DEDICATION OF WALLULA HISTORIC SITE ON ANNIVERSARY OF LEWIS AND CLARK VISIT, APRIL 30, 2016
On Saturday, April 30, Walla Walla 2020 will dedicate its new Wallula Historic Site, honoring the many fascinating stories the Wallula area has to tell.
These include the early geologic history of the region displaying the effects of the Missoula Floods 15,000-18,000 years ago, its role as a traditional village and gathering site for Native Americans, and a Lewis & Clark camp site. Wallula was also the location of the first fur trading post in the region, a major steamship port in the 1860's bringing thousands of miners to the Idaho gold fields as well as agricultural products to market, the terminus of the northwest's first rail line, the Walla Walla and Columbia River Railroad, and later an important link in the new transcontinental lines, as well as the site of three successive towns.
The new Wallula Historic Site is located just inside Wallula Gap near milepost 5 on SR 730, at the closest point of land to the original mouth of the Walla Walla River where the Lewis and Clark party camped 210 years ago this month during their return to the east.
The dedication ceremony on April 30, 2016 will begin at 1:30 in the small park across from the weigh station at Wallula Junction next to the old bridge over the Walla Walla River, where a variety of speakers will discuss Wallula's history. Walla Walla University is providing a large bus for the event which will leave from the corner of 4th & Davis in College Place at 12:45, and at 2:30 will begin shuttling people from Wallula Junction into the Gorge to the new Wallula Historic Site, where a ribbon-cutting will take place along with opportunities for hiking up to the bluffs overlooking Wallula Gap or down along the Columbia River.
To reserve a free seat on the WWU bus from College Place to Wallula, call 509-522-0399 or email ww2020@charter.net. More information is available at http://www.ww2020.net/historic-sites/.
Public dedication ceremony program
Here is the program for the event:
1:30  Welcome & Introductions at Wallula Junction Park—Dan Clark, WW 2020
1:40  Native Peoples at Wallula—Dr. Jennifer Karson, CTUIR
1:50  Lewis & Clark at Wallula—Gary Lenz, State Parks
2:00  Fur Traders at Wallula—10 min, Sam Pambrun, Frenchtown Historical Foundation
2:10  Geology, Steamboats, Railroads & Towns at Wallula—Bob Carson, Whitman College
2:30  Load Bus for Wallula Historic Site, US 730, MP 4.8
3:00  Ribbon-Cutting & Final Remarks at Historic Site, including David Thompson, 1770-1857
3:15 Hike up to Bluffs led by David Thompson and Bob Carson, or along the Columbia River led by Sam Pambrun—Bus shuttle back to Wallula Junction during and after hikes
4:15  Load Up & Go Home
http://ww2020.net/wp-content/uploads/Lewis-Clark-meeting-Yellepit-at-Wallula.jpg
531
800
Site Manager
http://ww2020.net/wp-content/uploads/2011/12/ww2020_logo.png
Site Manager
2016-03-21 15:52:40
2016-04-13 11:28:31
Wallula Historic Site Dedication Scheduled for April 30, 2016