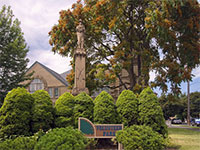 Property Description:
Abbreviated: A Portion of Lot 2, block 1 of Cains Addition, within the NW 1/4 of the SE 1/4 of Section 20, T7N, R36E of the Willamette Meridian, in the City of Walla Walla (on north side of Central Christian Church at corner of Alder and Palouse Streets).
History:
Washington Territory was created in 1853. The new legislature created Walla Walla County in 1854 which stretched from the crest of the Cascade Mountains to the crest of the Rocky Mountains in the present states of Washington, Idaho and Montana. In 1855 an Indian treaty council was held on the banks of Mill Creek at the present site of Walla Walla to purchase land from the Indians. The Yakimas and Walla Wallas later rejected the treaty and prepared for war which followed. Missionaries, former Hudson Bay Company employees, and soldiers at Fort Walla Walla, and a few others occupied the area prior to 1859, after which  when it was opened for settlement.
 Walla Walla was originally laid out by surveyor H.H. Chase in 1859, even before its formal incorporation as a city in 1862, as a one-quarter mile square oriented N-S, E-W and with its eastern side centered on the point where Main Street crossed Mill Creek (at roughly the point where it does now). To this original area, additional parcels were annexed from time to time, usually named after the land owner of record at the time the additions were made.
A parcel of land was contained in land originally owned by A. J. and Emma Cain. During 1862, A. J. Cain surveyed Cain's Addition to the City (this survey was rerecorded on 5/11/1865, following a disastrous fire which destroyed most of the county's earlier records).  A. J. Cain was an early financier of the Walla Walla Union newspaper; in 1868 he was elected on the Democratic ticket as prosecuting attorney of Walla Walla County. He later moved to Dayton and in September 1874 began publication of the Dayton News, a weekly Democratic newspaper. He became known as the "Father of Columbia County" as a result of his leading role in the formation of that county.
Dorsey S. Baker bought most of Cain's Addition (29 parcels with a debt of $7320.56) for $2800 at Sheriff's Auction on October 18, 1867.  Dorsey Baker was founder of Walla Walla's Baker Boyer Bank and builder of the first railroad in the valley. In 1862, Baker was on the city council and some years later was a Walla Walla County Commissioner. He was an early supporter of Whitman Seminary, donating four acres of land for that institution. He died in 1888 but his estate was managed for many years by his heirs. On September 16, 1896 Dr. Baker's estate transferred the title for this land to his daughter, Ida Mabel Anderson, with the stipulation that no building would ever be erected here or it would revert to the Baker Estate.
On September 19, 1896, Ida Mabel Anderson and her husband Louis F. Anderson transferred title to the Congregational Church for this lot across Palouse Street from the church with the agreement that no building would ever be allowed here that could obstruct the view of the church from Alder Street. A picture of the church built in 1900 is included with this report. Louis Anderson was a classics professor at Whitman College and a son of the first president of Whitman College, Alexander Jay Anderson. He and his wife built their home at the corner of Boyer and Otis Streets, now the Whitman Baker Faculty Center.
On February 25, 1904 Louis and Mabel Anderson signed a quit claim deed releasing the First Congregational Church from further compliance with the 1896 agreement. On July 15, 1904 the Church gave a deed for this property to the City of Walla Walla "for use as a public park." 
1904 the Congregational Church allowed the Red Cross Society to erect a memorial to the veterans of the Spanish American War from Walla Walla who served in Company I, 1st Washington Volunteers and lost their lives in the Philippines. About 100 men in this unit were from Walla Walla. When they left Walla Walla on April 29, 1898 the Red Cross gave each soldier an American flag and a "comfort bag." Money for the monument, which cost $1100, was raised by "entertainments and donations." The monument is made of Bedford stone from Bedford, Indiana. The Roberts Monument Company of Walla Walla was in charge of construction.
 Inscription on the south side of the monument reads:
Spanish American
Philippine War
1898-1899
Company I First Regiment
Washington Vol. Infantry
Eighth Army Corps
204 days on firing line.
The west side reads:
Erected by the
Red Cross Society
of Walla Walla, Washington
dedicated 7-4-04.
The north side reads:
In Memorium
Corporal Miles C. Kyger
Daniel T. Kyger
Alen E. Carlyle
Sherman C. Harding
Early A. Jeans
Edward H. Perry
James B. Cockrill.
The east side reads:
Manila Feb. 4-5
Santa Ana Feb 5
Toy Toy & Cavita June 3
Morong June 4
Calamba July 27 25 days
Santa Cruz Apr 9,10,11
38 days in trenches at Pasig City.
A 
thousand people attended the dedication where Mayor Hunt presided, followed by fireworks in the evening.
The second memorial in this public park was dedicated to the astronauts who lost their lives on the Challenger spacecraft and reads:
In Memory of Francis R. Scobee, Michael J. Smith, Judith Resnik, Ronald E. McNair, Ellison S. Onizuka, Gregory B. Jarvis, Christa McAuliffe; January 28, 1986
Space Shuttle Challenger Crew
donated by Blue Mountain Memorial Gardens, Inc.
A Naming Proposal
This city park currently has no name, and relatively few people realize it is a municipal park. We propose this property be named Volunteer Park, in honor of the many volunteers, past and present, who have served our park system, our community, and our nation, including Mabel Baker Anderson, who donated the land for the park, volunteers John Warren Langdon and the Womens Park Club who were instrumental in the development of our city parks, Company 1, First Washington Volunteers for whom the original monument was erected, and the many individuals and organizations who have donated time, energy and resources to our city and its parks since those early days.
References:

Archive, Whitman College Penrose Library, Larry Dodd, archivist.
Bennett
, Robert A., Walla Walla  A Town Built to be a City 1804-1899, Pioneer Press, Walla Walla, 1980.
,
Bennett, Robert A., Walla Walla  A Town Built to be a City 1900-1919, Pioneer Press,  Walla Walla, 1982.
Washington State Red Cross, Red Cross Work of the Pacific Slope, 1902.
, 1864-1964, A Brief History of the First Congregational Church
, Larry, Congregational Church historian.
, Frank T.; Historical Sketches Walla Walla County, Whitman County and Garfield County, Washington Territory, 1882.
, Professor W.D., An Illustrated History of Walla Walla County
1918
's Standard Atlas of Walla Walla County, 1909.
, Larry, Director, Walla Walla Chapter, The American Red Cross
Mary E. Meeker Walla Walla 2020 Research Service Box 1222 Walla Walla WA 99362 2002
http://ww2020.net/wp-content/uploads/Volunteer_Park.jpg
150
200
Mary Meeker
http://ww2020.net/wp-content/uploads/2011/12/ww2020_logo.png
Mary Meeker
2002-01-01 17:18:09
2017-02-05 12:24:04
History of Volunteer Park, Walla Walla, WA