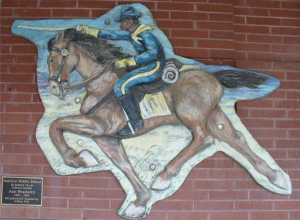 Here's the latest news on the October 23-24, 2015 reunion of the first five classes to graduate as 9th graders from Garrison in 1956, 1957, 1958, 1959, and 1960.
Our Garrison School Reunion Book, First Edition, is now available for $10 at Amazon.com and other online booksellers, and will be also be available at the reunion.
We need a photographer to take photos at the reunion events to be added to the book for inclusion in the Final Edition.
We need you to email, call, or write classmates you're in touch with or have contact information for to tell them about the reunion and encourage them to come.
Anyone who isn't able to come is invited to send a message to be displayed during the reunion.
See our reunion website at www.garrisonschoolreunion.blogspot.com.
Here's our current schedule of events:
1:00

Set up Garrison and Germantown displays and memorabilia in the school cafeteria,

2:00

Introductory talk on the Germans from Russia who settled around Garrison School from 1882-1920, many of whose descendants attended Garrison with us,

2:45

Dedication of Germantown Sign at Garrison Creek Bridge

3:00

Historical Walking Tour of the Germantown Neighborhood

4:00

Garrison:  Introductions and Reminiscences—Honoring Members of the Classes of 1956-1960, Teachers, and Administrators

5:00

Displays & "Sock Hop"

6:00-9:00

Reunion Dinner & Party at Mill Creek Brew Pub (no-host)
Class or School Breakfasts (to be arranged)

9:00-1:00

Downtown Farmers Market, 4th & Main
Tasting at many of Walla Walla's more than 150 wineries
Class or Elementary School Lunches (to be arranged)

1:00-5:00

A Salute to the Heritage of Walla Walla's Germans from Russia–Garrison Cafeteria

7:00-10:00

Fourth Annual Victorian Ball sponsored by the Kirkman House Museum—M-F Community Building.
Garrison opened 60 years ago in 1955!
Happy Birthday!
http://ww2020.net/wp-content/uploads/garrison.png
665
908
Site Manager
http://ww2020.net/wp-content/uploads/2011/12/ww2020_logo.png
Site Manager
2015-10-07 11:35:17
2015-10-07 11:36:18
60th Anniversary of Garrison School Oct 23-24, 2015