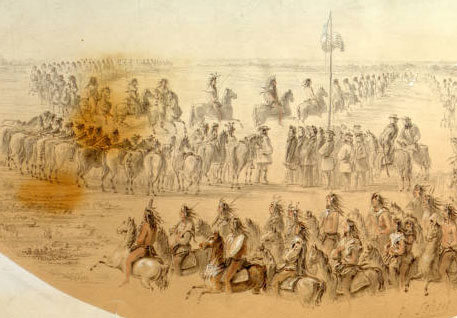 From May 29-June 11, 1855, a treaty council was held in Walla Walla between Governor Isaac Stevens of Washington Territory, Joel Palmer, Superintendent of Indian Affairs for Oregon Territory, and several thousand Indians from the upper Columbia and Snake River Indian tribes.  It has been said of the event that, "In its general influence and difficulty [it] has never been equaled by any council held with the Indian tribes of the United States."
A new interpretive sign honoring the treaty council will be dedicated by Walla Walla 2020 on Friday, June 12, to commemorate the 160th anniversary of the Council. The ceremony will begin with a talk at 2 pm in the Fellowship Hall of the First Congregational Church at Palouse & Alder on a portion of the council grounds.  Following the talk, a ribbon cutting for the new sign will take place behind Carnegie Center at the intersection of Alder, Poplar, and Palouse, next to the oldest existing marker honoring the Council.  An additional treaty marker is at the entrance to the Whitman College amphitheater.
Because of differing reports as well as the great passage of time, along with changes in the landscape, there is plenty of room for healthy debate about the specific location of the treaty grounds of 1855.  Nonetheless, the bulk of the evidence appears to support the earliest marking of the spot at Carnegie Center as the general location where council arbors were erected, deliberations took place, and leaders' meals were served.
More information on the Treaty Council of 1855 with key excerpts from the council transcript, as well as other Walla Walla area historical sites, including printable brochures, can be found at www.ww2020.net/historic-sites.
http://ww2020.net/wp-content/uploads/1855-arrival-crop.jpg
318
457
Daniel Clark
http://ww2020.net/wp-content/uploads/2011/12/ww2020_logo.png
Daniel Clark
2015-06-11 09:54:09
2015-06-11 09:54:09
Dedication of Walla Walla Treaty Council Sign: Friday June 12 at 2 pm