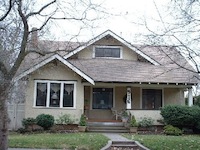 Property Description:
Lot 2 in Block 10 of Green's Park Addition to the City of Walla Walla. according to the official plat thereof of record in the office of the Auditor of Walla Walla County, Washington, in Volume "C" of Plats at page 28.
Title History:
Washington Territory was created in 1853. The new legislature created Walla Walla County in 1854 which stretched from the crest of the Cascade Mountains to the crest of the Rocky Mountains in the present states of Washington, Idaho and Montana. In 1855 an Indian council was held on the banks of Mill Creek at the present site of Walla Walla to purchase land from the Indians. The Yakimas, Cayuses and Walla Wallas were dissatisfied with the treaties and war followed. Missionaries, former French-Canadian employees of the Hudson Bay Company trading post at Wallula, and soldiers at the military Fort Walla Walla were the primary European occupants of the area prior to 1859 when it was opened for settlement. All of the land in this area was acquired from the Cayuse and Walla Walla Indian tribes by the U.S. Government in a treaty signed on June 9, 1855 in Walla Walla, and ratified on March 8, 1859 by President James Buchanan.
Walla Walla was originally laid out by County Surveyor H.H. Case in 1859, even before its formal incorporation as a city in 1862, as a one-quarter mile square with its eastern side centered on the point where Main Street crossed Mill Creek (at roughly the point where it does now).  The City of Walla Walla received  a Trustee Townsite from the U. S. government which consisted of 80 acres issued on July 20, 1869 by the Vancouver, W.T. District Land Office.
The first transaction in the legal record in Walla Walla for this property was a deed on May 23, 1863 from William H. and Elizabeth Ann Patton to John Haley for $100 to buy nearly 20 acres. On October 7, 1867 John Haley sold the 20 acres plus almost 27 acres elsewhere to William O. Green for $1500. Mr. Green and his wife Mary Francis crossed the plains and homesteaded in Walla Walla in 1862. He was an associate of Dr. Dorsey S. Baker in the stock business and acquired considerable land in Walla Walla and Franklin Counties. Green died in 1878. On December 30, 1895. Green's surviving children and their spouses, Clarinda J. and Hugh Roland Smith (builders of  the house that is now Green Gables Bed and Breakfast in 1909), Anne B. and W. H. Barnett, Philinda Green and Mary O. Green (daughter Fannie had died) quit claim deeded this land to their mother, Mary Frances Green for the stated consideration of $1. On July 23, 1903, Mary Frances Green recorded the original plat of Green's Park Addition to the City of Walla Walla. Mrs. Green boarded at 22 East Birch and 310 Park Street prior to 1908, when she moved to 925 Isaacs with her daughter Philinda and son-in-law John W. Langdon, one of Walla Walla's "founding fathers." In 1908 Mary F. Green transferred all her property to the Green Investment Company, of which she was president until 1912.
On May 11, 1920 the Green Investment Company, by Orville Green, President and W. A. Langdon, Secretary, gave a deed to this property to Sarah L. Collingwood. The deed stipulated that a dwelling costing at least $2000 must be built before any other building  on this lot or the owners would forfeit the property. On May 15, 1925 Peter and Sarah L. Collingwood sold this property and its recently constructed  house to Alfred Ernest and Ruth Wedge Lange. On April 5, 1933 Alfred gave a Quit Claim Deed on this property to his wife, Ruth Wedge Lange. On August 18, 1966 Dr. Lange, executor of Ruth Lange's estate, gave a deed for this property to Frank W. and Elizabeth J. Erickson. The Ericksons took out a loan with Sherwood and Roberts under the Servicemen's Readjustment Act for $18,500. On January 17, 1974 the Ericksons gave a deed to this property to Clifford D. and Barbara J. Kontos, subject to a mortgage dated August 18, 1966. On May 26, 1994 Mr. and Mrs. Kontos gave a deed to Kurt R. and Barbara Biegner Hoffman for a stated amount of $10.
Occupant History:
The first owner of this house was Peter and Sarah Collingwood. Peter was a farmer who lived at 310 Park Street in 1921. They were listed in the city directory as living in their new house on Alvarado Terrace in 1923 (no directory in 1922). Their son Miles C. Collingwood was also listed as a student at this address in 1925-1926. In that same year Dr. Alfred Lange and his wife Ruth lived at 401 Cypress. Dr. Lange was a physician with an office in the Baker Building. By 1926 the Langes had moved to this property. They continued to live here until 1966, after Ruth's death. In 1967 Frank and Elizabeth Erickson lived here. Frank was the executive director of Blue Mountain Action Council and he wife was a teacher at Green Park School. In 1968 she moved to Edison School and he was the social service supervisor of the Washington State Department of Public Assistance. Although the Ericksons continued to own this property until 1974 it was rented in 1971 to Paul Dewey, Whitman College art professor; in 1972 to Thomas Pearson, owner of Tobbie's Kitchen; and in 1973 and 1974,  to Jon "Bill" Hammett and his wife Helen P. Mr. Hammett was a civil engineer with the U. S. Highway Department. The Clifford and Barbara Jane Kontos family lived here from 1975 to 1994. Clifford was a rancher-cattleman and asparagus grower. His wife Barbara worked part of this time at the YWCA. Kurt and Barbara Hoffman became the fifth owners of this house in 1994. He is a Professor of Physics at Whitman College
Construction of the Building:
This property has a very concise history including a permit for the construction of the house on August 19, 1921 by P. Collingwood with W. H. Huntington as the builder. The cost of construction on the permit was $5000. This is confirmed by the Walla Walla County Assessor's records.
References:
Bennett, Robert A., Walla Walla  Portrait of a Western Town 1804-1899, Pioneer Press,  Walla Walla, 1980.
Bennett, Robert A., Walla Walla  A Town Built to be a City 1900-1919, Pioneer Press,  Walla Walla, 1982.
Building Permits: Whitman College Penrose Library Archives.
Walla Walla City Directories: 1880-present (various publishers–not all years).
Whitman College Archives.
  Mary E. Meeker ; Walla Walla 2020 Research Service PO Box 1222, Walla Walla WA 99362 March, 2007
http://ww2020.net/wp-content/uploads/926_Alvarado.jpg
150
200
Mary Meeker
http://ww2020.net/wp-content/uploads/2011/12/ww2020_logo.png
Mary Meeker
2007-03-01 17:41:52
2017-02-05 12:22:02
History of 926 Alvarado Terrace, Walla Walla, WA