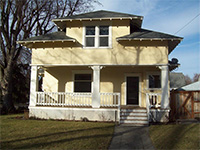 Property Description:
Abbreviated Legal Description: Lot 7 in Block 10 of Isaacs Addition to the City of Walla Walla, according to the official plat thereof of record in the office of the Auditor of Walla Walla County, Washington.
Title History:
Washington Territory was created in 1853. The new legislature created Walla Walla County in 1854, which stretched from the crest of the Cascade Mountains to the crest of the Rocky Mountains in the present states of Washington, Idaho and Montana. In 1855, a treaty council was held on the banks of Mill Creek at the present site of Walla Walla to purchase land from the Indians. The Yakamas, Cayuse and Walla Wallas were dissatisfied with the treaties and war followed. Missionaries, former French-Canadian employees of the Hudson Bay Company trading post at Wallula, and soldiers at the military Fort Walla Walla were the primary European occupants of the area prior to 1859, when it was opened for settlement. The U. S. Government, in a treaty signed on June 9, 1855 in Walla Walla and ratified on March 8, 1859 by President James Buchanan, acquired all of the land in this area from the Cayuse and Walla Walla Indian tribes.
Walla Walla was originally laid out by County Surveyor H. H. Case in 1859, before its formal incorporation as a city in 1862, as a one-quarter mile square with its eastern side centered on the point where Main Street crossed Mill Creek (at roughly the point where it does now). The City of Walla Walla received a Trustee Town site from the U. S. Government that consisted of 80 acres, issued on July 20, 1869 by the Vancouver, W. T. District Land Office. Main Street originally followed the old Nez Perce Indian Trail running approximately east to west. Consequently, the streets leading off of it do not run uniformly north to south, giving Walla Walla its peculiar street pattern with the three-street intersection at Palouse, Boyer and Main Streets. To the original plat, additional parcels were annexed from time to time, usually bearing the name of the landowner of record at the time the additions were made.
Henry P. and Lucie Isaacs owned 80 acres in Sections 20 and 21, Township 7 N., Range 36 E.W.M. now defined approximately by Whitman College and Division Street, Isaacs and Boyer Avenues; this land was purchased from William H. and Elizabeth A. Patten for $2,000 on January 20, 1864, and early maps define it as Isaacs Addition.
A brief biographical note on Henry Isaacs from the Idaho State Historical Society Reference Series:
Henry P. Isaacs was born in March 1822 in Pennsylvania. He and his brother, Joshua, followed the 1849 gold rush to California, later moving north to Oregon. Henry became a successful merchant in The Dalles, Oregon in 1858, dispatching a William McWhirk to Walla Walla, W. T. that same year to open a store here. He married his wife, Lucie, around 1860.
In 1862, Isaacs relocated to Walla Walla and established North Pacific Mills. His brother, Joshua C. Isaacs, operated a store in Walla Walla during the 1860s. Henry Isaacs served in the Washington Territorial legislature in 1885–1886, introducing a bill that established the Washington penitentiary in Walla Walla. He started several flour mills in eastern Washington, Idaho and Oregon (1858 in Ft. Colville, 1862 in Walla Walla, 1864 in Boise, 1865 in Middleton, 1883 in Prescott, and 1898 in Wasco, OR). W. D. Lyman referred to him as "the foremost miller on the Pacific coast" in his History of Walla Walla County (W. H. Lever, publisher, 1901, p. 313).
The Isaacs mill in Walla Walla was located on the parcel that currently is Wildwood Park; water to furnish power for the mill was diverted from Mill Creek via a mill race. In addition, Isaacs was instrumental in developing the city water system, growing wheat in this area and establishing flour mills throughout the Northwest and in Asian countries.
Henry Isaacs also successfully experimented with almost every variety of fruit and vegetable grown in the northern temperate zone and was a booster for Walla Walla, encouraging rail lines in the valley.
These 80 acres plus an additional 35 acquired by Henry were deeded to Henry's brother Joshua on September 21, 1881 for $10,000.00; this transaction included a margin note stating "water rights for supplying Walla Walla as reservoir." This same acreage and its associated water rights were part of a larger 360 acre parcel deeded by Joshua to Walla Walla Water Company for $1.00 on September 11, 1886. The parcel and water rights would later become ensnarled in a legal case that made its way to the United States Supreme Court, reported in 172 U.S. 1: "…in which the Walla Walla Water Company filed a bill to stop the City of Walla Walla from erecting waterworks, acquiring property to erect waterworks, or using city money to build waterworks." The case was decided on November 14, 1898 in favor of the Walla Walla Water Company.
Isaacs Addition to Walla Walla (specifically the first addition, to be followed by a second and third) consisted of three blocks (numbered 10, 11, and 12) containing 36 lots (12 lots per block) with dimensions of 60 feet wide and between 120 feet deep (for lots with alley access) and 140 feet deep. The plat map for the Isaacs Addition is dated July 25, 1884 and signed by both Henry and Lucie Isaacs.
On April 9, 1889 Henry and Lucie Isaacs granted the entirety of Block 10 in Isaacs Addition to their daughters Bessie, Grace, and Charlotte.
On November 7, 1890 the Isaacs sisters sold several lots in Block 10, including Lot 7 for $250, to Angus McKay and Angus McKay, Jr.
A deed was granted on April 5, 1895 by Angus McKay Jr. to Isaac L. and Sara F. Mitchell for $500 in gold coins; this deed covered both Lot 7 and its neighboring parcel Lot 8.
Henry Isaacs died intestate (i.e. without a valid will) in 1900. Lucie Isaacs, his widow, became the executor of his estate. Evidently in an effort to make the settling of the estate less complicated, the Isaacs five children (Bessie, Grace, Mattie, Edwin, and John Phillip) filed a Quit Claim deed in favor of their mother on November 11, 1901.
On April 1, 1901, the Mitchells deeded both lots to Frank W. Paine for $400 in gold coins.
A biographical note on Frank Paine from An Illustrated History of the State of Washington (1893):
Frank W. Paine was early inured to farm labor, and at the age of twenty-one years he began life on his own account. Being a young man of high ambition, and not wanting to settle down in an old country, he removed to California in 1861, where he was employed as a clerk in a mercantile store one year. In 1862 he took up his residence in Walla Walla, Washington, worked for a time in a sawmill in the mountains, clerked in Dr. Baker's mercantile store one year, spent two years in mining in Idaho, resumed his old position in Baker & Boyer's store, and then took a stock of goods to Montana. After returning to this city, and in partnership with Governor Moore and his brother, Mr. Paine purchased the store of Baker & Boyer; later the brothers bought the interest of Mr. Moore, and the business was then conducted under the name of Paine Bros. They afterward sold their general merchandise, and embarked in the implement trade, which business, after some years, they sold to Knapp, Bunal & Co., of Portland, Oregon, and the brothers are now engaged in the real-estate business in this city. The Paine Bros. erected one of the largest blocks in Walla Walla, known as the Paine Block, and they also own several other good buildings, besides vacant property. Large tracts of agricultural land throughout the State belong to this firm.
Although our subject started out in life as a working boy, he is now a rich man, and has the prospect of living to a good old age to enjoy his hard-earned gains. He has been a member of the City Council for a number of years, served one term as Mayor of his city, and as School Director about twelve years. He was chairman of the school board which erected the large and beautiful school building of this city, which was named the Paine school, in his honor. Mr. Paine has been president of the Board of Trade of Walla Walla for a number of years. In 1887 he organized the State Prison at Walla Walla, moved the prisoners from Seatco, which is now called Bucoda, to this city, was appointed its Commissioner, and, after the election of Governor Ferry, was made president of the Board of Directors, which instituted and built the jute manufactory for the prison. Under his administration the prison was a model of its kind and the manufacturing of jute bags was made a financial success.
Two days later on April 3, 1901, Paine sold Lot 7 to Zeno K. Straight for $250. Zeno was the son of prominent jeweler and early Walla Walla pioneer Captain Zebulon K. Straight.
Zeno Straight sold Lot 7 to William S. Mullinix on December 6, 1902 for $500. Mullinix was a prison guard (listed as "guardian") at the Washington State Penitentiary.
On April 24, 1903, Mullinix sold Lot 7 to Joseph McCabe for $600. Joseph McCabe was the Vice President and General Manager of Washington and Columbia River Railway.
Joseph and Ella L McCabe sold both Lots 7 and 8 on August 27, 1906 to Samuel R. Maxson for $1,700.
A biographical note on Samuel Maxson from An Illustrated History of the State of Washington (1893):
Mr. Maxson was born in Rock county, Wisconsin, July 7, 1843, a son of Stephen and Lois (Babcock) Maxson, natives of New York, who were married in that State but removed to Wisconsin in 1837. They made the Badger State their home for over twenty years, when in 1856 they again took tip the line of march westward, locating at Omaha, Nebraska, where they remained two years, during which time our subject received his education in the common-schools of that city. At the expiration of that time the family located in Washington Territory, Walla Walla county, on Russell creek, seven miles southeast of Walla Walla, where the father died in 1879, at the age of sixty-five years, and where his wife died ten years later, at the same age. Four children were born to these parents, of whom our subject was the second child. All of these children are still living, one being located in Idaho, and the other three in Washington. The trip across the plains in the fifties was anything but an enjoyable journey. In addition to the many privations incident to the trip, there was always the great danger from the savage Indians, and many of the emigrants were given several opportunities of very close acquaintance with the red men. Fortunately for the little party in which we are interested the Indians gave them no trouble, although they never knew at what moment the savages might spring upon them.
Our subject obtained the money to purchase his present pleasant home by freighting over the mountains to Boise City and other mining districts with ox teams, continuing that occupation for five years. At that time he traded his horses for 160 acres of land, to which he made subsequent increments until he now is the possessor of 235 acres of as good land as can be found in the county, on which he raises from four to five thousand bushels of grain yearly. Although he was a poor man when he began to fight the battle of life for himself, by his assiduous and persistent labor he has won the victory and can now rest upon his laurels, as, in addition to his farm, he has an excellent home, situated about seven miles southeast of Walla Walla on Russell Creek, the residence being located on the banks of this picturesque little stream.
In the year 1863, Miss Lizzie Paul, a native of Iowa, became his wife, and since their marriage ten children have been added to their family, namely: Lou Ellen, Charles, Alice, May, Stephen, Myrtle, Samuel, Walter, Ralph, and Benjamin F.
Samuel died of "heart disease" on December 31, 1907, leaving Mary Elizabeth "Lizzie" Paul Maxson, his wife of 44 years, and 11 children.
In 1919 Mrs. Maxon divided shares of the property evenly between her daughters Myrtle Maxson Swezea and May Maxson Harris. Mrs. Maxon resided at 903 East Alder, and her family maintained ownership of Lot 7, until her death on April 12, 1946.
An excerpt from Mary Maxson's obituary in the Walla Walla Union Bulletin (1946):
Mrs. Mary Elizabeth Maxson crossed the plains in 1862. She made the treacherous trek west with the largest wagon train ever to make the plains crossing, more than 200 wagons having participated in the six months long journey. Mrs. Maxson, whose maiden name was Mary Elizabeth "Lizzie" Paul, was born October 4. 1849 in Mahaska County, Iowa. The trip westward was started in April of 1862 and Mrs. Maxson, in her later years, vividly recalled incidents of that journey including a hair-raising episode in which a murderer was brought to justice and duly punished by death.
The family settled on Russell creek, Walla Walla proper at that time being a village of some 200 persons. Mrs. Maxson lived on a farm in that district for about 40 years, later moving to Walla Walla. She was married to Samuel R. Maxson at her farm home on July 18, 1864. He died in 1907. Eleven children were born to the couple, one daughter and four sons of whom survived their mother.
On September 10, 1946 the Maxson sisters sold their half shares of Lot 7 to Burton "B" Loyal and LaVon Kilbourne Smith for "$10.00" each. B Loyal Smith, occupied at the time as a "County Engineer at Court House," later entered city and county politics and was elected as a councilman and later mayor of Walla Walla, as well as a Walla Walla county commissioner.
The Smiths sold Lot 7 to Leslie M. and Pearl L. Sharp on March 14, 1989 for "$10.00". Both Sharps were listed as "retirees" in city directories.
On January 8, 1991 the Sharps sold the property to Russell E. and Mary Ellen Chandler for "$10.00". Russell was a physician's assistant at Walla Walla Clinic and Mary was an employee of Walla Walla General Hospital.
The Chandlers sold the home to Arthur E. and Carol A. Krontz on November 1, 1999 for "$10.00". Arthur was an employee of Walla Walla County Department of Human Services.
On March 2, 2007 the Krotzs sold the property to Ira Lyn and Kathryn M. Parker via the United States Government who held a majority interest in the house as part of a tax lien.
The Parkers sold the home to Wylie B. and Jennifer L. Warner on January 31, 2012. Wylie is a CPA and Engagement Director at the firm CliftonLarsonAllen; Jennifer operates Kindermusik with Jennifer.
Occupant History:
The first Walla Walla City Directory listing for 903 East Alder is in the 1908 edition. The following are occupants as listed in each year's Walla Walla City Directory edition (note that data for some editions was gathered the one to two years prior, hence some mismatches with title history provided above).
1908: Maxson sons Ralph and Walter are listed as "boarders" at 903 East Alder. Ralph Maxson was a clerk with Walla Walla Fire Insurance, and Walter Maxson a bookkeeper with Drumheller Co. Samuel and Mary Maxson lived at 815 East Alder.
1909-1939: Mary E. Maxson, widow; note that through the years several of the Maxson children are listed as living at the address with their mother.
1941: Frank S. and Adna M. Clendaniel; presumably the Clendaniels were renters as there is no deed record under this name. Frank was a Service Manager McLoughlin Auto Co. Mary E. Maxson is listed as living with son Stephen Maxson on Palouse Street.
1942-1945: No city directories published during World War Two.
1946: Listed as Vacant
1947-1989: Burton Loyal and LaVon Smith
1990: Leslie M. and Pearl L. Sharp
1991-1997: Russell E. and Mary Ellen Chandler
1998-1999: Susan Wilson, an employee of Walla Walla General Hospital; presumably Wilson was a renter as there is no deed record under this name.
2000-2007*: Arthur E. and Carol A. Krontz
2007-2011*: Ira Lyn and Kathryn M Parker
2012-Present*: Wylie B. and Jennifer L. Warner
*No Walla Walla city directories available after the 2000 edition; listed occupations are based on title history for these dates.
Construction of the Building:
The Walla Walla County Assessor's Office lists a build date of 1906. The 1905 edition of the Sanborne Fire Map shows an empty Lot 7 at the corner of East Alder and Madison streets. However, a home at 903 East Alder matching the foot print of the original structure (excluding the later rear addition) was added to the map sometime between July 1909 and December 1923. There are no available Walla Walla building permit records available for build dates before January 1907.
Based on the information at hand one can narrow down the construction date to sometime between 1906 and 1907:
Purchase of both Lots 7 and 8 by Samuel Maxson on August 27, 1906 for $1,700 – not a value large enough to cover the cost of a home of that size when factoring Lot 8 into the purchase price.
Death of Samuel Maxson on December 31, 1907.
First appearance of the address 903 East Alder in 1908 city directory with data provided during the previous 1-2 years in most cases.
First Sanborn Fire Map appearance no earlier than 1909 additions to the base 1905 edition. The house was not constructed when data was compiled for the 1905 edition of the maps but was later added, probably as early as the July 1909 edits/addendum.
A build date of late 1906 by Samuel R. and Mary E. Maxson seems appropriate and is in line with the Walla Walla County Assessor Office's stated construction date of 1906.
References:
Andres, Penny: Walla Walla–Her Historic Homes Vol. 1-3, 1991-1998
BLM Land Patent Records
Hines, Rev. H.K.: An Illustrated History of the State of Washington, 1893 – http://freepages.genealogy.rootsweb.ancestry.com/~jtenlen/srmaxson.txt
Idaho State Historical Society Reference Series: Henry P. Isaacs and Josh C. Isaacs, Number 579, 1981 – http://www.history.idaho.gov/sites/default/files/uploads/reference-series/0579.pdf
Legal Information Institute: 172 U.S. 1 – City of Walla Walla v. Walla Walla Water Co. – http://www.law.cornell.edu/supremecourt/text/172/1
Lyman, William Denison: Lyman's history of old Walla Walla County, embracing Walla Walla, Columbia, Garfield and Asotin counties, 1918
The Oregonian: obituary of Samuel Maxson, Jan 1, 1908
Penrose Library Northwest Archives, Whitman College
Pioneer Title Company documents for this property
Sanborn Insurance Map: 1905 – http://wallawallahistory.com/maps/1905/22.pdf
U.S. Census records
Walla Walla City Directories: 1900-2000 (various publishers–not all years)
Walla Walla County Courthouse Vault resources: plat maps and title records
Walla Walla County Assessor's Office
Walla Walla Public Library Northwest History Collection
Walla Walla Union-Bulletin archives
http://ww2020.net/wp-content/uploads/903_E_Alder.jpg
150
200
Chris Baird
http://ww2020.net/wp-content/uploads/2011/12/ww2020_logo.png
Chris Baird
2014-08-27 16:46:09
2015-01-28 08:12:35
History of 903 East Alder, Walla Walla, WA