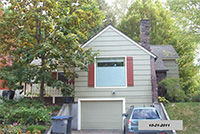 Property Description:
Beginning at the Southeast corner of Lot 6 in Block 9 of Green's Park Addition to the City of Walla Walla, Washington, according to the Official Plat thereof of record in the Office of the Auditor of Walla Walla County, Washington, and running thence Northerly along the Easterly line of said Lot 6, a distance of 120.0 feet; thence Westerly on an arc parallel to the Northerly line of Alvarado Terrace in said City, a distance of 94.84 feet to a point in the Westerly line of said Lot 6; thence Southerly along the Westerly line of said Lot 6, a distance of 128.5 feet, more or less, to the Southwest corner of said Lot 6; thence Easterly along the Northerly line of Alvarado Terrace, a distance of 116.0 feet to THE POINT OF BEGINNING.
Situated in the City and County of Walla Walla, State of Washington.
APN: 36-07-20-51-0906
Title History:
Washington Territory was created in 1853. The new legislature created Walla Walla County in 1854 which stretched from the crest of the Cascade Mountains to the crest of the Rocky Mountains in the present states of Washington, Idaho and Montana. In 1855 a treaty council was held on the banks of Mill Creek at the present site of Walla Walla to purchase land from the Indians. The Yakimas, Cayuses and Walla Wallas were dissatisfied with the treaties and war followed. Missionaries, former French-Canadian employees of the Hudson Bay Company trading post at Wallula, and soldiers at the military Fort Walla Walla were the primary European occupants of the area before 1859 when it was opened for settlement. All the land in this area was acquired from the Cayuse and Walla Walla Indian tribes by the U.S. Government in a treaty signed on June 9, 1855, in Walla Walla, and ratified on March 8, 1859, by President James Buchanan.
Walla Walla was originally laid out by County Surveyor H. H. Case in 1859, before its formal incorporation as a city in 1862, as a one-quarter mile square with its eastern side centered on the point where Main Street crossed Mill Creek (at roughly the point where it does now). The City of Walla Walla received a Trustee Townsite from the U. S. Government which consisted of 80 acres issued on July 20, 1869, by the Vancouver, W.T. District Land Office.  Main Street originally followed the old Nez Perce Indian Trail. Consequently the streets leading off of it were at right angles to it, and were not in a north-south orientation. This was corrected as the city moved eastward which gave Walla Walla its peculiar street pattern with the three street intersection at Palouse, Boyer and Main Streets. To the original plat, additional parcels were annexed from time to time, usually bearing the name of the land owner of record at the time the additions were made.
The first transaction in the legal record in Walla Walla for this property was a deed on May 23, 1863, from William H. and Elizabeth Ann Patton to John Haley for $100 covering 19.55 acres. On July 16, 1865, John Haley received a U. S. Patent from President Andrew Johnson for 160 acres, including this property.
On October 7, 1867, John Haley sold 20 acres including this property plus almost 27 acres elsewhere to William O. Green for $1500. Mr. Green and his wife Mary Francis crossed the plains and homesteaded in Walla Walla in 1862. He was an associate of Dr. Dorsey S. Baker in the stock business and acquired considerable land in Walla Walla and Franklin Counties. Green died in 1878.
On October 30, 1895. Green's surviving children and their spouses, Clarinda J. and Hugh Roland Smith (the 1909 builders of the house that is now Green Gables Bed and Breakfast), Anne B. and W. H. Barnett (large home at 720 Valencia), Philinda Green and Mary O. Green (daughter Fannie had died) quit claim deeded this land to their mother, Mary Frances Green for the stated consideration of $1.
On May 15, 1902, Mary Frances Green recorded the original plat of Green's Park Addition to the City of Walla Walla. Mrs. Green boarded at 22 East Birch and 310 Park Street before 1908, when she moved to 925 Isaacs with her daughter Philinda and son-in-law John W. Langdon, one of Walla Walla's "founding fathers."
In 1908 Mary F. Green transferred all her property to the Green Investment Company, of which she was president until 1912.
On March 14, 1914, the Green investment Company gave a Warranty Deed for this property to George H. Sutherland for $1000. Mr. Sutherland was a plumber who built the Sutherland Building on the southeast corner of Main and Colville Streets.
On October 10, 1922, George and Lydia Sutherland sold this property to Henry Osterman for a stated amount of $10. Osterman was the architect for several of Walla Walla's public buildings. He retired in 1927 and died in 1936 in Seattle.
On May 27, 1935, Henry Osterman transferred his interest in this property to his wife, Lavina Genevra Osterman, along with other real estate and a cemetery plot.
On July 27, 1937, Mrs. Osterman sold this property to Robert J. and Ada E. Gibbons. Mr. Gibbons was president of Inland Printing Company. By 1939 Mr. Gibbons had died and Mrs. Gibbons was living in an apartment at 35 Park Street. Mrs. Gibbons having previously sold the approximately 70 feet north portion of this original Lot 6, on April 11, 1940, sold this property to Harvey F. and Anna B.  Stoller. Harvey was treasurer of the Pantorium Cleaners, owned along with his father and brothers. On May 21, 1941, Harvey and Anna Stoller sold the 54'by 120'eastern side of Lot 6 to Donald and Virginia Sherwood. Don Sherwood lived on Alvarado at Clinton Street and owned Sherwood and Roberts Company (real estate, insurance and mortgages) which was located in the block north of the Pantorium Cleaners. On December 10, 1941, the Sherwoods sold this half lot to E. G. Dean for $600. Mr. Dean was president and manager of Dean McLean Abstract Co. and President of First Federal Savings and Loan Association. Mr. Dean sold the property back to Mr. Stoller on May 5, 1943. Presumably this was a financial transaction to provide money for the construction of the house.
On August 31, 1950, the Stollers signed a Warranty Deed to Lucile Winn Rothrock, an unmarried woman who taught at Edison School.
On May 15, 1958, Ms. Rothrock sold this property to M. Keith and June I. Miller for "$10."Mr. Keith was the chief engineer at Boise Cascade.
On May 12, 1962, the Millers sold to Beverly Reid, an unmarried woman, a teacher at Paine School (later at Green Park School). She subsequently married Winfred D. Stocker, a civil engineering tech at USCE.
On June 11, 1984, Winfred D. and Beverly Stocker (formerly Reid) sold to James P. and Marcia Tomlin. At this time Jim was teaching at Walla Walla High School and Marsha taught at Pioneer Junior High School.
On June 13, 2006, the Tomlins sold to Dan. S. and Amelia G. Grinstead.
Occupant History:
The only house on either side of Alvarado Terrace in 1905 was across the street at 904 Alvarado. By 1907 there was a house on the southwest corner of Alvarado and Valencia. Multiple houses had been built by 1909. The property at 903 Alvarado was owned from 1922 to 1937 by Henry Osterman, a local architect of many of Walla Walla's prominent public buildings including the Court House, Armory, Dixie School, Ellis Hotel, Seil Building, old Walla Walla High School and Gym, old Central Fire Station, former Jefferson School, City Hall, YMCA on Spokane Street, Green Park School, Sharpstein School, old Prospect Point School, Masonic Temple (now Heritage Park facade), Carnegie Library and the Central Christian Church. Osterman opened his architectural office in the Baker Building in 1899, retired in 1927 and died in Seattle in 1936. There is no evidence in city directories that anyone lived at 903 Alvarado Terrace until 1940. The first persons to be listed as living at this address were Harvey F. and Anna B. Stoller. After the Stollers moved to Richland in 1950 this house was always occupied by the subsequent owners of the property.
Construction of the Building:
A Stoller family member reports that Harvey Stoller built this house, possibly from a Sears house kit. A search of several sources did not find any Sears house plans with a complex roof-line, hip dormer, asymmetrical front gable, stone chimney, or entry way similar to this house. The Walla Walla County Tax Assessor's records show a build date of 1940. Since Harvey Stoller bought the lot on April of 1940 this is the probable year of construction. Stollers were listed as living here in the 1941 city directory. One mystery may have to remain. There is a functioning well located in the basement of this house that presumably predates the house. Since Green's Park Addition was platted in 1903 it is assumed that city utilities were in place long before this house was built. It is unknown who might have dug a well here. Mrs. Green's original deeds had stipulated that a dwelling costing at least $2000 must be built before any other building on the lot or the owners would forfeit the property.
References:
Bennett, Robert A., Walla Walla A Town Built to be a City 1900-1919, Pioneer Press, Walla Walla, 1982.
Building Permits: Whitman College Penrose Library Archives.
Sanborn Fire Maps: 1884-1905 (with updates until 1950).
Sears, Roebuck and Co. 1926 House Catalog, An Unabridged Reprint. Dover Publications, 1991.
Stevenson, Catherine Cole and H. Ward Jandl, Houses by Mail, A Guide to Houses from Sears,     Roebuck and Company, Preservation Press, 1986.
Thornton, Rosemary. Finding the Houses That Sears Built. Gentle Beam Publications, 2004.
Walla Walla City Directories: 1880-2000 (various publishers–not all years).
Washington State Department of Archeology and Historic Preservation www.dahp.wa.gov
Whitman College Archives.
http://ww2020.net/wp-content/uploads/903_Alvarado.jpg
134
200
Mary Meeker
http://ww2020.net/wp-content/uploads/2011/12/ww2020_logo.png
Mary Meeker
2014-08-02 09:04:16
2014-08-27 16:19:54
History of 903 Alvarado Terrace, Walla Walla, WA