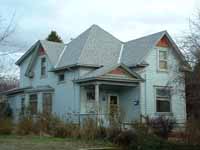 Legal Description:
Lot 3 and the Southerly 26 feet of Lot 2 in Block 3 of Walnut Grove Addition to the City of Walla Walla according to the official plat thereof on file in the office of the Auditor of Walla Walla County, Washington.
Title History:
Walla Walla was originally laid out by surveyor H.H. Chase in 1859, even before its formal incorporation as a city in 1862, as a one quarter-mile square with its eastern side centered on the point where Main Street crossed Mill Creek (at roughly the point where it does now). Main Street originally followed the old Nez Perce Indian Trail. Consequently the streets leading off of it were at right angles to it, and were not in a north-south orientation. This was corrected as the city moved eastward which gave Walla Walla its peculiar street pattern with the three street intersection at Palouse, Boyer and Main Streets. To the original plat, additional parcels were annexed from time to time, usually with the name of the land owner of record at the time the additions were made.
The first legal evidence at the title company related to this property was a mortgage from A. J. and Emma Cain to A. H. Reynolds in the amount of $1000 on February 13, 1862. The Cains owned the area between this property and downtown Walla Walla which was known as Cains Addition. On October 18, 1867, a sheriff's deed was given for this and 29 other properties to Dorsey S. Baker. Subsequently on October 17, 1871 the Cains gave Baker a deed. Baker had extensive property dealings in Walla Walla. On January 29, 1885 John F. Boyer and his wife Sarah E. gave Baker a quit claim deed on land that included this property. Boyer was both business partner and brother-in-law to Dorsey Baker. Dr. Baker died in Walla Walla June 5, 1888 after which his estate was managed by numerous of his descendants. They filed the plat for Walnut Grove Addition on May 2, 1892 and refiled on December 14, 1898. Baker heirs transferred this property to the Baker Loan and Investment Company on July 8, 1901. Dorsey Baker's son, Walla Walla Willie Baker, was president of the company which sold lots 1-3 of block 3 of Walnut Grove Addition to S. E. King on August 31, 1901 for $700.  Samuel E. King was a lawyer with an office at 123 1/2 W. Main Street. S. E. and Ethel King sold these three lots to Isabella Miller on February 23, 1909 for $4500.  Isabella was the widow of David Miller. Following her death the one and a half lots in this legal description were transferred to Nora Belle Miller, wife of Frank C. Miller, as her separate property. Frank and Nora lived in the house from 1914 to 1917. Frank was listed as a salesman in the city directory of the time. Nora Belle sold to Ben F. and Jane Engle on October 8, 1917 for $2000. They apparently never lived in the house and sold it on January 7, 1918 to Steve and Anna W. Witt for $2400. Steve Witt was a carpenter. Between 1931-1933 an apartment in the house was rented, first to Dale Hastings and then Mrs. Harriet Pence.  On June 12, 1936 Steve Witt signed a quit claim deed giving the property to his wife Anna as her separate property. Mrs. Witt continued to live in the house after her husband's death until 1975 when the house was vacant. Witts had lived there for a total of 56 years.
On October 3, 1973 Anna Witt gifted the property to her son Earl B. Witt and his wife Arlyne "for love and affection".  On March 28, 1975 Earl and Arlyne Witt signed a contract for sale of the property to Jerry R. and Peggy Evans for $12,900. On January 12, 1977 Jerry Evans signed a quit claim deed giving Peggy Evans sole ownership of the property. On June 7, 1977 Peggy Evans sold it to Leo O. and Agnes L. Lapke. On September 22, 1995 the Lapkes agreed to a 10 foot easement along the centerline for the installation of aerial communication lines. They continue to occupy the property in 2001.
Construction of the House:
The Walla Walla County Assessor's Office states that this house was built in 1900. This is unlikely because three lots sold in 1901 for $700 and in 1909 for $4500. Though no building permits were required until 1907 the likely builder was Samuel King. When he purchased the property in 1901 his residence was listed as 123 1/2 W. Main, the location of his office. In 1902 his residence was listed in the city directory as 804 N. Main. The house was shown on the 1905 Sanborn Fire Map. Therefore it is reasonable to assume the  house was built shortly after King's purchase of the land in August, 1901 in order to occupy it by 1902. King sold to Isabella Miller in February 1909 and a permit was issued on March 19, 1909 for construction of a frame barn costing $200.
In 1911 a permit was given to I. Miller for a $1500 structure next door to this house at 808 N. Main Street. Walter Miller lived there until 1926 
References:
Bennett, Robert A., Walla Walla Portrait of a Western Town 1804-1899, Pioneer Press,  Walla Walla, 1980.
Bennett, Robert A., Walla Walla A Town Built to be a City 1900-1919, Pioneer Press,  Walla Walla, 1982.
Lyman, Professor W.D., An Illustrated History of Walla Walla County  1901.
Sanborn Fire Maps: 1884-1905 (with updates until 1950).
Walla Walla City Directories: 1880-present (various publishers–not all years).
http://ww2020.net/wp-content/uploads/804_N_Main.jpg
150
200
Mary Meeker
http://ww2020.net/wp-content/uploads/2011/12/ww2020_logo.png
Mary Meeker
2001-09-01 17:27:13
2014-02-06 12:17:26
History of 804 North Main Street, Walla Walla, WA