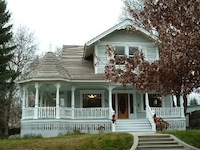 Title and Occupant History
22 Oct 1902 & 23 July 1903:  Area known as Green Park today was a U.S. land grant to Mary F. Green.
20 Feb 1907:  Property known as lot 10, block 7 (later to become 803 Valencia) deeded to Silas W. Smith for $950 in gold coin.  Deed stipulated that only a single-family dwelling for a minimum of $2000 might be built.
1 Nov 1911:  Millard F. Smith receives U.S. patent(?) for lot 10 in block 7.
3 May 1916:  Lot 10, block 7 deeded to Gertrude L. Bendix  for $1.00.
16 Apr 1917:  Lot 10, block 7 deeded to Elbert Smith and Marjorie C. Smith, his wife, for $1.00.
12 May 1917:  Elbert Smith had Chas. Stalter(?) build a dwelling at 803 Valencia for $2000–the stipulated minimum in deed of 1907.  House apparently was built with three bedrooms upstairs and an open porch upstairs facing east.  At some time this porch was closed in to make a fourth bedroom upstairs.  There was only one large bathroom and it was downstairs.
26 Sep 1918:  Lot 10, block 7 deeded to heirs, Charles M. Taylor and Nannie E. Taylor, his wife, for $1.00.
18 Nov 1922:  Lot 10, block 7 deeded to Estella Smith, whose husband is Milan W. Smith, for $4000.
12 Sep 1924:  Lot 10, block 7 conveyed and quit claimed to Nannie E. Taylor, a widow.
17 Dec 1928:  Lot 10, block 7 deeded to J. M. Henderson and Ellen Henderson, his wife, for $1.00.
7 Mar 1945:  Lot 10, block 7 deeded to Theodor Rich, his wife is Lillian B. Rich, for $10.00.
1951:  803 Valencia (lot 10, block 7) sold to Richard T. Smith.
3 Jun 1955:  803 Valencia sold to Warren M. Center for $10,000.
18 Apr 1985:  803 Valencia sold to Wendell and Nancy Greenwald for $46,500–added sink and toilet upstairs, gas furnace in basement, gas furnace and air conditioner in attic, cleared a lot of bushes out of the yard, built stone wall facing Alvarado, partially built wooden fence, bought claw-foot bathtub and left it in backyard.
23 May 1985:  Nancy Herres dissolved her share of 803 Valencia.
13 Nov 1990:  803 Valencia sold to Thomas R. Tate, Jr. for $60,000–added shower upstairs, tore out original kitchen cupboards and tin bathtub encased in wood, installed claw-foot bathtub in downstairs bathroom.
29 Aug 1991:  803 Valencia to Dennis J. and Sandra D. Cannon for $85,000–created one bedroom out of two plus walk-in closet, extended porch down south side with gazebo at southeast corner, tore out most of the crumbling shelving in the basement and painted basement walls and floor.
17 Jul 2000 – 31 May 2001:  Sandra Cannon replaced former garage and concrete steps from sidewalk with new ones
Sandra Cannon 4/15/2002
http://ww2020.net/wp-content/uploads/803_Valencia.jpg
150
200
Site Manager
http://ww2020.net/wp-content/uploads/2011/12/ww2020_logo.png
Site Manager
2002-04-15 17:24:38
2014-01-23 01:09:30
History of 803 Valencia Street, Walla Walla, WA