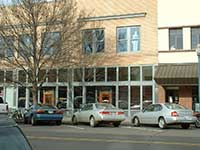 Property Description:
Beginning at a point in the Northerly line of Main Street in the City of Walla Walla, State of Washington, which point is 53.00 feet Westerly measured along said Northerly line of Main Street from the point of intersection with the Westerly line of Second Avenue North in said City; thence South 60º10´ West, along said Northerly line of Main Street, a distance of 57.50 feet; thence North 29º50´ West 120 feet to the Southerly line of the alley in Block 2 of the City of Walla Walla, according to the official plat thereof of record in the office of the Auditor of Walla Walla County, in Book A of Plats at Page 1; thence North 60º10´East 57.50 feet; thence South 29º50´East 120 feet to the point of beginning.
EXCEPTING the Easterly 30 feet therefrom.
Situated in the City and County of Walla Walla, State of Washington. A.P.N. 36-07-20-77-0217
Title History:
Washington Territory was created in 1853. The new legislature created Walla Walla County in 1854 which stretched from the crest of the Cascade Mountains to the crest of the Rocky Mountains in the present states of Washington, Idaho and Montana. In 1855 a treaty council was held on the banks of Mill Creek at the present site of Walla Walla to purchase land from the Indians. The Yakimas, Cayuses and Walla Wallas were dissatisfied with the treaties and war followed. Missionaries, former French-Canadian employees of the Hudson Bay Company trading post at Wallula, and soldiers at the military Fort Walla Walla were the primary European occupants of the area prior to 1859 when it was opened for settlement. All of the land in this area was acquired from the Cayuse and Walla Walla Indian tribes by the U.S. Government in a treaty signed on June 9, 1855 in Walla Walla, and ratified on March 8, 1859 by President James Buchanan.
Walla Walla was originally laid out by County Surveyor H. H. Case in 1859, before its formal incorporation as a city in 1862, as a one-quarter mile square with its eastern side centered on the point where Main Street crossed Mill Creek (at roughly the point where it does now).  The City of Walla Walla received  a Trustee Townsite from the U. S. Government which consisted of 80 acres issued on July 20, 1869 by the Vancouver, W.T. District Land Office.   Main Street originally followed the old Nez Perce Indian Trail. Consequently the streets leading off of it were at right angles to it, and were not in a north-south orientation. This was corrected as the city moved eastward which gave Walla Walla its peculiar street pattern with the three street intersection at Palouse, Boyer and Main Streets. To the original plat, additional parcels were annexed from time to time, usually bearing the name of the land owner of record at the time the additions were made.
This property is located near the earliest settlement of Walla Walla. Its complicated title history predates the Walla Walla land office and the earliest surviving plat of the City (1867). It consists of two separate title files with many of, but not all, the same owners. The property lines do not match the lot lines.The eastern portion of this property has 30 frontage feet (except when it is shown as only 20 feet). The western portion has 27.6 front feet for a combined street width of 57.5 feet. This report will attempt to cover the title of both portions of  #8 W. Main. There are also numerous  duplications of early legal actions on this property with #14-16 West Main which will be covered in a separate report. 
Walla Walla land records were held in the Washington Territory Land Office in Vancouver, WA until the county auditor began recording them locally. The first entry in the local title records shows that Emil Mayer (Meier) sold the eastern 20 feet of this property to Joseph Helmuth on May 7, 1861. The next entry shows a Quit Claim Deed from D. S. Baldwin and E. B. (Ellias B.) Whitman to James Van Dyke and E. P.  (Ephraim P.) Whitman on February 12, 1862 for Lot 8 and 9, Block 2 starting 75 feet west of Second Street and running 75 feet east along Main Street for $5000. It was further described as "the lot now occupied by Baldwin & Whitman and Van Dyke & Whitman, I. C. Levey and Justin Demange." Mr. E. B. Whitman was elected the first mayor of the city of  Walla Walla in 1862 and was a business partner with the Baldwin brothers in their merchandizing business and with Mr. Van Dyke in a livery stable, as well as insurance and real estate businesses. 
On August 15, 1862 James Van Dyke and E. P. Whitman signed a Quit Claim Deed to David S. Baldwin and E. B. Whitman for a 75´ x 75´ parcel on Lots 8 and 9 of Block 2 for $1500. On January 9, 1863 E. B. and Maria Whitman signed a Warranty Deed to D. S. Baldwin for a half interest in four buildings occupied by Baldwin & Whitman, D. W. Dickinson, Schwabacher Brothers and M. Seituer. On December 21, 1863 D. S. Baldwin sold the western portion of this property (27.25 front feet property) to E. B. Whitman for $3000. On July 5, 1867 the City of Walla Walla re-platted the original town, including this property. On September 20, 1878 the City of Walla Walla gave a deed to Joseph Helmuth for a "certain fraction of Lot 9 and 10, Block 2" for $10. Helmuth operated a bakery/brewery on the corner of Second and Main. On January 1, 1872 E. B. and Maria Whitman deeded 27.6 front feet to Odile (Adelia?) Helmuth for $3500.  Following her death her heirs transferred the 27.5´lot to her sister, Therese Fargali, in Portland on March 22, 1877. On September 20, 1878 the heirs of Joseph Helmuth sold the eastern 30 feet of this property to Thomas Quinn. On August 23, 1883 Therese Fargali sold the western 27.5 feet lot to Thomas Quinn for $1. On October 27, 1883 the heirs of Joseph Helmuth in Alsace, German Empire signed a Quit Claim Deed on this property to Thomas Quinn. On January 11, 1899 Thomas Quinn died but his wife Clara continued to operate their businesses.
On March 1, 1910 a Party Wall Agreement was signed by Clara Quinn, widow of Thomas Quinn, and John H. Pedigo. This was at the back of this building since Pedigo built the building on Second Avenue over Mill Creek. Clara Quinn died in 1933 but there was nothing in the title history until August 12, 1950 when there was a conditional sale of personal property from Henry P. and Helen B. Condon to J. T. and Mildred Snelson for $8000. A lengthy second Party Wall Agreement was signed on September 6, 1956 between W. C. Dooley and James. C. Nelson. On November 11, 1961 James C. Nelson and Joan N. Coffin signed a deed to this property to Hilmer F. and Doris A. Johnson. On August 5, 1976 Doris A. Johnson, widow, sold this property to Ivan R. and Shirley Jacobsen, Scott and Karen McKnight and Phillip K. and Jeanne C. Smith. On August 2, 1983 Jacobsen and Smith (doing business as S. I. P. Associates) gave a deed to Tallman's for the eastern 30 feet (that portion excluded by the legal description of this property, not to be confused with the adjacent 30 foot lot that is the subject of this report) including common access to the stairway to the second floor.  On October 1, 1987  Phillip and Jeanne Smith sold the western portion of this property to Ivan and Shirley Jacobsen. On February 28, 2002 Ivan and Shirley Jacobsen sold this property to Dennis R. and Sharon Poffenroth and James K. and Linda J. Johnson. On June 7, 2002 Poffenroths and Johnsons transferred this title to Nez Perce Trail, LLC.
Occupant History:
The first occupants of the present two-story building shown on the 1894 fire map sold stationary, candy, cigars and fruit. By 1905 these had been replaced by a bicycle shop in back and a saloon with offices on the second floor. There are no available date-specific fire maps after 1905 (only cut-and-paste changes without dates). Thomas Quinn operated a harness and saddle shop next door in what is now Tallman's Drug building and in 1882 had 10 employees. While he owned this building there is no record of his using it in his leather business.
Construction of the Building:
In 1881 the two-story O'Donnell Hardware building (the western-most portion of the Valley Vision building) and the two-story Thomas Quinn Building are shown in a lithograph of this block, but all the buildings in between were one-story wooden structures. The same is true on the 1889 birdseye map of Walla Walla. The current Main Street view of  #8, 14, and 16 all have a similar facade. However, from the back of these buildings #8 appears to be a separate building with a slightly different roof line and window/door pattern in the old bricks.  The 1894 Sanborn Fire Maps show all the present buildings in this block. There is nothing in the title records to indicate which year between 1890 and 1894 they might have been constructed. Building permits were not kept until 1907. Thomas and Clara Quinn or their heirs owned this property from 1883 to 1950. Thomas Quinn owned this property with his wife Clare during the period this building was apparently constructed, 1890-1894, and should therefore be listed as the builder, circa 1892.
References:
Ancestry.com
Bennett, Robert A., Walla Walla  Portrait of a Western Town 1804-1899, Pioneer Press,  Walla Walla, 1980.
Lyman, Professor W.D., An Illustrated History of Walla Walla County  1901.
Sanborn Fire Maps: 1884-1905 (with updates until 1950).
Walla Walla City Directories: 1880-present (various publishers–not all years).
Whitman College Archives.
Mary E. Meeker
;
Walla Walla 2020 Research Service
PO Box 1222, Walla Walla WA 99362
July, 2012
http://ww2020.net/wp-content/uploads/8_W_Main.jpg
150
200
Mary Meeker
http://ww2020.net/wp-content/uploads/2011/12/ww2020_logo.png
Mary Meeker
2012-07-01 17:51:33
2017-02-05 12:17:54
History of 8 West Main Street, Walla Walla, WA