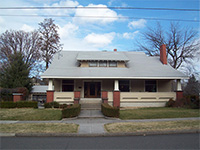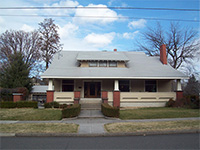 Legal Description (abbreviated):
Southerly 125 feet of lot 14 in Block 3 of Isaacs' 3rd Addition to the City of Walla Walla.
Title and Occupant History:
May 23, 1863–John Haley sold "26 81/100ths acres more or less" in section" 21, township 7 N., range 36 E. to "William Patten and wife" for $100. (Deed Book C, Page 112; hereinafter C/112)
January 20, 1864–William H. and Elizabeth H. Patten, husband and wife, sold 80 acres in sections 20 & 21, township 7 N., range 36 E. to Henry P. Isaacs for $2000. (D/146, see also E/95 and 77/258)
Henry P. Isaacs recorded the plat of lsaacs' 3rd Addition to the City of Walla Walla on December 19, 1899. An amended plat was recorded May I, 1900. (73/636)
Henry P. Isaacs started several flour mills in eastern Washington, in Idaho and in Oregon (1858 in Ft. Colville; 1862 in Walla Walla; 1864 in Boise; 1865 in Middleton, Idaho; 1883 in Prescott; and 1898 in Wasco, Oregon). W. D. Lyman referred to him as lithe foremost miller on the Pacific coast" in his History of Walla Walla County (W. H. Lever, Publisher, 1901, p. 313). He also successfully experimented with almost every variety of fruit and vegetable grown in the northern temperate zone and was a "booster" for Walla Walla, encouraging rail lines in the valley and introducing the bill that established the state penitentiary in Walla Walla. He died July 14, 1900.
January 17, 1902–the heirs of H. P. Isaacs sold lot 14 to W. D. Lyman for $1 (and other valuable consideration). (81/550)
W. D. Lyman joined the faculty of Whitman College in 1888 as a professor of English literature and history. He continued as professor of history until his death in 1920. Lyman Hall, built in 1923 as a men's dorm, was named for him.
March 19, 1902–W. D. and Martha C. Lyman, husband and wife, sold lot 14 to George Hudson for $2792.50. (80/242)
December 12, 1905–George G. and Delia A. Hudson, husband and wife, sold lot 14 to Sarah E. Fall for $5. (99/284)
November 2, 1909–Sara E. Fall, widow of John E. Fall, sold the southerly 125 feet of lot 14 to John H. Pedigo for "$1 and other valuable consideration." (112/436)
August 14, 1912–John Pedigo applied for building permit #1350 to build a 7 room. residence on the corner of Boyer and Madison Streets. George. Schriner was to build the house for $7200. (Building Permit Book for 1907-13, page 168, Whitman College Archives)
John H. Pedigo is first listed at the address in 1914.  The previous city directory of 1912-13 did not list him at the address. He is listed in the 1914 directory as a lawyer in the firm of Pedigo & Smith, 603 Baker Building.
Construction of the House: From the permit and the non-listing in 1912-13, the house could've been built late in 1912, and missed the deadline for the directory, or in 1913.
June 25, 1912–John H. Pedigo and Clara H. Pedigo, husband and wife, recorded an agreement that in the event of either's death, the other would receive all interest in properties they owned. (#112829)
April 2, 1936–John H. Pedigo, a widower, sold the property to O. L. and Margaret Renn, husband and wife, for "$10 and other good and valuable considerations." (#269396)
The 1939 city directory lists O. L. Renn as owner of the O. L. Renn Insurance Co., 5 S. 2nd, with a residence at 741 Boyer.
August 9, 1943–Margaret Renn, individually and as executrix of the will of Orien L. Renn, deceased, sold the property to Jessie Travis for $8,500. (#273130)
The 1946 city directory lists Jessie Travis and her husband Robert Travis, an X-Ray technician, as residing at 741 Boyer.
November 6, 1969–Jessie J. Travis, a widow, quit claim deed the property to her trustee, Robert Wilson. (#504816)
Robert Wilson was her grandson. He graduated from Whitman College in the mid-1960s and currently owns and operates the University Bar & Grill in Seattle.
September 26, 1991–the trust was terminated and the property quit claim deeded to Robert Wilson and Mary Wilson, representatives of the estate of Jessie J. Travis. (#9106711)
May 13, 1994–Robert 1: Wilson and Mary V. Wilson, representatives of the estate of Jessie J. Travis, deceased, sold the property to Stanislaw Leja, Jr., and Catherine Leja, husband and wife. (#9405848)
prepared by Michael W. Smith, 3/95
http://ww2020.net/wp-content/uploads/741_Boyer.jpg
150
200
Site Manager
http://ww2020.net/wp-content/uploads/2011/12/ww2020_logo.png
Site Manager
1995-03-01 01:19:08
2014-05-17 07:23:51
History of 741 Boyer, Walla Walla, WA