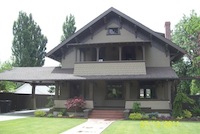 Property Description:
All of Lot "L" of Truax Block, according to the Amended Plat of a part of Park Addition to the City of Walla Walla of record in the office of the Auditor of  Walla Walla County, State of Washington, in Book "B" of Plat at page Five (5).
Title History:
Washington Territory was created in 1853. The new legislature created Walla Walla County in 1854 which stretched from the crest of the Cascade Mountains to the crest of the Rocky Mountains in the present states of Washington, Idaho and Montana. In 1855 an Indian council was held on the banks of Mill Creek at the present site of Walla Walla to purchase land from the Indians. The Yakima, Cayuse and Walla Walla tribes were dissatisfied with the treaties and war followed. Missionaries, former French-Canadian employees of the Hudson's Bay Company trading post at Wallula, and soldiers at the military Fort Walla Walla were the primary European occupants of the area prior to 1859 when it was opened for settlement. All of the land in this area was acquired from the Cayuse and Walla Walla Indian tribes by the U.S. Government in a treaty signed on June 9, 1855, in Walla Walla, and ratified on March 8, 1859, by President James Buchanan.
Walla Walla was originally laid out by County Surveyor H. H. Case in 1859, before its formal incorporation as a city in 1862, as a one-quarter mile square with its eastern side centered on the point where Main Street crossed Mill Creek (at roughly the point where it does now).  The City of Walla Walla received  a Trustee Townsite from the U. S. Government which consisted of 80 acres issued on July 20, 1869, by the Vancouver, Washington Territory, District Land Office.   Main Street originally followed the old Nez Perce Indian Trail. Consequently the streets leading off of it were at right angles to it, and were not in a north-south orientation. This was corrected as the city moved eastward which gave Walla Walla its peculiar street pattern with the three street intersection at Palouse, Boyer and Main Streets. To the original plat, additional parcels were annexed from time to time, usually bearing the name of the land owner of record at the time the additions were made.
The first entries specific to this property made at the Walla Walla Land Office were all mortgages. The Bureau of Land Management records indicate that this property was homesteaded on May 21, 1870 by Alvin B. Roberts who came to Walla Walla from Portland, Oregon in 1859 and immediately purchased a claim from Tom Hughs for $250 on land just south of Main Street. He fenced his new property and put up a canvas house which allowed him to hold it until the government surveyed it in 1860. He had brought some grafted fruit trees from Portland and was able to sell them in 1860 for $1.00 apiece. He realized there was money to be made in fruit trees and became engaged extensively in the nursery business as well as real estate. Roberts Addition was platted by A. B. Roberts and Martha E. Roberts on January 20, 1871 (Plat Book A, Page 21, Walla Walla County Auditor's Office, Walla Walla County Courthouse).
On January 20, 1871 A. B. and Martha E. Roberts sold the north half of Block 10 plus Block 30 in Roberts Addition to Sewall Truax for $1150. Truax subsequently recorded an amended platt for the Truax addition. On September 10, 1880 Sewall and Sarah E. Truax sold this lot to Alice Marie Shellworth for $525. On February 11, 1893 Alice Marie (Shellworth) Kingsley and her husband Robert E. Kingsley sold this property with a house to A. R. Dorwin for $3000.
On November 1, 1906 A. R. and Julia E. Dorwin sold this property to John Ankeny for $3800. At the turn of the century Walla Walla history centered on "the As and the Bs" referring to the Ankeny and Baker families. Both men were bankers with extensive influence. Levi Ankeny was born in 1841 in Missouri and moved to Portland, Oregon in 1859. He married Jennie Nesmith, daughter of U. S. Senator James Nesmith. They had five children: Nesmith, John, Robert, Charity and Harriet. Levi was in the cattle business in Idaho until he opened one of Lewiston's first general stores which supplied miners in the 1860s gold rush. His store provided a safe place for early banking, much the way Dorsey Baker's store had done in Walla Walla. He was mayor of Lewiston in the 1870s. Between 1878 and 1921 Ankeny was president of seven different banks in Washington and Oregon. Levi organized the First National Bank of Walla Walla in 1882. His son John played on the Whitman football team in 1901. John married  Mary Ridpath, daughter of a State Senator from Spokane. They had two daughters, Jane and Frances.
On January 7, 1935 John D. and Mary R. Ankeny gave this property to their daughter Jane Ankeny Gose for "love and affection." On April 12, 1948 Jane and Thomas Gose sold this place that had been her home for nearly four decades to James B. and Norma E. Craver for a stated amount of $10. In connection with that sale, on August 6, 1948 Thomas P. Gose gave a Quit Claim Deed for this property to his wife, Jane Ankeny Gose "for love and affection." Following his death, James B. Carver's estate sold the home to J. Phillip and Lois Trousdale on June 3, 1952 for $12,605. For the next 43 years the Trousdales had many financial problems involving this property, ending with foreclosure on June 16, 1995 by the Educational Employees Credit Union for $112,565. The credit union sold to James M. Hartman who transferred it to C. J. Worm, Jr. of Seattle. Worm signed a Warranty Deed in favor of  Ron and Ruth Agresti on July 11, 1997. The Agrestis assigned the rents to Daryl Schreiner and then sold this property to the YMCA on October 29, 1998 for "$10." The YMCA sold the house on this property to Kevin Davis for $1 with an agreement that he would move the house to a new location. The house was moved to 740 Whitman Street in 2008 where it had an extensive upgrade that emphasized the house's historic characteristics.
Occupants of the House:
The first entry for this house in the Walla Walla City Directory was 1892 when Augustus R. Dorwin was listed as residing at 133 Park Street. The properties on this street were subsequently renumbered and this became 343 S. Park in 1900. Mr. Dorwin worked for E. M. Aeils, General Merchandise, at the northwest corner of Fifth at Main Streets in downtown Walla Walla. Dorwin's listings in 1893 and 1894 city directories are the same. In 1898 and 1900  he still lived at this location but worked in "mining stocks." In 1902 he sold cigars at 8 W. Main. In 1904 he was a processor at Blalock Fruit Company. In 1905 and 1907 he was a clerk for lawyer W. H. Upton, in the Die Brueke Building at First and Main Streets. His wife Lucy E. was also listed at this address at that time. Women had not been listed in earlier additions.
John Ankeny purchased this property in 1906 but was not listed in the city directory as living here until 1909. However, his father, U. S. Senator (1903-1909) Levi Ankeny lived next door in a large house at 404 Crescent Street which existed prior to 1876. John worked as a teller in his father's First National Bank (organized 1882). In 1909 John Ankeny moved across the alley from his father's house to this house at 343 Park Street. Besides being an assistant cashier in his father's bank, John also was president of Washington Printing and Book Manufacturing Company. John married Mary Ridpath from Spokane and they lived in this house until 1922. Levi died in 1921 at which time John became president of First National Bank. The following year John and Mary moved to 808 Palouse, a grand home built by George Whitehouse, owner of Whitehouse Crawford Lumber Company. John and Mary Ankeny lived there from 1923 until John's death in 1946. In 1929 John and Mary's daughter Jane had married Thomas P. Gose, a lawyer, and they moved into 343 Park Street and lived there until 1946 at which time she and her husband moved into her widowed mother's home at 808 Palouse where they lived until 1956. Following Levi Ankeny's death in 1921 his big house on the northwest corner of the Park and Crescent Streets block was used as an apartment house with 7 renters in 1933. The west side of Levi's property became the location of the Park Drive-In Market, a grocery store owned by the Diettrich Brothers, prior to it being owned by the Walla Walla School District.
In 1948 James B. and Norma E. Craver purchased and lived at 343 S. Park Street. He was a public accountant with an office in the Barrett Building. Their children Joanne and Norman lived there also. In 1952 Craver died and his estate sold this house to J. Phillip and Lois Y. Trousdale who lived here for the next 45 years. J. Phillip was the maintenance foreman at the Walla Walla City/County Airport. Later he went to work  in maintenance at Continental Can Company. 1982 was the last year he was listed as living there. However, Lois worked as a secretary at Superior Roofing until she retired and continued to live there until 1997, despite a long history of financial problems involving this property. In 2000 this house was rented to Whitman students and received minimal maintenance.
Construction of the House:
This construction of this house poses something of a mystery. It appears to be a classic Craftsman style of substantial proportions, consistent with a construction in 1906 by John Ankeny, son of a U. S. Senator and local bank president. However, the Walla Walla City directory listed the Dorwin family as living at this address in 1892 and legal records confirm a house here in 1893. Sanborn fire maps also show a house with this approximate footprint existed in this Park Street location in 1894 and 1905. After 1905 the only Sanborn maps available are in large format books which were updated with cut-and-paste changes that are not dated specific to any one property. Since John Ankeny purchased this house in 1906 but was not listed in the City Directory as living in it until 1909 it is reasonable to assume that Ankeny did an extensive re-build between 1906 and 1909, giving this house its classic Craftsman appearance. No records were found to identify the architect but the use of  exposed beams, natural woods and elegant joinery reflect the style of Charles and Henry Greene, architects in Pasadena, California, at that time. This house has been restored accordingly. The Walla Walla County Tax Assessor's office gives a construction date of 1906 which probably best describes the main construction of this house. This construction was probably built on the foundation and portions of an earlier house built in 1892 by Alice Marie Shellworth Kingsley. No building permits survive from these years.
When this large house was moved from Park to Whitman Street in 2008 it started on an incredible journey. After it was moved off its foundations and the roof removed to fit under street wires it made a very complicated early morning trip north on Park Street to Alder, east on Alder to Division, south on Division to Whitman and west on Whitman to #740. There a new basement and foundation were constructed before the house could be set in place. The roof was returned to its proper place, a porte cochere added and a multitude of details were restored and enhanced to bring this 1906 Craftsman house back to and beyond its original beauty. All this was planned and implemented by designer Kevin S. Davis and completed in 2011.
References:
Andres, Penny, Walla Walla Her Historic Homes, Vol. I, 1991
Archive, Whitman College Penrose Library
Bennett, Robert A., Walla Walla  Portrait of a Western Town 1804-1899, Pioneer Press, Walla Walla, 1980
Bennett, Robert A., Walla Walla  A Town Built to be a City 1900-1919, Pioneer Press,  Walla Walla, 1982
BLM Land Patent Records
Hill, Jeff,  Development of History of Architecture in the City of Walla Walla 1862-1929, 1978 thesis (Whitman College NW collection)
Lyman, Professor W.D., Lyman's History of Old Walla Walla County, Vol. 1-2, 1918
Mountain View Cemetery, Walla Walla, Washington "Find a Grave"
Poppeliers, John C. What Style Is It? A Guide to American Architecture, John Wiley & Sons, 2003.
Sanborn Fire Maps: 1884, 1888, 1889, 1890, 1894, 1905 (with updates until 1950)
Walla Walla City Directories: 1880-2000 (various publishers–not all years)
Walla Walla County Assessor's Office: files + online
Washington Secretary of State, Legacy Project
U. S. Census records
Mary E. Meeker
;
Walla Walla 2020 Research Service
PO Box 1222, Walla Walla WA 99362
August, 2011
http://ww2020.net/wp-content/uploads/740_Whitman.jpg
134
200
Mary Meeker
http://ww2020.net/wp-content/uploads/2011/12/ww2020_logo.png
Mary Meeker
2011-08-01 18:51:07
2017-02-05 12:18:47
History of 740 Whitman Street - formerly located at 343 South Park Street - Walla Walla, WA