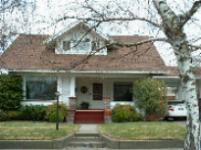 Legal Description
The West 33 feet of Lot 16 and the East 24 feet of Lot 15 in Block 1 of Isaac's Park Addition to the City of Walla Walla, according to the official plat thereof of record in the office of the Auditor of Walla Walla County, Washington, in Book C of plats at page 37.
Title History
Walla Walla was originally laid out by surveyor H.H. Case in 1859, even before its formal incorporation as a city in 1862, as a one quarter mile square oriented N-S, E-W with its eastern side centered on the point where Main Street crossed Mill Creek (at roughly the point where it does now). To this original area additional parcels were annexed from time to time, usually bearing the name of the landowner of record at the time the additions were made. 721 University is located in Isaacs Park Addition, one of the several additions developed by Henry P. Isaacs and Lucie Isaacs in the center part of Walla Walla, as shown in the 1909 City Atlas.
The first recorded transaction involving 721 University was on May 23, 1863 when John Haley sold "all that portion of the SW 1/4 of section no. 21 in Township no. 7, County of Washington, Washington Territory" which was 26.81 acres "more or less" for "consideration $100." The buyers were William H. Patten and Elizabeth A. Patten. Shortly thereafter on January 20, 1864 the Pattens sold the parcel to Henry P. Isaacs for $2000 in gold coin. On April 6, 1866, the full quarter section of 80 acres, including the previous 27 acres, was sold by the Pattens to the Isaacs for an additional $2000. This transaction reappears on November 22, 1901 when the heirs of the Pattens and Isaacs dealt with an error in the description of the land and a "fatal defect" in the deed which had not been signed by Elizabeth Patten. It had only been signed by her husband, W.H. Patten. For $1.00 the heirs of the Pattens filed a quit-claim deed to the heirs of the Isaacs. On April 7, 1868 there is record of a mortgage of $5000 in favor of Dorsey S. Baker for the 80 acre piece which included this property and Isaacs' Excelsior Flour Mill. Isaacs was influential in the development of Walla Walla as a wheat growing area. Lyman in his History of Walla Walla County states that Isaacs "demonstrated to the farmers that wheat could be produced profitably on the hills and uplands which in those early days had been given over to stock-raising." He built numerous flour mills throughout the Northwest and "his knowledge of the manufacture and handling of flour became proverbial and he was recognized as an authority on all matters pertaining thereto." He found markets for wheat in the Orient, especially China. The Isaacs and their son J.C Isaacs also founded the Walla Walla Water Company, providing Walla Walla with a reservoir, ditches, conduits and the possibility of irrigation of crops. The right to utilize "subterranean" water is included in documents in 1886 and 1896 pertaining to 721 University.
On July 6, 1903 the Isaacs heirs formed the H.P. Isaacs Company (H.P. had died in 1900 with no will) and the development of Isaacs Park Addition began. Its boundaries are from Isaacs Avenue on the north, Madison St. on the West, Boyer Avenue on the south and Division Street on the East, a parcel of 5.7 acres.  In the information pertaining to 721 University, February 16, 1906 marks the first appearance of today's property description when the H.P. Isaacs Co. sold the lot to V.Z. Argo for $680. Several Argos are listed in City Directories but there was no reference to V.Z.  The next transaction was the sale from Argo to W.M. Tooley and Alice Maud Tooley on January 11, 1908. Wells M. Tooley is listed in City Directories as a "builder" residing at 544 Balm.  The Tooleys sold the lot for $1500 on September 21, 1909 to Fred A. Colt and Anna B. Colt. Fred Colt is listed as residing at 711 Pearson in 1909, employed as a bookkeeper for the Interior Grocery Co.  In previous research Colt's name appears as the builder or developer for several Craftsman style houses but also the Queen Anne style house at 220 Newell in 1893, which seems to mark the beginning of his real estate career. On September 24, 1909, Fred Colt applied for a building permit for a dwelling at "University near Division" estimated to cost $2500.  Colt's role in real estate at this point appears to be "developer."  Stewart Cunningham is listed on the 1909 building permit as the "builder."  He worked with Colt on several properties in this area and lived at 213 Bellevue.
On August 1, 1910 the Colts sold 721 University for $5000 to J. Carter Smith and Minnie Smith, making them the first residents of the house.  In the 1910-1912 City Directories, J. Carter Smith is listed as County Treasurer.  In the 1915 City Directory his occupation is given as "insurance" with an office in the Drumheller Building.  On May 2, 1918 the Smiths sold the house to Elza M. Baker and Sadie E. Baker.   Elza Baker is listed as a farmer in the City Directories.  In 1920 the property was valued at $6060. The Bakers divorced in August of 1934.  Previously on January 19, 1934 Elza Baker filed a Quit Claim Deed in favor of Sadie E. Baker.  Sadie Baker's marital status is unclear in house documents.  August 1934 documents refer to her as a widow rather than a divorcee. However, Elza Baker did not die until 1962.  Admitting that one was divorced seems to have been hard to do in that era.  There was no residency information for 721 University from 1935 to1937. Sadie Baker's address in 1936 was 1036 Boyer.  In September of 1937 Sadie Baker sold the house to Elza Baker, her former husband, for an unstated amount. It seems to have been used as a rental until 1944. The house was rented in 1941 to Mrs. Alice Beatty, widow of Oliver M. Beatty, and her two sons. Elza Baker remarried and he and Stella G. Baker owned the house until 1944 when they divorced.  On May 10, 1944 they sold the house for an unstated amount to Albert A. Von Nahmen, a dentist in the Drumheller Building, and Ruth W. Nahmen, who resided at 514 Washington St. Their ownership was short-lived as they sold the house to Fred E. Haupt and Hazle Haupt on August 6, 1944.  Fred E. Haupt was a wholesalesman for Pacific Fruit and Produce Co, 1008 W. Main in 1944 and 1946 City Directories.  The 1940's was probably when the upstairs apartment was created.  Fred C. Haupt is listed then as the manager of Fred Becker Motors Service Station and Ardys Haupt is a nurse, residing in "#2."  In 1957  Hazle L. Haupt, serving as executor for her deceased husband, Fred E. Haupt , sold 721 University to Fred and Laura Jefferis for an unstated amount.  In 1960's and 1970's City Directories, Fred Jefferis is listed as Realtor and owner of Jefferis Realty located at 1430 E. Isaacs. In the 1968 City Directory, Laura Jefferis is listed as a saleslady at Weisfields Jewelry.  In 1962 John L. Adams, salesman for Rainbow Air Purification Units, and Bobette Adams, sales clerk for Weisfields Jewelry are listed as residing in #2, the upstairs apartment.  In  the 1964 City Directory,  Raymond Anderson, an engineer for the Corps of Engineers, began his nearly 30 year residency in the upstairs apartment.
On September 8, 1975 Fred E. and Laura Jefferis sold the house to Charles M. and Jane  Drabek for $38,000.  Charles Drabek is the Arthur G. Rempel Professor of Biology at Whitman College and Jane Drabek was a Walla Walla Community College Developmental Education instructor for many years.
Construction of the House
The Walla Walla County Assessor's Office gives 1916 as the year the house at 721 University was built.  That date is not correct.  The construction permit for the house was issued in September of 1909 when Fred A. Colt, developer, purchased the lot for $1500 from Wells M. Tooley and Alice Maud Tooley.  Although Tooley was a builder, the price to Colt indicates there was no house on the property. At this point in his career, Fred Colt was a developer, who partnered with Stewart Cunningham, a builder, on several Craftsman style houses in this area.  The first residents were J. Carter and Minnie Smith, who bought the new house for $5000 in August of 1910, which was quite a high price for this era. This  research concludes that its construction was completed in 1910 by Colt as owner and Cunningham as builder.
721 University is a very nice example of a Craftsman style bungalow which was a popular style of architecture for houses in the early 1900's, now reappearing in new construction. This style is a product of the Arts and Crafts movement, which originated in England in the late 1890's under the leadership of William Morris.  Morris's intent was to design affordable, less decorative houses that would be harmonious with nature by using such features as large windows and front porches. This was quite a contrast with the earlier Queen Anne style.  The Drabeks have made this a very attractive home, enhancing the original Craftsman style with lighter colors and Southwest Indian rugs and art.
Resources used for this report:
A Field Guide to American Houses by Virginia and Lee McAlester
Penrose Library Northwest Archives files, Whitman College
Pioneer Title Company documents for 721 University
Sanborn Fire Maps, 1894-1938
Walla Walla City Directories 1880-2000
Walla Walla County Assessor's records
Walla Walla County Vault's Grantor/Grantee records
Walla Walla Public Library Northwest History room
  Katherine H. Weingart Walla Walla 2020 Historical Research P.O. Box 1222 Walla Walla WA 99362 February 2007
http://ww2020.net/wp-content/uploads/721_University.jpg
150
201
Site Manager
http://ww2020.net/wp-content/uploads/2011/12/ww2020_logo.png
Site Manager
2007-02-01 18:40:39
2014-01-20 01:20:44
History of 721 University Street, Walla Walla, WA