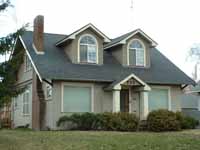 Legal Description:
Lot 12 and the westerly 40 feet of Lot 13 in Block 2 of Isaacs Park Addition to the city of Walla Walla, as recorded in Volume C of plats, page 37.
Title History:
Walla Walla was originally laid out by surveyor H.H. Chase in 1859, even before its formal incorporation as a city in 1862, as a one quarter mile square oriented N-S, E-W with its eastern side centered on the point where Main Street crossed Mill Creek (at roughly the point where it does now). To this original area additional parcels were annexed from time to time, usually with the name of the land owner of record at the time the additions were made. 721 Pearson is located in what is shown in the 1909 City Atlas as Isaacs Park Addition, one of several additions developed by Henry P. and Lucie Isaacs in the central part of Walla Walla.
The first recorded transaction involving 721 Pearson was on May 23, 1863 when John Haley sold "all that portion of the SW 1/4 of section no. 21 in Township no. 7, County of Walla Walla, Washington Territory" which was 26.81 acres "more or less" for "consideration $100." The buyers were William H. Patten and Elizabeth A. Patten. Shortly thereafter on January 20, 1864 the Pattens sold the parcel to Henry P. Isaacs for $2000 in gold coin. On April 6, 1866 a larger section of 80 acres (which seems to have included the previous 26 acres) was sold by the Pattens to the Isaacs for an additional $2000. This transaction reappears on November 22, 1901 when the heirs of the Pattens and Isaacs dealt with an error in the description of the land and a "fatal defect" in the deed which had not been signed by Elizabeth Patten. It had only been signed by her husband, W.H. Patten. For $1.00 the heirs of the Pattens filed a quit-claim to the heirs of the Isaacs. On April 7, 1868 there is record of a mortgage of $5000 in favor of Dorsey S. Baker for the 80 acre piece which included this property and Isaacs Excelsior Flour Mill. Isaacs was influential in the development of Walla Walla as a wheat growing area. Lyman in his History of Walla Walla County states that Isaacs "demonstrated to the farmers that wheat could be produced profitably on the hills and uplands which in those early days had been given over to stock-raising." He built numerous flour mills throughout the Northwest and "his knowledge of the manufacture and handling of flour became proverbial and he was recognized as an authority on all matters pertaining thereto." He found markets for wheat in the Orient, especially China. The Isaacs and their son J.C Isaacs also founded the Walla Walla Water Company, providing Walla Walla with a reservoir, ditches, conduits and the possibility of irrigation of crops. The right to utilize "subterranean" water is included in documents in 1886 and 1896 pertaining to 721 Pearson.
On July 6, 1903 the Isaacs heirs formed the H.P. Isaacs Company (H.P. had died in 1900 with no will) and the development of Isaacs Park Addition began. Its boundaries are from Isaacs Avenue on the north, Madison St. on the West, Boyer Avenue on the south and Division Street on the East, a parcel of 5.7 acres. On Pearson Street each lot was 50 feet wide. On February 13, 1905 the H.P. Isaacs Company negotiated an Agreement for Deed for Lot 12 with 40 feet of Lot 13 to Walter M. Ely and Nora Ingle Ely for $900 with $250 as a down payment and 8% interest on the unpaid principal. A Warranty Deed was issued to the Elys on April 30, 1906 by the Isaacs Company for $900 with these stipulations: "deed made on condition that the party….shall build a dwelling house at an cost of not less than $1500 … and shall not build any other buildings ….including such barns and outbuildings as are ordinarily used in connection with a dwelling house." There is no evidence that the Walter and Nora Ely built a house at 721 Pearson in 1906, the date given on the records in the County Assessors files. The Elys are listed as residing at 155 Thorne in the 1907 and 1908 City Directories. Unfortunately, there is no 1906 City Directory but on September 20, 1906 a Warranty Deed was issued from Maud Foster to Nora Ingle Ely for the lot on which 155 Thorne was built for $800. On October 17, 1906 a mortgage for $2500 was issued by Inter-State Building Loan and Trust Association to the Elys. In 1907 a $3000 mortgage was issued to them. It would appear that the Elys owned the lot at 721 Pearson but were busy building their home at 155 Thorne. Walter M. Ely was a physician and surgeon with an office in the Rees-Winans Building.
On July 31, 1908 the Elys sold 721 Pearson to Chester R. Offner and Laura Copeland Offner for $1800. Offner was a wholesalesman, foreman and clerk during his career at Walla Walla Produce Co. On October 1, 1908 Chester Offner was issued building permit #270 for the a two-story dwelling for $4000. The builder was J. McLean. The first time that Chester and Laura Offner are listed in city directories as residing at 721 Pearson is the 1909-1910 volume. In 1908 Chester Offner is listed as residing at the YMCA.
On February 16, 1920 the Offners sold this property to William E. Bowe and Alice C. Bowe. There is record of a $4000 mortgage issued on the same day. Bowe was listed as a rancher in the 1926-27 City Directory. The Rural Directory of 1927-28 indicates that he owned 1292 acres one mile southeast of Prescott. On November 29, 1933 the Bowes sold to Earl G. Olsen and Myrtle May Olsen  there is record of a $3000 mortgage with this transaction. The 1941 City Directory shows that Earl Olsen was manager of the Safeway Store in Walla Walla; the 1946 City Directory lists him as President of the Blue Mountain Syndicate now living at 637 E. Chestnut. The 1941 City Directory also lists Mrs. Amanda O.Hodgson, a widow, as residing at 721 Pearson.
On July 19, 1946 a Warranty Deed is recorded for a sale from the Olsens to Percy W. Irving and Elizabeth Irving. There is record of a $4000 mortgage but no information about sale price. Percy Irving is listed as an insurance salesman in the 1946 City Directory and as the manager of the Elks Club in several subsequent directories. In the 1958 City Directory he is listed as owning a 1952 Cadillac and in the 1960 City Directory he is listed as owning a 1958 Ford. In 1954 Marie Irving, a widow, listed as a waitress at 100F Home in 1946 City Directory, seems to have helped her son and daughter-in-law by providing $6500 enabling them be released from a mortgage. No building permit information for this era exists at the County Auditors Office, the County Planning Department or the Northwest Archives at Whitman College, but the house underwent renovation with the removal of a large front porch and large front dormer at some point. It might be possible that it was the Irvings who did this project based on the issuing of a mortgage some years after they had purchased the house. The revised (1931) Sanford Firemap shows that the house had a front porch across the front of the house and a back porch on one-half of the back on the east side.
On May 30, 1973 Percy W. Irving, now a widower, sold to Terry O. Wagner and Dorothy O. Wagner for $23,500. Terry Wagner was the Manager of the Pay N Pak Store in Walla Walla. On January 16, 1975 the Wagners sold to Barry B. VanDonge and Florene H. VanDonge for $24,500. Barry VanDonge is a clerk at the Walla Walla Post Office and Florene VanDonge was listed in the 1988 City Directory as a preschool teacher at Kids Place and later City Directories as an English as a Second Language instructor for Blue Mountain Community College in Milton-Freewater. The VanDonges did extensive remodeling of the house beginning in 1995 with such changes as a new kitchen, exterior dormers, rearrangement of rooms, bathroom renovation. Their divorce led to the sale of their house on April 21, 1999 to James H. Payne and Margaret M. Payne for $160,000. James Payne is the Executive Director of Fort Walla Walla Museum and Peggy Payne, is a PhD biologist at Boise Cascade.
Construction of the House:
The County Assessors Office construction date of 1906 was not found to be accurate. Through information in City Directories from 1907-1909 and 1906 deeds for 155 Thorne (the residence of Walter and Nora Ely, who owned 721 Pearson as a lot from 1906-1908), it appears that it was Chester R. Offner and his wife Laura Copeland Offner who built the house in 1908. Extensive remodeling was done by Barry and Florene VanDonge in the late 1990's and probably by Percy and Elizabeth Irving in the 1950's.
Katherine H. Weingart Walla Walla 2020 Historical Research P.O. Box 1222 Walla Walla, WA 99362 January, 2002
http://ww2020.net/wp-content/uploads/721_Pearson.jpg
150
200
Site Manager
http://ww2020.net/wp-content/uploads/2011/12/ww2020_logo.png
Site Manager
2002-01-01 18:38:00
2014-01-27 09:25:08
History of 721 Pearson Street, Walla Walla, WA