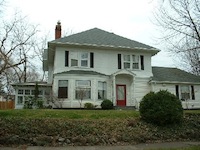 Property Description:
Lots 1 and 2 in Block 11 of Green's Park Addition to the City of Walla Walla, according to the official plat recorded in Volume C of plats at page 28, records of Walla Walla County;
EXCEPTING from said Lot 1,  the following described portion thereof, to wit:
Beginning at the Northwest corner of said Lot 1 and running thence south 73º02´ east, along the  northerly line of said Lot 1, a distance of 121.1 feet to the Northeast corner of said Lot; thence south 30º09´ West, parallel to the easterly line of Valencia Avenue. a distance of 8.5  feet; thence Westerly in a straight line to THE POINT OF BEGINNING.
Title History:
Walla Walla was originally laid out by surveyor H.H. Chase in 1859, even before its formal incorporation as a city in 1862, as a one-quarter mile square oriented N-S, E-W and with its eastern side centered on the point where Main Street crossed Mill Creek (at roughly the point where it does now). To this original area, additional parcels were annexed from time to time, usually named after the land owner of record at the time the additions were made.
All of the land in this area was acquired from the Cayuse and Walla Walla Indian tribes by the U.S. Government in a treaty signed on June 9, 1855 in Walla Walla, and ratified on March 8, 1859 by President James Buchanan. This property was acquired by William H. and Elizabeth Ann Patton prior to May 23, 1863. There is no patent listed for them in the government land office records so they must have purchased from a non-government source in that early day. They sold 19.55 acres to John Haley for $100 on May 23, 1863. John Haley subsequently acquired a large tract of bare land adjacent (north and east) of this property from the United States Government during the term of President Andrew Johnson by Patent dated July 15, 1865. Haley sold the same lands, together with another parcel, less 26.81 acres of the original parcel, to William O. Green on October 7, 1867 for the sum of $1500. This transaction was recorded at the land office in Vancouver, Washington Territory. William Orville Green and his wife Mary Francis crossed the plains and homesteaded in Walla Walla in 1862. He was an associate of Dr. Dorsey S. Baker in the stock business and acquired considerable land in Walla Walla and Franklin Counties. Green died in 1878. On December 30, 1895. Green's surviving children and their spouses, Clarinda J. and Hugh Roland Smith (builders of Green Gables Bed and Breakfast house in 1909), Anne B. and W. H. Barnett, Philinda Green and Mary O. Green (daughter Fannie had died) quit claim deeded this land to their mother, Mary Frances Green for the stated consideration of $1. On July 23, 1903, Mary Frances Green recorded the original plat of Green's Park Addition to the City of Walla Walla.
On December 24, 1904 Mrs. Mary Green deeded four lots to her daughter Anna B. Green Barnett, including Lots 1 and 2 of Block 11 plus Lots 6 and 7 of Block 10. Mrs. Green boarded at 22 East Birch and 310 Park Street prior to 1908, when she moved to 925 Isaacs with her daughter Philinda and son-in-law John W. Langdon, one of Walla Walla's "founding fathers." In 1908 Mary F. Green transferred all her property to the Green Investment Company, of which she was president until her death in 1911. Anna Green Barnett was married to William Hugh Barnett, a farmer, who died in 1912. The 1905 city directory lists Anna and Hugh Barnett as living at this address. In the 1915 directory Anna is listed as a widow living with her children, Harold, Hazel, and Lindon(Linden), who were all students. In 1923 Anna Green Barnett moved to a farm on RFD 4. In 1929 Horace and Grace Coburn rented 720 Valencia. He was the assistant superintendent of Union Pacific System. In 1933 the house was vacant. In 1935 Eugene W. and Ora M. Neiswanger and Marion Neiswanger lived at 720. Eugene ran an auto repair shop at 47 South Palouse. By 1937 the house at 720 was again vacant. In 1939 Leonard and Hazel B. Garver lived at 720. On September 17, 1943 Anna Green Barnett gave a deed to 720 Valencia, (Lots 1 and 2 except the tract conveyed to Albert and Amy Crecelius in 1941) to her daughter Hazel Barnett Garver "for love and affection." Anna Green Barnett lived until 1952. The Garvers and their son Richard R. lived in her mother's house. Leonard "Dutch" Garver had been on Whitman College's 1919-20 basketball team which was "one of the college's best". He was then a farmer and rancher and also operated a grain elevator on North 12th with Ralph Rader. Their son Richard married in 1956 and he and his wife Karen lived at 720 until the next year when they moved to Harvey Shaw Road. Dutch Garver died in 1964. Hazel Barnett Garver died in 1969. Thus this house was built and lived in by the Green/Barnett/Garver families for 64 years.
Hazel Garver's Estate sold 720 Valencia to Harrison W. and Beatrice J. Avery on July 27, 1970 for $22,000. Harrison "Jack" Avery was a salesman with Teague Motor Company, Tex Brotherton, Sunshine Chevrolet and Cassell Organs. Bea worked part time for New York Life. They retired in 1981 and continued to live at 720 with their son J. Michael Avery who worked in housekeeping at St. Mary Hospital. The Avery family sold this house on February 2, 1989 to Anthony H. Horan and Marcia Morrison, husband and wife, for $82,900. Dr. Horan was Chief of Urology at the Veterans' Hospital. On March 11, 1994 Horan/Morrison sold the house to Richard D. Cornish, a single man, for $191,500. Sallyanne McNeil, Richard D. Cornish and Marcia Morrison were listed as living at 720 in the 1994 city directory. Cornish was a psychologist at the Veterans' Hospital and owner of Stoney Haven Lane Apartments. On January 3, 1996 Cornish sold this property to Duane C. and Mary T. Wollmuth for $225,000. Wollmuth was an employee of Cellular One at this time. On June 25, 1998, Wollmuths sold 720 Valencia to Kenneth D. Guyer and Kathie I. Mason, husband and wife, for $237,000. They were co-owners of Katrix Limited, a medical management and billing service.  On August 20, 2001 Guyer/Mason sold this home to Jack and Catherine J. Mehn.
Construction of the House:
The Walla Walla County Assessor lists this property as having been constructed in 1910. All other evidence supports a construction date of 1905. Mary Green gave the property to her daughter in December of 1904 and the city directory lists Anna and Hugh Barnett as living there in 1905. The 1905 Sanborn Fire Map also shows the footprint of the present house. W. H. Barnett obtained a permit for $150 to build a garage in 1920.
References:
Bennett, Robert A., Walla Walla Portrait of a Western Town 1804-1899, Pioneer Press, Walla Walla, 1980.
Bennett, Robert A., Walla Walla A Town Built to be a City 1900-1919, Pioneer Press, Walla Walla, 1982.
Bennett, Robert A., A Nice Place to Raise a Family 1920-1949, Pioneer Press,  Walla Walla, 1988
Building Permits: Whitman College Penrose Library Archives
Lyman, Professor W.D., An Illustrated History of Walla Walla County 1901.
Sanborn Fire Maps: 1884-1905 (with updates until 1950).
Walla Walla City Directories: 1880-present (various publishers–not all years).
Mary E. Meeker Walla Walla 2020 Research Service PO Box 1222, Walla Walla WA 99362 February 2005
http://ww2020.net/wp-content/uploads/720_Valencia.jpg
150
200
Mary Meeker
http://ww2020.net/wp-content/uploads/2011/12/ww2020_logo.png
Mary Meeker
2005-02-01 18:34:50
2017-02-05 12:23:04
History of 720 Valencia Street, Walla Walla, WA