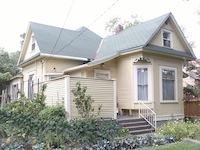 Property Description:
Lot 8 in Block 1 of Walnut Grove Addition; Parcel No. 360720780114
Construction Date:
Information provided by owner showed that the house on this property was constructed in 1902 by William Henry Morrison, a Gaelic-speaking immigrant, carpenter, and musician from the Isle of Man, who built it as a home for his bride whom he married the same year.
Information provided by the Morrison family included a 1902 deed for the property to W.H. Morrison, and evidence of the courtship of his Pomeroy bride and the establishment of their home in Walla Walla .  W.H. Morrison joined his elder brother John J. Morrison, who arrived in Walla Walla in 1893.  Three Morrison children were born in this home. Morrison deeded the property to his wife Helen in 1910, and she continued to own it while residing south of town, until Oct. 7, 1919 when she sold to Otto H. Hunt, blacksmith and horseshoer.  Morrison's grandson Dean and his wife Verdie own Morrison Lane Vineyard south of Walla Walla, with a wine tasting room in the historic Dacres Hotel.
Summary report by Daniel N. Clark, for Walla Walla 2020 Historic Building Project, 11-15-05
http://ww2020.net/wp-content/uploads/717_N_Main.jpg
150
200
Site Manager
http://ww2020.net/wp-content/uploads/2011/12/ww2020_logo.png
Site Manager
2005-11-15 18:28:15
2014-01-19 17:13:53
History of 717 North Main Street, Walla Walla, WA