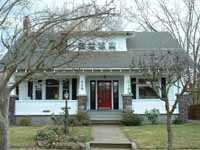 Property Description:
Beginning at a point in a line drawn parallel to and 15 feet North of the South line of the Southwest Quarter of the Northwest Quarter of Section 21 in Township 7 North of Range 36 East of the Willamette Meridian, which point is 130.0 feet West of the East line of the said Southwest Quarter of the Northwest Quarter of said Section 21; thence South 89 degrees 55' West along said parallel line, a distance of 80.90 feet to the Southeast corner of the tract formerly owned by A. J. Gillis; thence North 3 degrees 47' West 140.0 feet, more or less, to a point in the south line of Pearson Street a distance of 88.67 feet; thence south 140.0 feet to the point of beginning.
Title History:
Walla Walla was originally laid out by surveyor H.H. Chase in 1859, even before its formal incorporation as a city in 1862, as a one-quarter mile square oriented N-S, E-W and with its eastern side centered on the point where Main Street crossed Mill Creek (at roughly the point where it does now). To this original area, additional parcels were annexed from time to time, usually named after the land owner of record at the time the additions were made. The house at 714 Pearson is located in what is shown in the 1909 City Atlas as Isaacs Park Addition, one of several additions developed by Henry P. and Lucie Isaacs in the central part of Walla Walla.
The first recorded transaction involving 714 Pearson was on May 23, 1863 when John Haley sold "all that portion of the SW 1/4 of section no. 21 in Township no. 7, County of Walla Walla, Washington Territory" which was 26.81 acres "more or less" for "consideration $100." The buyers were William H. Patten and Elizabeth A. Patten. Shortly thereafter on January 20, 1864 the Pattens sold the parcel to Henry P. Isaacs for $2000 in gold coin. Isaacs was influential in the development of Walla Walla as a wheat growing area. Lyman in his History of Walla Walla County  states that Isaacs "demonstrated to the farmers that wheat could be produced profitably on the hills and uplands which in those early days had been given over to stock-raising." He built numerous flour mills throughout the Northwest and "his knowledge of the manufacture and handling of flour became proverbial and he was recognized as an authority on all matters pertaining thereto." He found markets for wheat in the Orient, especially China. The Isaacs and their son J.C Isaacs also founded the Walla Walla Water Company, providing Walla Walla with a reservoir, ditches, conduits and the possibility of irrigation of crops. The right to utilize "subterranean" water is included in documents in 1881 and 1886 pertaining to this property. Henry Isaacs died on July 14, 1900 without a will. On July 6, 1903 the Isaacs heirs formed the H.P. Isaacs Company and the development of Isaacs Park Addition began.
On May 12, 1905 the H. P. Isaacs Company sold this property to Isabella Kirkman for $648. Isabella was the widow of William Kirkman (1832-1893), a major figure in the development of Walla Walla starting in 1867. He and John Dooley raised sheep and cattle on the Figure 3 Ranch and operated a meat market. Isabella was from Ireland and gave birth to 10 children, four of whom survived into adulthood. Isabella lived in the 1880 house at 214 Colville Street which was  listed on the National Register of Historic Homes in 1974. It has now been restored and is operated at a museum. Isabella lived in this home with her daughter Myrtle and son Leslie. Her other son William H. joined them in the house in 1910. Her fourth child, Fanny, had married a son of Walla Walla pioneer Almos Reynolds and a locally prominent attorney, Allen H. Reynolds. They lived next door to Isabella at 202 Colville. On June 1, 1912 Isabella deeded the property on Pearson Street to her son Leslie G. Kirkman. Leslie and his wife Mabelle were listed as living at 714 Pearson in the 1912-13 city directory. On September 11, 1919 Leslie and Mabelle deeded the property back to his mother. The 1920 city directory lists Leslie, Mabelle, Isabella and William H. Kirkman all living at 714 Pearson. Leslie and Mabelle moved to 910 Catherine in 1921-22. Isabella, Myrtle, William H. and William L. all lived on Pearson for several years. Meanwhile the other daughter, Fanny, still lived with her husband and 3 children next door to the original Kirkman House on Colville Street. In 1929-30 Isabella and her granddaughter, Ruth Reynolds, lived at 714 Pearson. Isabella died in 1931, whereupon Ruth Reynolds' parents Allen and Fanny moved in with her. They were joined in 1939 by Ruth's brother Almos. On July 22, 1944 Leslie G. Kirkman, William L. Kirkman and Fanny Kirkman Reynolds transferred title of this house to Fanny's daughter, Ruth S. Reynolds. Both the Kirkman and Reynolds families were strong supporters of Whitman College. Ruth's father, Allen Reynolds, served as trustee and treasurer of the college. Whitman's Reynolds Hall was named for Ruth's grandmother, Lettice Clark Reynolds. Ruth spent 40 years developing and caring for the Whitman College Library.  Ruth  helped plan the Penrose Memorial Library. She invested concern and interest in her student staff at the library and entertained them with steak fries, waffle suppers and spaghetti dinners at her home on Pearson.  Her parents lived with her until their deaths. Her brother Almos continued to live there until 1953. In 1960 Ruth  shared the house with Mrs. Ruth G. Ballard until 1964 when Louise Humphreys, a Whitman library employee, moved in. On June 29, 1971 Ruth sold her home of 42 years (plus another 19 years as home to her Grandmother's family) to James D. and Kathleen M. Gardner for $19,000, at which time she retired from Whitman Library and moved to an apartment at the Marcus Whitman Hotel. Jim Gardner was a salesman for Glafke Distributing Company. On April 27, 1976 the Gardners sold the house to Robert W. and Kathleen K. Ruggeri for $47,000. Dr. Ruggeri was an orthopedic surgeon at the Walla Walla Clinic.  On May 25, 1994 the Ruggeris sold to Dale and Kathryn Elmenhurst for $200,000. Katherine was a teacher at Assumption School and Dale practices at the Elmenhurst Chiropractic Clinic on Howard Street.
Construction of the House:
The Walla Walla County Assessor states that this house was built in 1912. The only possible building permit to be found was issued on April 22, 1912 for $4000 for a house "between Madison and Division." The builder and permit holder was C. A. Moore. Because Leslie and Mabelle Kirkman purchased the property in 1912 and lived here according to the city directory in 1912-13 it is reasonable to conclude the construction date was 1912.
References:
Andres, Penny, Walla Walla Her Historic Homes, 1991.
Bennett, Robert A., Walla Walla  Portrait of a Western Town 1804-1899, Pioneer Press,  Walla Walla, 1980.
Bennett, Robert A., Walla Walla  A Town Built to be a City 1900-1919, Pioneer Press,  Walla Walla, 1982.
Building Permits: Whitman College Penrose Library Archives, Larry Dodd, Archivist
Lyman, Professor W.D., An Illustrated History of Walla Walla County  1901 and 1918.
Sanborn Fire Maps: 1884-1905 (with updates until 1950).
Walla Walla City Directories: 1880-present (various publishers–not all years).
Walla Walla County Assessor's Office
Whitman College Archives, Larry Dodd, archivist
Mary E. Meeker Walla Walla 2020 Research Service PO Box 1222, Walla Walla WA 99362 October, 2002
http://ww2020.net/wp-content/uploads/714_Pearson.jpg
150
200
Mary Meeker
http://ww2020.net/wp-content/uploads/2011/12/ww2020_logo.png
Mary Meeker
2002-10-01 18:22:06
2017-02-05 12:24:01
History of 714 Pearson Street, Walla Walla, WA