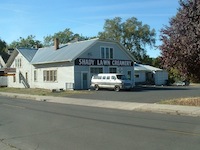 Property Description (abbreviated):
The Southwesterly 30 feet of Lot 1 block 8 and Northeasterly 10 feet of Lot 2 in Block 8 of Walnut Grove Addition to the City of Walla Walla, Washington, according to the official plat thereof of record in the office of the Auditor of Walla Walla County, Washington, in Book C of Plats at page 11, more particularly described as follows, to wit:….
Title History:
Washington Territory was created in 1853. The new legislature created Walla Walla County in 1854 which stretched from the crest of the Cascade Mountains to the crest of the Rocky Mountains in the present states of Washington, Idaho and Montana. In 1855 an Indian council was held on the banks of Mill Creek at the present site of Walla Walla to purchase land from the Indians. The Yakimas, Cayuses and Walla Wallas were dissatisfied with the treaties and war followed. Missionaries, former French-Canadian employees of the Hudson Bay Company trading post at Wallula, and soldiers at the military Fort Walla Walla were the primary European occupants of the area prior to 1859 when it was opened for settlement. All of the land in this area was acquired from the Cayuse and Walla Walla Indian tribes by the U.S. Government in a treaty signed on June 9, 1855 in Walla Walla, and ratified on March 8, 1859 by President James Buchanan.
Walla Walla was originally laid out by County Surveyor H.H. Case in 1859, even before its formal incorporation as a city in 1862, as a one-quarter mile square with its eastern side centered on the point where Main Street crossed Mill Creek (at roughly the point where it does now).  The City of Walla Walla received  a Trustee Townsite from the U. S. government which consisted of 80 acres issued on July 20, 1869 by the Vancouver, W.T. District Land Office. To this original area, additional parcels were annexed from time to time, usually with the name of the land owner of record at the time the additions were made. During 1862, A. J. Cain surveyed Cain's Addition to the City (this survey was rerecorded on 5/11/1865, following a disastrous fire which destroyed most of the county's earlier records).
A. J. Cain was an early financier of the Walla Walla Union newspaper; in 1868 he was elected on the Democratic ticket as prosecuting attorney of Walla Walla County. He later moved to Dayton and in September 1874 began publication of the Dayton News, a weekly Democratic newspaper. He became known as the "Father of Columbia County" as a result of his leading role in the formation of that county.
On February 13, 1862 Andrew J. and Emma R. Cain mortgaged 640 acres northeast of downtown Walla Walla to A. H. Reynolds. Alms H. Reynolds founded a pioneer bank in 1869 which became the First National Bank in 1878. On October 18, 1867 A. Seattle, Sheriff of Walla Walla County, gave a sheriff's deed on this property to Dorsey S. Baker. Baker paid $2800 for most of Cain's Addition at the Sheriff's Auction. Dorsey S. Baker was founder of Walla Walla's Baker Boyer Bank and builder of the first railroad in the valley. In 1862, Baker was on the city council and some years later was a Walla Walla County Commissioner. He was an early supporter of Whitman Seminary, donating four acres of land for that institution.
The present property consists of  four different tax parcels. The chain of title for three of these follows.
On October 17, 1871 A. J. and Emma Cain gave a deed for this property to Dorsey Baker for $1. On October 22, 1877 D. S. and Elizabeth Baker gave a deed to the Mill Creek Flume and Manufacturing Company for $1 which included 25 feet on each side of the the adjacent railroad tracks for Dr. Baker's narrow gauge railroad to Dixie. This was the triangle at the intersection of Sumach and North Rose Streets, one of four parcels that would become part of the Walla Walla/Shady Lawn Creamery property.
Dr. Baker's business partner was John F. Boyer. Though Boyer's name does not always appear on many of these early deeds he signed a quit claim deed to Baker on January 29, 1885 for his 1/3 interest in this property (the same day Dorsey Baker gave him title to this and much more property, details of which are below). The quit claim deed included "said spring, brook or creek and all riparian rights and privileges."
The Mill Creek Flume and Manufacturing Company was the subsequent owner of the 11.86 mile narrow gauge railroad and telegraph from Walla Walla to Dixie. Miles C. More, last territorial governor of Washington and Dorsey Baker's son-in-law, was the president.  On October 26, 1903 the Mill Creek Flume and Manufacturing Company known as The Mill Co. gave a deed to the Oregon Railway and Navigation Company for $1. On December 23, 1910 the OR&N sold the railroad to Oregon-Washington Railroad and Navigation Company. On August 25, 1931 the Oregon-Washington Railroad and Navigation Company sold .12 acres to John A. Emigh for $500 which included responsibility for payment of installments for grading and paving East Sumach Street.  On February 19, 1985 Henrietta W. Emigh, John's widow, gave a quit claim deed to her son John A. Emigh and  his wife Mary. On October 29, 1985 Frank Dresden Emigh signed a quit claim deed to John and Mary Emigh. On September 15, 1994 Mary Emigh signed a real estate contract with her son David and his wife Jill Emigh for the triangle parcel at the junction of North Rose and Sumach Streets.
The next two tax parcels south of the corner triangle share some but not all of the above title history. The exceptions that apply to the primary portion of this property on which the main building is located include the deed from Dorsey Baker to John and Sarah E. Boyer on January 29, 1885 for a large number of properties, including these two parcels. On March 11, 1889 John and Sarah Boyer sold these two parcels to the Walla Walla Creamery and Cold Storage Company. David W. Small (Small's Opera and Livery) was president, Captain M. McCarthy was secretary and J. R. Addison was treasurer. Following a superior court decision, on July 12, 1901 Sarah E. Boyer, Sarah I. Boyer, John E. Boyer, Arthur A. Boyer and Annie I. Norton gave a deed to F. W. Vanderahe for Lot 1, Block 8 of Walnut Grove Addition excluding the southwest 30 feet plus a 70 x 2 feet strip. On August 30, 1902 F. W. and Mary Vanderahe sold this property to Ward and Margaret Emigh for $1860. On April 28, 1923 the Estate of Ward Emigh, Frank Emigh, George H. Sutherland and Harry Lazaretto gave an Administrator's Deed to Farmers and Merchants Bank. This apparent loan was satisfied in 1929 when full title passed to John Emigh and George Lawrence. On April 10, 1930 George and Ethel R. Lawrence signed an Agreement for Deed for a 11/25 interest to John and Henrietta Emigh on the property and all equipment for $20,706.85. On February 25, 1935 John A. Emigh and George Lawrence signed a partnership agreement with John Emigh holding a 56% interest. On February 25, 1935 a Bill of Sale was given for all equipment and personal property by the Shady Lawn Creamery Company, Inc. to John A. Emigh, President. On the same day John Emigh signed an Affidavit stating to The Public that the incorporation of the Shady Lawn Creamery on March 18, 1924 had died naturally due to nonpayment of license fees. On April 11,1930 George and Ethel Lawrence gave a Quit Claim Deed to John A. Emigh for $5. On September 6, 1994 Mary V. Emigh gave a Warranty Fulfillment Deed to David and Jill Emigh on these two tax parcels.
The fourth tax parcel included the old ice house and was not reviewed for this report.
Occupant History:
The Walla Walla Creamery was listed on the 1889 birds eye map at this location and in the 1889 city directory with David W. Small (Small's Opera and Livery), President, Captain M. McCarthy, Secretary, and  J. R. Addison, Treasurer. In 1898 the Walla Walla City Directory had the first listing for Ward Emigh as owner of the Walla Walla Creamery on East Sumach. This location was also given as his residence.
By 1902 he and  his wife Margaret had moved to 335 Grove Street where the family lived for the next two generations. In 1904 "Cheese and Ice Cream Factory" was added to the description of the creamery in the city directory. In 1905 Edward S. Emigh, a nephew of Ward Emigh, was listed as assistant manager with a home on Lincoln Street. In 1907 the listings for the Emigh family included Ward and Margaret at 335 Grove. Edward S. Emigh had a residence at 625 E. Rose. Ward Emigh's brother, Jarvis Emigh, was a traveling salesman at the creamery. His daughters,  Elmina and Mable,  lived with him at 717 Lincoln. In 1910 Elmina was the assistant bookkeeper at the Creamery. Edward had moved to 8 N. Buchanan and was employed as a bookkeeper at Third National Bank. In 1911-12 Edward and his wife Rose moved to 622 E. Alder. John and Charles, sons of Ward Emigh, were both drivers for the Creamery and lived with their parents, Ward and Margaret. In 1915 Ralph, another son, was also listed at 335 Grove Street. In 1921 Annie was listed with Ralph, John and Charles at Ward Emigh's residence on Grove Street.
Ward Emigh died in 1922 and  the name of the creamery was changed to Shady Lawn. Margaret was a widow living with Clara, Arthur and Annie. Her son John had married Henrietta and they lived at 1310 E. Alder. They moved to 1740 Isaacs in 1925 and to his mother's home at 335 Grove in 1926. In 1926 Ralph was listed as a teacher also living at home on Grove Street.  Margaret continued to live there with her children, Ralph, Clara, Arthur, John and his wife, Henrietta, until 1931 after which Clara was no longer listed. By 1933 Arthur was an electrical engineer employed at Shady Lawn, married to Blanche and living in an apartment at 602 Boyer. The creamery ad in  the 1933 city directory listed "Shady Lawn Butter, American Loaf Cheese, Ice Cream and Ice." In 1937 Arthur and Blanche had moved to their home at 101 N. Blue where they lived for more than 30 years. This same year Ralph and Elsa established their home at 727 Lincoln. Ralph taught at the high school and Elsa worked in the cafeteria. In 1946 John and Henrietta's sons, Frank D. and John A. Emigh, were listed as students who lived in the Emigh household on Grove Street. In 1951 John and and his new wife Mary moved to their new home at 116 Cascade Drive.
In 1958 John Emigh sold the creamery business to Young's Dairy which continued to operate at this location. However, Emigh continued to own the buildings and explored their possible rental to other businesses. Between 1958 and 1962 several members of the family are listed as working at Young's Dairy at 711 North Rose. Apparently the sale to Young's was never fully completed. In 1963 it was again called Shady Lawn Creamery. In 1965 Ward's widow, Margaret, was living at Smith's Nursing Home and she was not listed in 1966. John and Henrietta continued to live at 335 Grove, John and Mary at 116 Cascade Drive where their son David was listed in 1969 as a student at Washington State University. John Emigh, Jr. died in 1985 and his widow Mary continued to operate the creamery until 1992. This business was operated for a total of 103 years in this location, with 94 of those years by the same family. Mary died in 1995 and her son David and his wife Jill opened the Shady Lawn Antiques in this historic property in December of 1994.
Construction of the Building:
The Walla Walla County Assessor's office lists this building as having been constructed in 1880. This is significantly prior to any local building permits. However,  John and Sarah Boyer sold this property to the Walla Walla Creamery and Cold Storage Company in 1889. The 1889 Walla Walla City Directory listed a Walla Walla Creamery and Cold Storage Company located on "East Main near the railroad crossing ." Either North Rose Street was than called East Main or this was an error in the city directory because the 1889 birds eye map clearly pictures the Pacific Coast Elevator (#5) and the Walla Walla Creamery (#6) on the railroad in this location. Therefore it is reasonable to assume that the correct construction date was circa 1889. Ward Emigh was first listed in the City Directory as running the creamery in 1898. The 1905 Sanborn Fire map shows the Walla Walla Creamery located at the junction of Sumach and North Rose Streets with the Pacific Coast Elevator along the railroad tracks to the north of the creamery.
References:
Bennett, Robert A., Walla Walla  Portrait of a Western Town 1804-1899, Pioneer Press,  Walla Walla, 1980.
Bennett, Robert A., Walla Walla  A Town Built to be a City 1900-1919, Pioneer Press,  Walla Walla, 1982.
Emigh, David, personal family history documents and letters.
Lyman, Professor W.I., An Illustrated History of Walla Walla County  1901.
Sanborn Fire Maps: 1884-1905 (with updates until 1950).
Walla Walla City Directories: 1880-present (various publishers–not all years).
Whitman College Archives.
Mary E. Meeker dawame@@bmi.net; Walla Walla 2020 Research Service PO Box 1222, Walla Walla WA 99362 May, 2007
http://ww2020.net/wp-content/uploads/711_N_Rose.jpg
150
200
Mary Meeker
http://ww2020.net/wp-content/uploads/2011/12/ww2020_logo.png
Mary Meeker
2007-05-01 18:18:47
2017-02-05 12:22:01
History of 711 North Rose Street, Walla Walla, WA - Shady Lawn Creamery