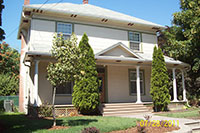 Legal Description:
Beginning at the northeast corner of Lot 7 in Block "I" of Chase's Addition to the City of Walla Walla, according to the official plat thereof of record in the office of the Auditor of Walla Walla County, Washington and running thence south 89 36′ west, along the south line of Chestnut St. 124.54 feet to the NW corner of Lot 6 in Block "I", thence south 20′ west, along the west line of said Lot 6, a distance of 75 feet; thence north 89 36′ east 139.67 feet to the westerly line of Second Avenue South, formerly Second Street; thence north 11 05′ west 76.33 feet to the point of beginning.
Title History:
The first recorded transaction for 704 S. Second occurred on May 22, 1872 when John Singleton and Jane Singleton sold a parcel to Susan Abbott, wife of John F. Abbott, which included Blocks "H," "I," and "K" of Chase's Addition on Second Street Road for $1700. Water rights were included in this document. On December 6, 1883 John F. Abbott and Susan Abbott deeded the North half of Block "I" in Chase's Addition to H. G. Manzey for $2100.  On November 5, 1887 H.G. Manzey and Frances Cabella Manzey, daughter of Susan and John Abbott,  sold all of the north half of Block "I" except for Lot #1 to Alberto Ricardo, manager of the Walla Walla Statesman newspaper, for $1300.  On August 16, 1895 George Thompson is listed as Grantor in a deed to James A. McCool, Grantee, related to this property. There is no record of how Thompson acquired the property, although the list of his purchases is very long in the Grantor/Grantee books in the Walla Walla County Records, making it probable that the Thompson/McCool transaction was related to a mortgage.  On May 26, 1898 Alberto Ricardo and Amparo Ricardo sold the same parcel to James McCool for $525 in gold coin.  This smaller sum was not explained.   McCool is listed in the 1889 City Directory as a farmer and stock raiser, residing seven miles southeast.  The 1902 City Directory lists James McCool, a farmer, and Agnes Conlisk McCool as residing at 704 Second Ave. 1902 is also the date of James McCool's death. On August 6, 1902 a Quit Claim Deed was filed by Robert McCool, an unmarried man, to his mother, Agnes McCool, for Lot 7 in Block "I" and Lot 5 in Block "I."  Agnes McCool is listed in the 1904 City Directory as the widow of James, residing at 704 S. Second.  In 1905 Mrs. McCool is listed as living 7 N. 6th.  No residents were listed at 704 S. Second from 1905 until 1908.
Robert Breeze and Agnes Breeze are listed as residing at 704 S. Second in the 1908-12 City Directories.  Robert Breeze, who had come to Walla Walla from Portland, was listed as a cashier for NWG & E Co. in the 1908 City Directory.  The next recorded transaction was on November 7, 1914 when the Breezes sold the property to Bertha Jensen and B. Jensen of Pendleton.  At this point the transactions mention only today's Lot 7.  The Jensens are never listed as residing at 704 S. Second but several documents deal with their inability to keep up with an $1850 mortgage payment.  On May 10, 1915 Bertha and B. Jensen deeded the property to Franklin S. Bramwell of Portland for what amounted to $2100 (assuming responsibility for the $1850 mortgage and an additional $250).  It seems probable that he was in the mortgage business, although his name appears in the next transaction: On March 8, 1917 Lee Barnes, Sheriff of Walla Walla County, and A. G. Baumeister, who had filed a Lis Pendens against the Jensens , Franklin Bramwell and  Sindonia Davin, whose name appears unexplained on this document, for non-payment of two promissory notes valued at $739.95 on August 19, 1915, arranged for a Sheriff's sale at the Walla Walla County Courthouse.  The sum of $911.29 was to be paid to Baumeister.  There appears to have been a second Sheriff's sale on May 12, 1919 with Sheriff David Yates.  The outcome of that was that Baumeister acquired but never lived at 704 S. Second (his residence was 2nd and Stone.)   R. Alexander and Pauline Alexander obtained the property for an undisclosed sum from Baumeister on May 7, 1917 but were never listed as living in Walla Walla.  They filed a Quit Claim Deed on April 24, 1919 in favor of E. E. Wright and Josephine E. Wright, listed as living at 420 E. Pine. On Nov. 2, 1919 the Wrights sold to Frank C. Donald and Adelaide F. Donald for $1200 plus assumption of the $1850 mortgage from Bertha Jensen and B. Jensen, a total of $3050.  Frank Donald is listed as an electrician in City Directories.
On May 27, 1944 the Donalds sold the property to Ernest R. Jesse and Anna V. Jesse for an undisclosed amount, although the Jesses had obtained a mortgage of $3200, giving some idea of the sale amount.  On November 11, 1944 the Jesses sold the property for an undisclosed amount to L.W. Banks and Frances Banks, who apparently broke the house into four apartments, not an unusual thing to do during the World War II years since there was a military base in Walla Walla and housing was needed.  The Banks resided in Apt. 1.  On November 21, 1962 L.W. Banks, who had been a fireman, filed a Quit Claim Deed in favor of his wife, Frances Banks.  Attorney Murray Taggart served as the Executor of the estate of Frances Banks and sold the house to Homer L. Summers and Mary Summers for $35,000 on December 28, 1979.  For several years there were no City Directory listings for 704 S. Second.  In 1995 and 1997, Mary Summers is listed as the apartment manager.  On May 29, 2002 a Change in Residential Occupancy – Utility Fee Change Request was filed requesting that the property be changed from three units to one unit.  On June 8, 2005 the Summers sold 704 S. Second for $115,000 to Armin Kaihani and Tracy Calhoon of Portland.
Construction of the House
The Assessor's Office records give 1895 as the building date for this house.  The records are  unclear about the presence of a house that early.  The prices of the various transactions are of varying values, making it difficult to determine if a house existed. City Directories for the late 1800's don't list any of the owners shown by the title record.  Gaps in residency indicate that the house could have frequently been used as a rental. Also early City Directories did not include a listing by address.  The first City Directory listing with the address of 704 S. Second is for James and Agnes McCool in 1902.  McCool had purchased the lot perhaps from Alberto Ricardo in 1898 or perhaps from George Thompson in 1895, though he may have simply purchased a mortgage interest in that year.  The records are not clear which documents are mortgages and which are sales.  The City Directory listing of the McCool residency in 1902 and the dates of the property purchases indicate that circa 1901 should be used as the construction date.
Research Sources:
Penrose Library Northwest Archives, Whitman College
Pioneer Title Company documents for this property
Northwest History Collection, Walla Walla Public Library
Sanborn Fire Maps
Walla Walla City Directories
Walla Walla County Assessor's Office
Walla Walla County Auditor's Grantor/Grantee Files
  Katherine Weingart Walla Walla 2020 Research Service P.O. Box 1222 Walla Walla Wa 99362 May, 2006
http://ww2020.net/wp-content/uploads/704_S_Second.jpg
133
200
Katherine Weingart
http://ww2020.net/wp-content/uploads/2011/12/ww2020_logo.png
Katherine Weingart
2006-05-01 18:15:34
2017-02-05 12:28:03
History of 704 South Second Avenue, Walla Walla, WA