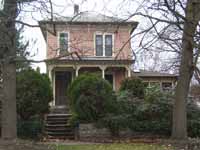 Title and Occupant History:
September 4, 1884–H.D. & Addie E. Chapman sold the property (with current legal description) to Martha F. Falconer for $400 (Deed book 33, page 258, hereinafter 33/258).
H.D. Chapman is listed in the city directory of 1881 as being in the real estate business, the Chapman and Boyer Agency.
Martha F. Falconer was the wife of Stephen H. Falconer who is listed in the city directories of 18BI & 1883 as a lumber dealer, his firm being Whitehouse and Falconer (by 1889, Whitehouse and Crimmins, and later still, Whitehouse and Crawford).
Walla Walla: Portrait of a Western Town, 1804-1899 by Robert A. Bennett lists Prather & Falconer among the telephone subscribers in 1884, on p. 126. I was unable to find any other listing of this firm.
The city directories available in the Whitman College Archives are those for 1880, 1881, 1883, and then none available until 1889 .
DATE OF CONSTRUCTION: The 1884 sale seems to be for the property without a house (other sales in the area for lots are in this range). With the lack of city directories and construction records (Whitman only has these for after 1907), it is impossible to reliably fix the construction date. The first available directory to list the property as a residence is the 1889 edition (see below). The county assessor's office lists 1886 as the date of construction.
Both the Prather and Falconer names seem to disappear from the city directories in the early 1900s. The best bet for oral history research would be with the Foster and/or Straight families (see below).
March 5, 1887–Stephen H. & Martha F. Falconer sold the property to Mary C. Prather (37/474), the deed only mentions the exchange of $1.00.
Mary C. Prather is listed in the 1889 directory as a dressmaker living with her husband, Squire H, Prather (who is listed in the 1880 directory as a sheep raiser), on Catherine St. near Dr. Newell St. In the 1892 directory, she and her husband are listed as living on the south side of Catherine near Dr. Newell. In the 1893-4 directory the residence of Squire Prather is listed as on the west side of Catherine, 4 south of Whitman.
May 8, 1894–Mary C.& S.H. Prather sold the property to Anna M. Davison for $3,000 (56/124).
William S. Davison is listed in the 189B city directory as a lawyer residing at 720 Catherine (this could easily be a typo or miss-entering of information or perhaps the street was renumbered later).
October 28, 1901–Anna M. & William S. Davison of Ashland, Oregon sold the property to Susie W. Houghton for $3.000 (80/37).
E.L. Houghton is listed in the 1902 diectory as a dealer in real estate and insurance. His firm is Houghton & Wright.
November 12, 1901–Susie W. & E.L. Houghton sold the property to Elmo E. Wright for $3,000 (80/38).
Elmo Wright is the other principal in Houghton & Wright, dealers in real estate and insurance.
November 15, 1901–Elmo E. Wright sold the property to Susan M. Henry for $3,000 (80/45).
Susan M. Henry was the wife of John J. Henry who is listed in the 1900-1 directory as a fruit grower. He is listed as living at 32 Newell in the 1905 directory; Susan M. Henry, widow, is listed at 32 Newell in 1907 and 1908. .
May 7, 1907–Susan M. Henry, Maria E. Duff, et al., heirs of John J. Henry, deceased, sold the property to Mary F. Sheehan for $2,712.50 (108/491, see also 110/24 and 110/37).
From 1908 to 1918, the city directories list Tim D. Sheehan residing at 704 Catherine. He was a dealer in dry goods with a store at 47 E. Main.
The 1920 directory list Mary M. Sheehan, teacher Sharpstein school, residing at 704 Catherine (presumably their daughter).
October 21, 1940–Mary F. & TD. Sheehan sold the property to Maud S. Foster (203/166).
Maud Straight Foster was the widow of Frank Foster and the daughter of Z.K. ,Straight. Z.K. Straight was a pioneer "who has followed the jewelry business continuously for a longer period of time in the state of Washington than has any other man." (W.O. Lyman's An Illustrated History of Walla Walla County. W.H. Lever, 1901, p. 333) Frank Foster acquired hundreds of acres of land in Washington and Oregon, along with other business interests, which his widow inherited when he died in 1900., They were married' in 1894 and had one child, Arthur S. Foster. (Ibid., 332- 333). Arthur S. Foster ran a car dealership for a couple of years in the mid 1920s but mainly was a farmer.
In 1905, Maud Foster and her relatives platted Foster's Addition which surrounds the 704 Catherine S1, property.
May 23, 1946–Arthur S. Foster. a single man, sold the property to Roy R. & Hannah Wallace (213/512).
Roy R. Wallace is first listed in the 1931-32 edition of the City Directory as living at 704 Catherine. He is listed as a salesman. In 1956, the directory lists Hannah Wallace, widow of Roy, at 704 Catherine.
June 1, 1958–Hannah L. Wallace, a widow, gave the property to her daughter, Ina M. Dickson, in a Deed of Gift (285/265).
September 15, 1959–Ina M. Dickson sold the property to Lawrence B. McCoy (290/227).
In 1959, the City Directory lists 704 Catherine St. as vacant. Alice L. Tabor is listed as living there in 1961, 62 & 63.
The City Directory lists Lawrence McCoy living at 704 Catherine from 1964 to 1970. Then in 1971 it lists both McCoy and Guinevere McCambridge living there. In 1981, and after, it lists just McCambridge at 704 Catherine.
McCoy is listed as an engineer working for Continental Can Company. McCambridge is listed as retired from Montgomery Ward, where she had been a department manager.
February 17, 1982– Lawrence McCoy transferred the property in a Quit Claim Deed to the Lawrence McCoy Trust (13111834).
January 3, 1983–The Lawrence McCoy Trust transferred the property to Guinevere E. McCambridge (135/1608).
June 25, 1993–Guinevere McCambridge sold the property to Jeanne McMenemy and Wayne A. Chabre (208/615) .
 prepared by Michael W. Smith, 5/94
http://ww2020.net/wp-content/uploads/704_Catherine.jpg
150
200
Site Manager
http://ww2020.net/wp-content/uploads/2011/12/ww2020_logo.png
Site Manager
1994-05-01 01:41:32
2014-01-24 18:51:04
History of 704 Catherine Street, Walla Walla, WA