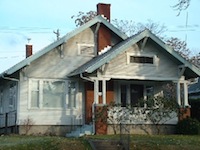 Legal Description:
Lot 1 in Block 26 of Roberts Addition to the City of Walla Walla, according to the official plat thereof recorded in Volume A of Plats at Page 21, records of the Auditor of Walla Walla County, State of Washington.
Title History:
Walla Walla was originally laid out by surveyor H.H. Chase in 1859, even before its formal incorporation as a city in 1862, as a one quarter-mile square with its eastern side centered on the point where Main Street crossed Mill Creek (at roughly the point where it does now). Main Street originally followed the old Nez Perce Indian Trail. Consequently the streets leading off of it were at right angles to it, and were not in a north-south orientation. This was corrected as the city moved eastward which gave Walla Walla its peculiar street pattern with the three street intersection at Palouse, Boyer and Main Streets. To the original plat, additional parcels were annexed from time to time, usually with the name of the land owner of record at the time the additions were made.
A. B. Roberts came to Walla Walla from Portland, Oregon in 1859 and immediately purchased a large farm site just south of Main Street for $250 from Tom Hughs. He fenced his new property and put up a  canvas house which allowed him to hold it until the government surveyed it in 1860. He had brought some grafted fruit trees from Portland and was able to sell them in 1860 for $1.00 apiece. He realized there was money to be made in fruit trees and so engaged extensively in the nursery business as well as real estate. Roberts Addition was platted by A. B. Roberts and Martha E. Roberts on January 20,1871 (Plat Book A, Pages 21 and 22, Walla Walla County Auditor's Office, Walla Walla County Courthouse).
Following a legal action against A. B. Roberts and several others Burrell W. Griffin, Sheriff of Walla Walla County, Washington Territory, gave a Sheriff's Deed to the plaintiff and highest bidder, Thomas Ronan, for $1185 on February 12, 1874. The deed included this parcel as well as numerous others. In 1881 Thomas Ronan was listed as the Singer Sewing Machine agent at 11 First Street, also his residence at that time. The next year his occupation was listed as 'money lender." On August 7, 1882 Thomas Ronan sold  all of Block 26 for $110 to George D. and Demelda Ann Goodwin, a farmer and his wife who lived at 601 Park Street. In 1883-84 George was listed as a chop mill proprietor and gardener at the same address.  On October 10, 1885 Franklin Goodwin, Abner Goodwin and Charlotte Culler signed a Quit Claim Deed on 11 lots plus all of Block "I" giving full title to George following his wife's death. On December 7, 1886 Frank and Carrie E. Goodwin, Silas H. and Lottie Timmons plus Abner Goodwin signed another Quit Claim Deed on 4 more lots (including this one) to George Goodwin for "$1 and love for George." On August 13, 1888 George D. Goodwin sold 6 lots plus all of Block "I" minus the north 20 feet for an alley to Louisa Seeke. On June 24, 1895 Louisa Seeke signed a warranty deed giving her interest in these lots to M. C. Seeke.
Mr. Seeke had received a government permit from General Harney to settle here in 1858. He was a harness maker for Thomas Quinn between 1889 and  1905. In 1899 he lived at 635 Park (just south of Bryant Creek in a house that no longer exists) in 1889. In 1900 his address was 647 Park.  On April 7, 1905 Marshall C. Seeke, a widower, sold Lots 1 and 2 plus 16 feet of Lot 3 of Block 26  to H. D. Root for $2500. One month later, on May 23, 1905 H. D. and Julia D. Root sold this property to C. S. and Susan Smith for $2000. The Smiths lived a quarter mile east of the cemetery.  On August 28, 1905 C. S. and Susan Smith sold the property to Christian  Olsen for $2100. Mr. Olsen was carpenter who worked at Whitehouse Crawford at that time. On June 28, 1909  Christian and Johanna Olsen  returned the property to C. S. Smith for $3000 in gold coin for Lot 1 and 2 plus 16 feet on the north side of Lot 3 plus the right to lay a water pipe to this property.
On December 13, 1916  C. S. and Susan Smith sold Lot 1, Block 26 to V. S. and Mary G. Walker for "$50". V. S. Walker operated the Walker Hardware Company at 15 West Main from 1912-1918. In 1916-1917 they are listed in the city directory as living at 610 Washington. From 1918-1920 they are listed as living at 703 Park Street. On March 25, 1920 V. S. and Mary G. Walker sold this property to Margaret E. Cogswell.
Margaret, John, Levart D., Morton and William E. Cogswell all lived here from 1921 until 1931. William was a truant officer in 1923-1924 and then a painter. By 1933 Margaret was a widow living here with her daughter Alice, a student at Whitman before she became a teacher. Starting in  1935 Margaret Cogswell rented this house out first to Ven B. Wedge, then Forrest C. and Willena Cation. Ernest R. and Maxine Norris shared the house with Mrs. Jessie S. Jolley in 1941. On November 23, 1943 Margaret Cogswell, a widow, sold it to Charles M. and Nellie D. Berryman.
Berryman's father James E. Berryman came to Walla Walla in 1861 on his way to the gold fields in Idaho. Berryman was born in England and married his wife Mary during a trip there in 1863. They returned to Walla Walla in 1869. They had 12 children. In 1878 he acquired 320 acres of land north of Walla Walla under the timber culture and homestead laws and purchased 320 acres of railroad land. By 1901 he owned 1600 acres at what became Berryman Station on the road to Prescott. His son Charles and his wife Nellie farmed that land until they retired. They lived in this house the rest of their lives. On August 29, 1973, Mary Alice Walters, individually and as personal representative for the estate of Charles M. Berryman transferred this property to Gaylord G. Nelson, Sr. and Mary N. Nelson. The Nelsons were related to the Berrymans and  lived on the farm next to the Berrymans near Hadley Station on the road to Prescott. From 1973-1979 Larry V. Smith and Judy Smith lived here. He was a correctional officer at the WSP and she was the secretary to the city manager. In 1980 Gaylord Nelson Sr. started living at 703 Park Street. On June 22, 2004 Gaylord G. Nelson Jr. and Dale F. Nelson, Co-personal representatives of the estate of Mary N. Nelson sold this property to Brian J. and Lori J. Dohe.
Construction of the House:
Roberts Addition was one of the first additions to Walla Walla. At the time it was platted in 1871 Park Street was known as Ebbie Street. This house is on a triangle of land between Park and Howard Streets on the southeast corner of Robert's Addition (missing from the plat map). The 1905 Sanborn Fire map showed just three  houses in this block (there are now seven). One was at the corner of Park and Craig Streets (#601), one just south of Bryant Creek (#635) and one at #647 near this location, with a "hen ho" to the south side. The gabled roof and wide front porch with prominent knee braces under the wide eaves are reminiscent of the bungalows, many of which were ready-to-assemble houses purchased by mail from Sears, Roebuck catalog and shipped by rail between 1908 and 1940. A search for numbers and markings on any exposed timbers (attic, basement) might reveal some clues as to its origin. However, the ownership records show that V. S. and Mary G. Walker purchased Lot 1, Block 26 in December of 1916. On January 13, 1917 A. M. Bright, a contractor, got a permit to build a $3000 house at "Howard and Park." The Walla Walla County Auditor's records list a 1925 date of construction. However, the Walkers are listed as living at this address in the 1918 city directory. Therefore this research concludes the house was built in 1917 and likely occupied the same year some time after that year's city directory was published.
References:
Archive, Whitman College Penrose Library
Bennett, Robert A., Walla Walla  Portrait of a Western Town 1804-1899, Pioneer Press,  Walla Walla, 1980
Bennett, Robert A., Walla Walla  A Town Built to be a City 1900-1919, Pioneer Press,  Walla Walla, 1982
Bennett, Robert A., A Nice Place to Raise a Family 1920-1949, Pioneer Press,  Walla Walla, 1988
Bennett, Robert A. We'll All Go Home in the Spring. Pioneer Press, Walla Walla, 1984
BLM Land Patent Records
Building permits: Whitman College Penrose Library (1907-1939)
Sanborn Fire Maps: 1884, 1888, 1889, 1890, 1894, 1905 (with updates until 1950)
Stevenson, Catherine Cole and H. Ward Jandl, Houses by Mail, A Guide to Houses from Sears, Roebuck and Company, Preservation Press, 1986.
Walla Walla City Directories: 1880-present (various publishers–not all years)
Walla Walla County Assessor's Office files
Washington's Centennial Farms Yesterday and Today, Washington State Department of Agriculture, 1989.
Up-to-the-Times Magazine
U. S. Census records
Mary E. Meeker ; Walla Walla 2020 Research Service PO Box 1222, Walla Walla WA 99362 May, 2008
http://ww2020.net/wp-content/uploads/703_S_Park.jpg
150
200
Mary Meeker
http://ww2020.net/wp-content/uploads/2011/12/ww2020_logo.png
Mary Meeker
2008-05-01 18:10:19
2017-02-05 12:20:49
History of 703 South Park Street, Walla Walla, WA