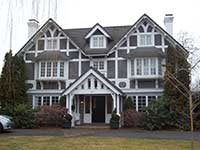 Property Description:
Beginning at a point in the Westerly line of Palouse Street in the City of Walla Walla, Washington, which point is 26.00 feet Southerly measured along said Westerly line of Palouse Street, from the Northeasterly corner of Lot 7 of Page Addition to the City of Walla Walla, Washington, according to the official plat thereof of record in the office of the Auditor of Walla Walla County, Washington, in Book C of Pats at Page 36; thence South 29º 50´ East, along said Westerly line of Palouse Street, a distance of 139.0 feet; thence South 60º 10´ West 200.0 feet; thence North 29º 50´West 139.0 feet; thence North 60º 10´ East 200.0 feet to the point of beginning.
Being all of Lot 6 and the Southerly 34 feet of Lot 7 of Page Addition aforesaid, together with the Northerly one-half of the vacated alley lying immediately South of and adjoining the Southerly line of said Lot 6.
Situated in the City and County of Walla Walla, State of Washington.
Title History:
Washington Territory was created in 1853. The new legislature created Walla Walla County in 1854 which stretched from the crest of the Cascade Mountains to the crest of the Rocky Mountains in the present states of Washington, Idaho and Montana. In 1855 a treaty council was held on the banks of Mill Creek at the present site of Walla Walla to purchase land from the Indians. The Yakimas, Cayuses and Walla Wallas were dissatisfied with the treaties and war followed. Missionaries, former French-Canadian employees of the Hudson Bay Company trading post at Wallula, and soldiers at the military Fort Walla Walla were the primary European occupants of the area prior to 1859 when it was opened for settlement. All of the land in this area was acquired from the Cayuse and Walla Walla Indian tribes by the U.S. Government in a treaty signed on June 9, 1855 in Walla Walla, and ratified on March 8, 1859 by President James Buchanan.
Walla Walla was originally laid out by County Surveyor H. H. Case in 1859, before its formal incorporation as a city in 1862, as a one-quarter mile square with its eastern side centered on the point where Main Street crossed Mill Creek (at roughly the point where it does now).  The City of Walla Walla received  a Trustee Townsite from the U. S. Government which consisted of 80 acres issued on July 20, 1869 by the Vancouver, W.T. District Land Office.   Main Street originally followed the old Nez Perce Indian Trail. Consequently the streets leading off of it were at right angles to it, and were not in a north-south orientation. This was corrected as the city moved eastward which gave Walla Walla its peculiar street pattern with the three street intersection at Palouse, Boyer and Main Streets. To the original plat, additional parcels were annexed from time to time, usually bearing the name of the land owner of record at the time the additions were made.
A. B. Roberts came to Walla Walla from Portland, Or. in 1859 and immediately purchased a large farm site just south of Main Street. He was a pioneer nurseryman and real estate developer. He received a 320 acre tract containing this parcel as a homestead from the U.S. Government on May 2, 1870.  Roberts Addition was platted by Alvin B. Roberts and Martha E. Roberts on January  20,1871 (Plat Book A, Pages 21 and 22, Walla Walla County Auditor's Office, Walla Walla County Courthouse).  On June 10, 1871 the Roberts sold 7.82 acres to James W. Law,  excluding the water rights. On July 28, 1871 A. B. and Martha Roberts sold all of Block 23 of Roberts Addition to Lara Coston. On January 10, 1872 James W. Law sold his 7.82 acres to Noah F. Lickinger for $1000. On May 22, 1875 Zara and Evaline Coston sold Lots 1-4 and 13-16 of Block 23 in Roberts Addition to Lewis McMorris for $595. On December 4, 1874 Noah Flickinger transferred his interest in the 7.82 acres to Emma H. Flickinger. On October 5, 1880 Emma H. and Edward Flickinger, husband and wife, sold these same acres to A. Reeves Ayres.
On November 22, 1881 Sigmund and Rose Schwabacher loaned $250 on this property. On June 30, 1882 A. Reeves Ayres and Elvada G. Ayres sold a portion of Laws property to Joseph Painter, including water rights, for $600. On July 17, 1882 Lewis McMorris signed a Quit Claim Deed on Lots 1-4 and 13-16 of Block 23 in Roberts Addition to Joseph Painter for $800. On May 28, 1885 Joseph Painter (unmarried) sold part of Block K plus Lots 1-4 and 13-16 of Block 23 to Thomas P. Page for $4000. On November 1, 1886 Thomas Page and Ellen F. Page sold this property to B. L. Sharpstein for $100. On December 22, 1886 B. L. and S. J. Sharpstein sold Lots Lots 1-4 and 13-16 of Block 23 to F. Ellen Page for $1. On May 20, 1889 Thomas and Frances Page obtained a divorce.
On January 18, 1896 Frances E. Page (F. Ellen Page) sold Lots 1-16 in Block 23 and more to Frances Rutter. On February 6, 1902 Sigmund Schwabacher, et al received a Sheriff's Deed to the property following an  Assignment of Certificate of Purchase on November 30, 1901. The children of Joseph and Anna Painter signed a Quit Claim Deed to Schwabacher Company for this property on September 8, 1902. Schwabacher Company sold 9 parcels to Thomas Eastman on May14, 1903 for $1800. The Page Addition was platted on September 7, 1904. On October 1, 1907 Thomas Eastman sold a parcel 110´by 240´to A. R. Johnson for $1. On October 28, 1908 A. R. and Lelah May Johnson sold this property to Maybelle H. Toner for $1. On September 24, 1912 J. L. Sharpstein  declared "To the Public" that his parents B. L. and S. J. Sharpstein had given a deed to F. Ellen Page in 1886 but that the deed was not delivered until June 11, 1889.
On April 5, 1921 City Ordinance A-507 vacated a 20´by 200´alley in Page's Addition. On January 7, 1931 a Writ of Attachment was filed in Superior Court by Ginnettie Angell, plaintiff vs. Wilbur A. and Mabelle (Maybelle) H. Toner over a disputed amount of $2407.71. Judge J. L. Sharpstein ruled for the plaintiff. On May 4, 1909 Wilbur A. Toner had signed a Quit Claim Deed giving Maybelle H. Toner, his wife, this parcel as her separate property. However, this deed was not  filed until April 2, 1931. On April 26, 1932 the Walla Walla County Superior Court ordered an Execution of the 1931 Writ of Attachment against the Toners. On May 28, 1932 a Certificate of Purchase of Real Estate was issued at auction at the court house door to Ginnettie Angel for $2764.60. On June 26, 1933 she received a Sheriff's Deed. On February 25, 1934 Ginnettie Angel, widow, sold this property to Mabelle H. Toner for $3000. On February 27, 1939 a court case was filed by the Estate of Wilbur A. Toner, a bankrupt plaintiff, against defendants Wilbur A. Toner and Mabelle H. Toner, his wife, to establish the plaintiff as owner of this property.
On August 28, 1952 Mabelle H. Toner sold this property to W. L and Marjorie H. Teague. At this time the property was described as all of Lot 6 and the South 34 feet of Lot 7 plus one-half the vacated alley and a city easement. On February 16, 1955 the Teagues sold to William G. and Virginia Elaine Steel. On July 15, 1974 Virginia Steel sold this property to Robert F. and Arlene Patterson Lonneker. On May 29, 1984 Arleen P. Lonneker of Mercer Island signed a Quit Claim Deed on this property to Robert Lonneker.  On September 13, 1984 Superior Court issued a summons for failure to close purchase agreement with William R. and Elizabeth H. Frazier on this property. On January 4, 2011 the Fraziers sold this property to Nicolas F. and Sarah J. Arredondo.
Occupant History:
The 1905 Sanborn fire map shows the footprint of a house in this location. A search of city directories from this time was complicated by the fact that no reverse directory existed until 1931. However, in the 1883 directory J. C. Painter, a farmer, had a residence at "block 23 Roberts Addition, Palouse Street." He had purchased this property in 1882 and sold it to Thomas Page in 1885. In the 1889 directory Ellen Page, widow of Thomas P. Page, had a residence at the corner of Palouse and Craig Streets. In 1892 Ellen Page's address was given as 508 Palouse cor. Craig. In 1900 Ernest Poindexter, a lawyer, roomed at 610 S. Palouse. Frances E. (Ellen) Page (widow of  Thomas P. Page) was listed at 610 S. Palouse in 1902 but missing in 1904. In 1905 Otis A. Park, a clerk at The Schwabacher Company, lived at this address. In 1907 Edward C. Burlingame, President of the Walla Walla Irrigation Company, lived here with students, Edward Jr., Mabel and Rhoda Burlingame. In 1908 this property was occupied by Ethel L. Hunt, William A. Hunt, machinist, and Walter W. Hunt, Northwest Auto and Machine Company, presumably members of Gilbert Hunt's family who lived next door.
In the 1907-1909 city directories, Maybelle Hunt is listed as living next door to this house at 534 S. Palouse in the home of her father, Gilbert Hunt. He was president of the Gilbert Hunt Company, manufacturers of threshers, tanks and agricultural machinery. Wilbur Toner is listed as living with his parents at 205 Whitman. In 1911, Wilbur A. and Mabelle H. Toner are listed as iving at 610 S. Palouse. Wilbur was a lawyer and by 1935 he was an assistant attorney general for the State of Washington in Olympia. From 1937 to 1950 Wilbur and Mabelle Toner lived in his parents' home at 205 Whitman. Robert B. Bragg, the manager of PP&L, lived at 610 S. Palouse in 1937. In 1939 L. M. Bassert lived at 610 Palouse. From 1941 to 1955 W. L. and Marjorie Teague lived here. From 1956 to 1972 William G. Steel lived here with his wife Virginia. He was the assistant manager of Gardner' Department Store (the successor to Schwabachers store) until he retired in 1963. Following his death, his widow lived here from 1964 to 1974. Beginning in 1975 Robert F. Lonneker and his wife Arlene Patterson Lonneker lived here. He was a wheat farmer. Beginning in 1994 William R. Frazier lived at 610 S. Palouse. Since 2011 Nicolas and Sarah Arredondo have resided here.
Construction of the Building:
The Walla Walla County Assessor's records list a construction date for this house as 1900. Although fire maps and city directories suggest there was a house here as early as 1883 Wilbur Toner took out a building permit on July 30, 1909 for a dwelling on Palouse near Craig at an estimated cost of $6000. Penny Andres states in her book Walla Walla Her Historic Homes, Vol.1 that this house was a wedding present from Gilbert Hunt to his daughter Mabelle when she married Wilbur Toner in 1910. Andres goes on to state, "Kirtland Cutter, the well-known architect, was hired to design the house which cost $6000 to build." The Northwest Museum of Arts and Culture in Spokane has Kirtland Cutter's papers in their archives and they can find only one house in Walla Walla designed by Cutter, the Baker Faculty on Boyer Avenue. Regardless, it is an exuberant example of Tudor style and featured on one of Walla Walla's historic walking tours. The actual date of the Toners' marriage was June 17, 1908, the year Mabelle received title to this property in her maiden name, probably with money supplied by her father.  This is consistent with the quitclaim deed executed by her husband in 1909 before the issuance of a building permit for the home, which was probably also financed by her father.  A construction date of 1909 by Mabelle Hunt Toner should therefore be used for this home.
References:
Andres, Penny, Walla Walla Her Historic Homes, 1991, p.52.
Bennett, Robert A., Walla Walla  Portrait of a Western Town 1804-1899, Pioneer Press,  Walla Walla, 1980.
Bennett, Robert A., Walla Walla  A Town Built to be a City 1900-1919, Pioneer Press,  Walla Walla, 1982.
Building Permits: Whitman College Penrose Library Archives.
Lyman, Professor W.D., An Illustrated History of Walla Walla County  1901.
Matthews, Henry C., Kirtland Cutter, Architect in the Land of Promise, University of
Washington Press, 1998.
Northwest Museum of Art and Culture archives, Spokane, Wa.
Sanborn Fire Maps: 1884-1905 (with updates until 1950).
Walla Walla City Directories: 1880-present (various publishers–not all years).
Whitman College Archives.
http://ww2020.net/wp-content/uploads/610_S_Palouse.jpg
150
200
Mary Meeker
http://ww2020.net/wp-content/uploads/2011/12/ww2020_logo.png
Mary Meeker
2012-08-01 18:03:23
2014-02-06 12:10:21
History of 610 South Palouse, Walla Walla, WA